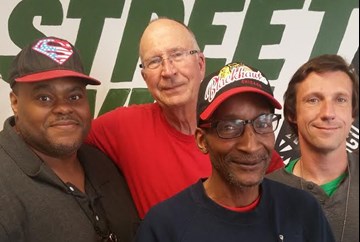 By: Staff
April 16, 2018
Donald: The Philadelphia 76ers are doing great this year. They have really overachieved this year. I am worried about them fizzling out in the playoffs. They've got a great center in Joel Embiid. They play in spurts, so they're a bit inconsistent.
Russell: One overachiever in hockey is the Tampa Bay Lightning. These guys are incredible! Teams like Washington and Pittsburgh are back at it again. There are a few new teams who've stepped up this year, like Carolina. The Blues, Blackhawks, and Oilers have       really underachieved this year. So many playoff teams are struggling this year. In the NBA, the Toronto Raptors are number one in the East, but I don't see them going far. They never do. Boston and Cleveland are both messed up right now too. Golden State has been disappointing this year. The Minnesota Timberwolves are a good team, but they're gonna get all broken down when Tom Thibodeau gets through with them. My biggest overachiever is Houston. I love that team! Another team is Philadelphia. They are my team of the future.
John: The Indiana Pacers and Portland Trail Blazers are my picks for biggest overachievers. Who would have ever thought that these teams would make the playoffs? My underachiever is the Detroit Pistons. When they traded for Blake Griffin, that was supposed to push them over the top. Since that trade, they have actually regressed. The Los Angeles Clippers actually have a winning record without Griffin.  Another team that has underachieved is the Memphis Grizzlies. With Mike Conley out, Memphis went under the tank. They have the longest losing streak in the league. Jumping over to hockey, the biggest overachiever is the Vegas Golden Knights. They got off to a hot start and they've kept it going. The Rangers have really underachieved. They have been a consistent playoff team, but they've really declined this year. The Blackhawks are perhaps the biggest underachiever. Last year, they led the West in points and they have been awful this year.
Donald: I think the loss of Artemi Panarin has really hurt the Blackhawks. Trading him has been a big mistake. Panarin and Patrick Kane were a great combo. I used to call him Patrick Kane Jr. And Brandon Saad has been a big disappointment in return.
Russell: They also got rid of Niklas Hjalmarsson, which made the defense worse. And losing Marián Hossa for the season hurt. I also think the Blackhawks just got old. You look at Nashville, Minnesota, and Tampa Bay, they all got younger and they're on top of the league. Going back to the NBA, the Rockets are going to win it all this year. Last year they choked big time in the playoffs, but I don't see that happening this year. It's a down year in the NBA overall. A lot of teams aren't trying to win this year.
John: Don't be surprised if Philadelphia comes out of the East. I'm curious to see how Markelle Fultz impacts that team. And in the West, I'm looking at Houston.