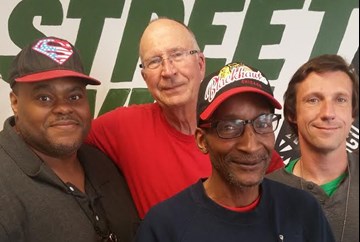 By: Staff
May 4, 2018
John: In the Eastern Conference, I'm going mostly with the home teams, as we go to print April 17, although you never know which team is going to have a hot goalie. The only road team I see winning is Columbus. There must be something in the water in Washington. All of their teams come up short in the playoffs. An intriguing matchup is Pittsburgh and Philadelphia. The Pittsburgh Penguins always come through in the playoffs and they're going for their third straight Stanley Cup. I think Philadelphia lacks the experience to compete with them. As far as the Western Conference goes, I like Nashville, Minnesota, the LA Kings, and San Jose. The NHL playoffs are unlike other sports beacuse of reseeding, it makes it more difficult to predict future matchups. What happens is, the top team in each of four divisions faces a wildcard and the second- and third-place finishers also face each other. Survivors play each other in a second round; each of four divisional brackets go on to a conference final, then the Stanley Cup final.
Russell: I'm going to make it short and simple. New Jersey and Tampa Bay is an interesting matchup, but I'm gonna take Tampa Bay. I'm gonna take Boston over Toronto. I think Washington can at least get out of the first round and beat Columbus. Philadelphia and Pittsburgh is my favorite matchup. I have to take Pittsburgh because they are the defending champs. That's my East. In the West, Nashville will beat Colorado. That's not even a competition. I gotta take Minnesota to beat Winnipeg. Minnesota always gives the Hawks so much trouble. I think the LA Kings are gonna get the Vegas Knights. The Kings are experienced and they are hungry. In Anaheim vs. San Jose, I'm gonna have to take Anaheim.
Donald: I'm picking a big upset. I think New Jersey is gonna beat Tampa Bay in the first round. In the Boston and Toronto matchup, I think the Maple Leafs will pull it out. I wouldn't be surprised if Columbus does something in the playoffs, including beating Washington right out the gate. In the West, there are a lot of great centers. I see Nashville winning their first round matchup. And I have to agree with Russell and John concerning the LA Kings. Vegas looks good, but the Kings are too talented. I also see the San Jose Sharks going far. They've got a lot of skilled players.
John: I just wish we knew what channel these games were on. It feels like the fans get cheated. Also, hockey is a tough sport to follow on television. The puck is hard to see compared to the other sports.
Russell: It's gonna be pretty interesting. This year there are no Blackhawks or [St. Louis] Blues. But it's still gonna be fun to watch. Good luck, everybody!
Donald: There is so much exciting and fast play in hockey right now. It all comes down to the centers. There are a lot of young, up and coming players at that position.