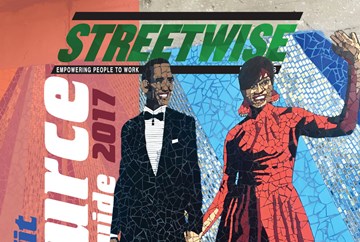 By: Dave Hamilton
December 11, 2017
Access Living
Access Living is a change agent committed to fostering an inclusive society that enables Chicagoans with disabilities to live fully-engaged and self-directed lives. Access Living focuses on programs and services that increase physical and programmatic access to opportunities that enable people with disabilities to pursue independent and satisfying life styles.
We offer financial literacy classes for people with disabilities, and an all-disability peer support group. We are also helping people with disabilities get out of nursing homes and live independently.
Access Living, 115 W. Chicago Ave., 60602; 312-640-2100 voice; 312-640-2102 TTY;
www.accessliving.org
Marca Bristo, President & CEO, 312-640-2107, mbristo@accessliving.org
ACCION
Accion Chicago helps communities grow by investing in entrepreneurs who build businesses and generate jobs in their neighborhoods. We provide the tools necessary for individuals to create and expand small business regardless of their backgrounds and other barriers of obtaining credit. Accion provides customized capital solutions and one-on-one coaching to aspiring entrepreneurs in Illinois and Northwest Indiana. To learn more, contact Mary Fran Riley, Sr. V.P. of External Affairs; mfriley@accionchicago.org; 312-924-2150
Brad McConnell, CEO;
bmcconnell@accionchicago.org; 312-924-2180
www.accionchicago.org
facebook.com/accionchicago
After School Matters
After School Matters provides Chicago high school teens with life-changing opportunities to explore and develop their talents, while gaining critical skills for work, college and beyond. This past year, After School Matters provided 24,500 unique program opportunities across three sessions (summer, fall, and spring) throughout Chicago. Since 1991, over 200,000 young lives have been transformed by After School Matters. Executive Director: Mary Ellen Caron, PhD,
info@afterschoolmatters.org
312.742.4182
66 E. Randolph St.
Chicago, Illinois 60601
afterschoolmatters.org
All Chicago Making Homeless History
All Chicago's mission is to unite our community and resources to provide solutions that ensure and sustain the stability of home. Our signature events, Handbags for Homes (spring) and Breakfast with All Chicago (fall), unite the private, corporate, and social service communities to raise critical funds that work to prevent and end homelessness. 
Dr. Nonie Brennan, CEO,
p: 312-379-0301 x13; nbrennan@allchicago.org
651 W. Washington, Suite 504
Chicago, IL 60661
p: 312.379.0301
f: 312.379.0304
info@allchicago.org
www.allchicago.org
A Safe Haven
Since 1994, A Safe Haven Foundation has been an award winning, vertically integrated public/private partnership, social enterprise and comprehensive model that is uniquely designed to systematically and consistently help people aspire, transform and sustain their lives as they transition from homelessness to self-sufficiency with pride and purpose. A Safe Haven's visible social and economic impact unites families, stabilizes neighborhoods, and creates vibrant, viable communities.
Over 5,000 people a year rely on A Safe Haven to provide them a holistic path to independence and self-sufficiency
Executive Director: Neli Vazquez Rowland; 773-435-8300; neli@asafehaven.org
2750 W Roosevelt Road,
Chicago, IL 60608
p: 773-435-8300; info@asafehaven.org; volunteer@asafehaven.org
www.asafehaven.org
Facebook:
asafehavenfoundation
Twitter: @A_Safe_Haven
Instagram: @a_safe_haven_foundation
Best Buddies
Mission: To establish a global volunteer movement that creates opportunities for one-on-one friendships, integrated employment and leadership development for people with intellectual and developmental disabilities (IDD).
Its "I'm in to Hire" program seeks employers looking to hire skilled and qualified individuals with IDD for integrated employment. With the ongoing support and training from our employment consultants, Best Buddies will help foster a positive employment experience.
Director of Opperations:
Emma Reutter, EmmaReutter@bestbuddies.org, 312.828.9313
101 W. Grand Ave., Suite 400, Chicago, IL 60654
www.bestbuddies.org
Care for Friends
Care for Friends provides easy access to community, food and overall wellness for Chicago's most vulnerable and under-served people, in an atmosphere of dignity and respect. Through our programs, Care for Friends successfully connects people with community resources to enable them to achieve a better quality of life.
Health Care for Friends: ongoing Third Saturday and last Monday each month 10:30 to 11:45 a.m.
Gary Kenzer, Executive Director; Gary@CareForFriends.org;
773-932-1010
www.CareForFriends.org
facebook.com/CareForFriends
twitter.com/Care_FF
www.linkedin.com/
company/10313678
Catholic Charities of the Archdiocese of Chicago
Mission: Catholic Charities fulfills the Church's role in the mission of charity to anyone in need by providing compassionate, competent and professional services that strengthen and support individuals, families, and communities based on the value and dignity of human life.
We assist nearly 1 million people throughout Cook and Lake counties on their journey to self-sufficiency without regard to their ethnic, religious or economic background, providing child care and education, shelter, food services, employment training, counseling, senior housing, home-delivered meals, in-home care, veteran housing, and supportive services.
721 N. LaSalle St., 60654; 312.655.7700
www.catholiccharities.net
communications@catholiccharities.net
Monsignor Michael M. Boland, President and CEO
facebook.com/ccofchicago
twitter.com/ccofchicago
Instagram: @ccofchicago
Center for Changing Lives
Center for Changing Lives (CCL) partners with those held back by lack of resources and economic opportunity to uncover possibilities, overcome barriers, and realize their potential. CCL offers financial, employment, and resource development coaching designed to support clients on their specific self-identified goals. Those interested in learning more about CCL can contact the Resource & Connection Coordinator, Kayla Villalobos at 773-342-6210, ext. 251 or at kayla@cclconnect.org.
1955 N. St. Louis Ave, #101, 60623
www.cclconnect.org
facebook.com/cclchicago
facebook.com/groups/resourceup
Chicago Cares
Chicago Cares mobilizes volunteers to build a stronger, more unified Chicago.
Chicago Cares organizes the city's largest day of volunteering, Serve-a-thon, every June. This year, it drew nearly 5,000 volunteer registrants.
At Find your Cause, Chicago Cares hosts 50 community-based organizations and invites the city's young professionals to learn firsthand about volunteer and auxiliary/associate board positions. On our calendar at chicagocares.org, Chicago Cares also offers nearly 200 volunteer programs each month, free to the public.
CEO: Jenné Myers
p: 312.780.0800;
jmyers@chicagocares.org
2 N. Riverside Plaza, Suite 1800 Chicago, IL 60606
p: 312.780.0800 f:312.780.0801
info@chicagocares.org
www.chicagocares.org
Chicago Coalition for the Homeless
The Chicago Coalition for the Homeless (CCH) has organized and advocated to prevent and to end homelessness, because we believe housing is a human right in a just society. Policy specialists, organizers, and attorneys advocate with families, youth, ex-offenders and low-wage workers. Shelter outreach and a mobile legal aid clinic for youth reach 8,000 people/year. Projects include the HomeWorks campaign, Re-Entry Project, Speakers Bureau, and No Youth Alone.
Doug Schenkelberg,
Executive Director,
doug@chicagohomeless.org
70 E. Lake St., Suite 720, 60601; (312) 641-4140
www.chicagohomeless.org
Chicago HOPES for Kids
Chicago HOPES for Kids provides academic support, literacy skill building, and enrichment programs to children, grades K-5, living in Chicago's homeless shelters. With the help of trained volunteers, we strive to provide students with the resources necessary to succeed academically and to break the cycle of homelessness that threatens their futures.
Executive Director:
Patricia Rivera, LCSW
p: 312-690-4240; patricia@chicagohopesforkids.org
www.chicagohopesforkids.org
Facebook, Twitter & Instagram:
@chihopesforkids
Chicago Human Rhythm Project
Chicago Human Rhythm Project (CHRP) creates community through American tap and contemporary percussive arts in world-class, innovative performance, education and outreach programs. Viewing tap as an American contribution to global culture, CHRP has presented American tap and global percussive dance for almost 30 years. "We All Got Rhythm," a free in-school and after-school program reaching tens of thousands of K-12 youth throughout Chicago; awarding $15,000 in annual scholarships for deserving young tappers; economic investment in Chicago-based tap artists and companies; and programs that bring diverse communities together.
410 S. Michigan Ave., Suite 300, 60605; 312-542-2477;
chicagotap.org
Executive Director: Lane
Alexander, 312-542-2477,
lalexander@chicagotap.org
Chicago Lights
Chicago Lights provides hope and opportunity to our city's children, youth, and adults who face the challenges of poverty. Through supportive relationships and diverse programs, we empower people to thrive academically, secure economic stability, lead healthy lives, and build community.
Stacy Jackson, Executive Director; sjackson@chicagolights.org; 312.981.3562
chicagolights@fourthchurch.org; 312.787.4570
www.chicagolights.org
facebook.com/chicagolights/
twitter.com/chicagolights
instagram.com/chicago.lights/
Chicago Shares
Chicago Shares is a 501(c)(3) not-for-profit organization whose mission is to provide a means for individuals, agencies, communities, corporations, and retail merchants to collaborate in helping hungry people. Chicago Shares, founded in 1993, administers a food voucher program that provides a way for citizens and visitors to help those in need in a safe and convenient fashion.
Staffed entirely by volunteers, Chicago Shares sells the vouchers (known as "Shares") through churches, other organizations and online. Purchasers distribute these Shares to those in need. Cooperating merchants redeem the Shares for food/necessities (but never for alcohol or tobacco) and are reimbursed fully for each Share, valued at $1.
Chicago Shares are regularly sold at area churches and online.
730 N. Wabash Ave., 60611;
312-573-4494;
www.chicagoshares.org
Executive Director: Julie Stagliano – jwstagliano@gmail.com
ChildServ
Mission: Helping Chicagoland's at-risk children and their families to build, achieve and sustain better lives.
President and CEO: Dan Kotowski, Email: dkotowski@childserv.org, Phone: (773) 239-8609
www.childserv.org
www.facebook.com/ChildServ
CommunityHealth
Our mission is to serve those without essential health care. CommunityHealth believes health care is a human right and provides free, comprehensive health care to low-income, uninsured adults in the Chicago area.
Judith Haasis,
Executive Director ; jhaasis@communityhealth.org
773.395.9900
www.communityhealth.org
facebook.com/CommunityHealthChicago/
Community Shares of Illinois
Mission: We are a network of nonprofit organizations created to connect, fund, and raise awareness for community groups that focus on long-term solutions to social problems. We support organizations working to improve local communities and connect donors with opportunities to create change. Our employee/workplace donation program, the Combined Charities Campaign, gives working people in Illinois the easiest and best opportunity to support charitable organizations through payroll contribution.
Executive Director: Linda
Moses (312) 994-5885;
lmoses@cs-il.org
CommunitySharesIllinois.org
Connections for the Homeless
Mission: Connections serves and catalyzes our community to end homelessness, one person at a time. Join our 365 Club (www.connect2home.org/365club) to provide year-round support to help people come inside to stable housing.
Executive Director:
Betty A. Bogg
bbogg@connnect2home.org 847-475-7070
2121 Dewey Ave., Evanston, 60621
info@connect2home.org
www.connect2home.org
facebook.com/cfthinc
CSM (City / Service / Mission)
CSM is a Christian-based, short-term volunteer organization that connects groups of volunteers coming from churches, schools, and families throughout the nation to organizations that need extra hands to help in Chicago. In addition to setting up volunteer experiences, CSM puts a strong emphasis on educating their volunteers on the needs of the city. CSM Chicago (City, Service, Mission), 5047 N. Spaulding Ave., Chicago, IL 60625; 773-244-5224; chicago@csm.org
facebook.com/ServewithCSM
www.csm.org
The Dance Center of Columbia College Chicago
The Dance Center of Columbia College Chicago is the city's leading presenter of contemporary dance, showcasing artists of regional, national and international significance, augmented by an extensive educational and community engagement program.
The Dance Center provides students with a superior contemporary dance education in the context of a world-class, nationally recognized dance performance season.
Interim Director, Dance Presenting Series: Ellen Chenoweth, echenoweth@colum.edu
1306 S. Michigan Ave., 60605;
312-369-8330;
www.colum.edu/dancecenter
Deborah's Place
Deborah's Place opens doors of opportunity for women who are homeless in Chicago. Supportive housing and services offer women their key to healing, achieving their goals and moving on from the experience of homelessness. We are the largest provider of permanent supportive housing for unaccompanied women who are homeless in Chicago. We house more than 60 women in community-based units around the city. Through our housing and support services, we serve more than 320 women a year.
2822 West Jackson Blvd., 60612
p: 773-722-5080 f: 773-722-5081
info@deborahsplace.org
CEO: Audrey Thomas
www.deborahsplace.org
facebook.com/
deborahsplacechicago
twitter.com/debsplacechi
linkedin.com/
companies/481968
Deeply Rooted Dance Theater
Mission: To re-imagine and diversify the aesthetics of contemporary dance by bringing together modern, classical, American and African-American dance and storytelling traditions. Premiering in 1996, Deeply Rooted Dance Theater is rooted in a visceral experience that ignites an emotional response in diverse audiences worldwide. Collaborating with nationally renowned choreographers across the spectrum of modern, ballet and African dance, DRDT presents work that reflects eclectic voices in contemporary life.
Artistic Director: Kevin Iega Jeff, iega@deeplyrootedproductions.org, 312-795-9777
Deeplyrooteddancetheater.org
Eastland Disaster Historical Society
EDHS passionately preserves and shares the stories of the thousands of ordinary people whose legacies were altered or cut short by the Eastland Disaster, connecting people today to those personal stories and the history of the tragedy.
EDHS is volunteer-driven organization. Although small, it has achieved tremendous results over its nearly 20 years of dedicated operations, thereby rescuing the history of Chicago's greatest loss-of-life tragedy from obscurity. Its outreach efforts include public programs in communities throughout the Midwest, and it hosts the annual commemoration event at the Chicago River, where the Eastland claimed the lives of 844 people over 100 years ago. Executive Director:
Ted Wachholz;
info@EastlandDisaster.org
PO Box 2013, Arlington Heights, IL 60006,
1-844-724-1915
www.EastlandDisaster.org
info@EastlandDisaster.org
Facebook.com/
EastlandDisaster
Twitter.com/EastlandDisastr
Instagram.com/
EastlandDisaster
Pinterest.com/EastlandDisastr
East Village Youth Program
East Village Youth Program prepares Chicago students to become first-generation college graduates. Through comprehensive programming, EVYP provides students with the tools they need to become successful young adults. EVYP will establish a tradition of college graduation for Chicago students.
Executive Director: Mr. Aníbal Vega; 312-275-0440 x 1; avega@evyp.org
3643 W. Belmont Ave., 60618
www.evyp.org
p: 312-275-0440
f: 312-275-0441
Franciscan Outreach
Franciscan Outreach is a leading provider of homeless services in Chicago. Every day it provides healthy meals to those who are hungry, a warm bed for those who need shelter, vital case management services for those who need guidance, and access to critical resources for those who need specialized assistance.Throughout the year, Franciscan Outreach provides life-changing services to more than 8,000 men and women through five locations, including two overnight shelters in Chicago's North Lawndale neighborhood, a soup kitchen in Wicker Park and two Day Programs.
Executive Director:
Ed Jacob, ed@franoutreach.org 773.278.6724 x15
1645 W. Le Moyne St.,60622
p: 773.278.6724,
f: 773.278.7120
www.franoutreach.org 
facebook.com/franoutreach
twitter.com/Franoutreach
Gilda's Club Chicago
Our mission is to ensure that all people impacted by cancer are empowered by knowledge, strengthened by action and sustained by community.
Providing more than 300 free activities per month, our innovative program is an essential complement to medical care. We offer social and emotional support for anyone – men, women, teens and children, as well as their family and friends – whose lives have been impacted by any type of cancer. In addition to the Main Clubhouse in River North, Gilda's Club Chicago also has programs at satellite hospital locations throughout Chicago.
Laura Jane Hyde, CEO,
312-464-9900, x115,
laurajanehyde@gildasclubchicago.org
537 N. Wells St., 60654,
p: 312-464-9900,
www.gildasclubchicago.org, facebook.com/GildasClubCHI, Twitter: @GildasClubCHI
Instagram: @gildasclubchi
Global Explorers Kids
Global Explorers Kids is dedicated to providing children with the opportunity to explore the diversity of the world's peoples and helping them to understand and respect different cultures, using the arts as a catalyst towards learning. Through after school programs, in-school residencies, summer camp, and community workshops, Global Explorers Kids brings programs to children within communities throughout Chicago.
Executive Director: Holly Hutto
www.globalexplorerskids.org
facebook: globalexplorerskids
info@globalexplorerskids.org
phone: 773-491-2723
Green Star Movement
Green Star Movement inspires students and community members through the creation of public art. Since its founding in 2005, Green Star Movement has provided more than 7,000 students with mural arts programming and successfully transformed the interiors and exteriors of over 60 public spaces, including schools, parks, community centers and underpasses. By involving youth and community members in the design and installation of public art, Green Star Movement goes beyond inspiring passion for the arts by giving participants and their communities ownership over the art.
Contact us about group volunteer opportunities by emailing volunteer@greenstarmovement.org
Founder & CEO:
Kamelia Hristeva
1200 W 35th St, 60609
www.greenstarmovement.org
facebook.com/
GreenStarMovement
Instagram: @greenstarmovement
Twitter: @greenstarmvmt
Growing Home, Inc.
Growing Home's mission is to operate, promote, and demonstrate the use of organic agriculture as a vehicle for job training, employment, and community development. We use our urban farms in Englewood to run innovative job training and food access programs.
Each year Growing Home teaches transferrable job skills to over 50 individuals experiencing severe barriers to employment including criminal records, histories of homelessness or substance abuse, and trauma. Job training takes place on our USDA-certified organic farms, where we cultivate over 35,000 pounds of produce each year. We distribute our produce throughout Englewood, and at farmers markets across the city.
2732 N. Clark St. Suite 310, 60614; 773-549-1336
info@growinghomeinc.org
April Harrington, Development Director, aharrington@growinghomeinc.org
773-549-1336
Harry Rhodes, Executive Director, hrhodes@growinghomeinc.org, 773-549-1336
www.growinghomeinc.org
Hanul Family Alliance
Hanul Family Alliance strives to be a leading organization by becoming an efficient, effective, and supportive provider of social services to an ever-changing immigrant community. We provide comprehensive community-based services to meet the needs of seniors and families through services such as Home Care, Congregate Meal, Immigration, Family, Health, Culture and Education programming.
The organization today serves over 7,000 individuals.
hanul@hanulusa.org
773-478-8851
Irene Jisun Sohn, Executive Director, 773-478-8851 ext.103 isohn@hanulusa.org;
Kimberly Mua,
Outreach Program Coordinator,
kmua@hanulusa.org
773-478-8851 ext 110
5008 N Kedzie Ave., 60625
hanulusa.org
facebook.com/HanulChicago
Heartland Alliance
Heartland Alliance's mission is to advance human rights and respond to the human needs of endangered populations, particularly the poor, the isolated, and the displaced, through the provision of comprehensive and respectful services and the promotion of permanent solutions leading to a more just global society.
Heartland Alliance has been working to end poverty and create bold and innovative solutions when no one else could or would – often at the forefront of serving immigrants, refugees, the homeless, and those living with HIV/AIDS. By providing housing, healthcare, jobs, and justice, we believe we can make a huge impact toward one day ending poverty.
Evelyn Diaz, CEO
www.heartlandalliance.org
i.c. stars
i.c.stars is a workforce development nonprofit and social enterprise that trains highly talented, underserved young adults for technology careers and community leadership. Our mission is to provide opportunities for inner-city young adults to harness the strength of technology for social and economic leadership. i.c.stars delivers comprehensive skills development training: a four-month bootcamp followed by 20 months of ongoing support, which enables graduates to start technology careers.
For more information, contact info@icstars.org
Executive Director: Sandee Kastrul  312-487-2208 
415 N. Dearborn, Suite 300, 60654
www.icstars.org
312-640-3850
Illinois Hunger Coalition
The Illinois Hunger Coalition seeks to end hunger and the underlying causes through community organizing, advocating for progressive public policies and public education. #endhungernow
The Illinois Hunger Coalition is a nonprofit 501(c)(3) funded by grants from private foundations, individual donations, and some government support. Key campaigns include promoting living wages, fair taxes and an equitable budget, access to healthy, affordable food, creating better jobs, safer communities with better schools, parks and libraries. The IHC also operates the only statewide toll-free Hunger Hotline, which provides resources and case management services to an average of 10,000 families per year.
Executive Director: Diane Doherty, dianedihc@aol.com
205 W. Monroe, Suite 310, 60606
p: 312.629-9580 f: 312.629-3514
Hunger Hotline (English and Spanish): 800.359-2163
www.ilhunger.org/
facebook.com/
IllinoisHungerCoalition/
Twitter: @IL_Hunger
Instagram: @ilhungercoalition
Impact 100 Chicago
Mission: To award membership-funded transformational grants to nonprofit organizations throughout the Chicagoland area while empowering women to improve lives through philanthropy.
Impact 100 Chicago members pool their $1,000 membership donations to award $100,000 grants. Since its inception in 2010, Impact 100 Chicago has awarded more than $2.5 million in high-impact grants that have a transformative effect on the receiving organizations and those they serve. Impact 100 Chicago is an all-volunteer, women-only organization with members from all parts of the Chicagoland area. 100% of our membership donations go directly to local nonprofits.
President: Kathy Loria,
info@impact100chicago.org
facebook.com/
Impact100Chicago/
linkedin.com/
company/10313294/
Instagram: @impact100chicago
Inspiration Corporation
In an atmosphere of dignity and respect, Inspiration Corporation helps people who are affected by homelessness and poverty to improve their lives and increase self-sufficiency through the provision of social services, employment training and placement, and housing.
Executive Director: 
Shannon K. Stewart:
773-878-0981 X224
Evan Cauble-Johnson, Chief Development Officer: 773-878-0981 X 204; 4554 N. Broadway, Suite 207 60640,
www.inspirationcorp.org
Israel Cancer Research Fund
Israel Cancer Research Fund (ICRF) harnesses Israel's educational and scientific resources to fight cancer. ICRF is the only U.S.-based charity solely devoted to supporting cancer research in Israel. Since 1975, ICRF's provided $64M+ toward innovative studies. The Chicago chapter has been in existence for over 20 years.
Chicago Chapter Director:
Steven Mendes,
847-914-9120.
steven.mendes@icrfonline.org
www.icrfonline.org
Jane Addams Resource Corp.
JARC provides high quality skills training and bundled support services to help low-income adults achieve self-sufficiency. Free training for careers in welding and machining. Locations in Ravenswood and Austin.
www.jane-addams.org
Facebook: janeaddamsresourcecorporation
Josephinum Academy of the Sacred Heart
Josephinum Academy of the Sacred Heart offers a world-class approach to academic excellence combined with  holistic, moral, and spiritual development in a college-preparatory environment at an affordable price to all girls in the heart of Chicago.
1501 N. Oakley Blvd., 60622
josephinum.org
Kids In Danger
KID is a nonprofit organization dedicated to protecting children by fighting for product safety.  Our mission is to save lives by enhancing transparency and accountability through safer product development, better education and stronger advocacy for children.
Executive Director:
Nancy Cowles
nancy@kidsindanger.org
116 W Illinois St, Suite 4E, 60654; (312) 595-0649,
www.KidsInDanger.org,
email@kidsindanger.org
facebook.com/kidsindanger
flickr.com/photos/kidsindanger/
La Casa Norte
La Casa Norte's mission is to serve youth and families confronting homelessness. We provide access to stable housing and deliver comprehensive services that act as a catalyst to transform lives and communities. La Casa Norte also collects toys and winter coats to support youth and families confronting homelessness.
Temporary Location: 2845 W. McLean Ave., 60647,
773-276-4900
Executive Director: Sol A. Flores, sol@lacasanorte.org
773-276-4900 x208
www.lacasanorte.org
facebook.com/La-Casa-Norte
twitter.com/LaCasaNorte
instagram.com/lacasanorte/
Lakeview Pantry
One of Chicago's largest and longest-operating food pantries, Lakeview Pantry's mission is to eliminate hunger and poverty on the North Side of Chicago by providing food to fill the basic need of hungry people; increasing the independence of our clients through self-help initiatives and other innovative programs; raising awareness of hunger and poverty and working towards solutions to eliminate them. Our ultimate goal is the eradication of hunger and poverty in our communities.
Kellie O'Connell,
Executive Director,
kellie@lakeviewpantry.org
3945 N. Sheridan Rd., 60613
773-525-1777,
info@lakeviewpantry.org
www.lakeviewpantry.org
Lamb's Farm
Mission: Helping people with developmental disabilities lead productive, happy lives and connecting with the human spirit in us all.
Dianne Yaconetti, President & Chief Executive Officer,
dmy@lambsfarm.org,
(847) 990-3700
14245 W. Rockland Road
Libertyville, IL 60048
(847) 362-4636
www.lambsfarm.org/
facebook.com/LambsFarm
twitter.com/lambsfarm
instagram.com/lambsfarm
www.pinterest.com/lambsfarm
www.flickr.com/photos/lambsfarm/
Les Turner ALS Foundation
The Les Turner ALS Foundation's mission is to advance scientific research into the causes, treatments and prevention of ALS; to provide exceptional clinical care and to support services to people living with ALS, their families and caregivers; and increase awareness and education of ALS.
Executive Director:
Andrea Pauls Backman;
847-745-6050;
Abackman@lesturnerals.org
5550 W. Touhy Ave., Suite 302
Skokie, IL 60077
847-679-3311
Info@lesturnerals.org
www.Lesturnerals.org
Literacy Works
The mission of Literacy Works is to strengthen adult literacy, parent education, and workforce development programs by providing innovative training and knowledge-sharing opportunities for professionals and volunteers. In Chicago, more than half a million adults cannot read and write well enough to support their goals related to employment, community involvement, and supporting their children's education. Literacy Works builds the quality and capacity of community-based literacy programs all over the city, helping to ensure that adults have access to the skill-building services they need. To volunteer, call the Literacy Works Adult Education Helpline: (312) 998-READ. We'll help place you at an organization that meets your interests, and we'll provide the training you need.
Executive Director:
Christine Kenny,
Christine@litworks.org
641 W. Lake St., Suite 200, 60661; 773.334-8255
Litworks.org
Little Brothers - Friends of the Elderly
Little Brothers – Friends of the Elderly is  a private, non-profit, volunteer-based organization. Our mission is to alleviate isolation and loneliness among Chicago's elders. With the help of thousands of donors and individual volunteers, we bring friendship to lonely and isolated elders in every Chicago neighborhood. We serve 1,300 elders a year with the support of 1,500 volunteers. To volunteer, make a donation, refer an elder, or to learn more about the work we do, please visit our website at
www.littlebrotherschicago.org.
355 N. Ashland Ave., 60607
312-455-1000
general@littlebrotherschicago.org
twitter.com/LBFEChicago
facebook.com/LBFEChicago
instagram.com/lbfechicago/
linkedin.com/company/little-brothers---friends-of-the-elderly-chicago-chapter
Live It To Learn It, Inc. / Money Locker
Live It To Learn It combines financial literacy with access to non-predatory financial services for Chicago teens.
Live it To Learn It / Money Locker is providing the infrastructure to partner high-quality financial literacy programs within schools or after-school programs, with access to non-predatory financial services across the city. Research has shown that only by coupling both financial knowledge and "teen-friendly" financial services are teens truly part of the financial ecosystem. Creating "financial inclusion" for teens, who might otherwise use payday lenders and check-cashers, can be life-changing for a young person (and by extension, their family).
www.liveittolearnit.org
Marillac Social Center
The Mission of Marillac St. Vincent Family Services is to strengthen, empower and give voice to those in need – in the Vincentian spirit of service – through education and comprehensive programs to build vibrant communities in Chicago. Our programs operate out of the Marillac Social Center and St. Vincent de Paul Center.
Executive Director: Maureen Hallagan, (312) 278-4223
212 S. Francisco Ave., 60612
(312)-278-4220.
Marillacstvincent.org
Music Institute of Chicago
Mission: Provide the foundation for a lifelong engagement with music by offering the highest quality music education for all ages and ability levels; providing music education opportunities to those with limited access; supporting lifelong musical learning in every community; and building upon a proud tradition of developing exceptional performers.
The Music Institute of Chicago is a community music school dedicated to transforming lives through music education, striving to lead everyone in its community toward a lifelong engagement with music.
1702 Sherman Ave., Evanston, 60201 (as well as campuses in downtown Chicago, Downers Grove, Evanston, Lake Forest, Lincolnshire, and Winnetka)
Executive Director:
Mark George,
mgeorge@musicinst.org
Musicinst.org
National Runaway Safeline
Mission: To help keep America's runaway, homeless and at-risk youth safe and off the streets.
Executive Director:
Maureen Blaha, mblaha@1800RUNAWAY.org, 773-289-1720
3141 B N. Lincoln
Chicago, IL 60657
773-880-9860 (admin)
1-800-RUNAWAY
1800RUNAWAY.org
facebook.com/1800RUNAWAY
instagram.com/1800runaway/
Neighborhood Housing Services of Chicago
Mission: To create opportunities for people to live in affordable homes, improve their lives, and strengthen their neighborhoods. We envision dynamic, safe and sustainable neighborhoods where people lead change and improve their future through investing in their homes and community.
Kristin Faust, President
1279 N Milwaukee Ave, 4th Floor, 60622;(773) 329-4174, kfaust@NHSChicago.org Mary Carlson, Director of Resource Development and Public Affairs, (773) 329-4129, mcarlson@nhschicago.org
(773) 329-4110
www.nhschicago.org
facebook.com/nhschicago
twitter.com/nhschicago
youtube.com/user/nhschicago
The Night Ministry
The Night Ministry compassionately provides housing, health care, and human connection to members of our community struggling with poverty or homelessness. We address immediate physical, emotional, and social needs while affirming a sense of humanity.
Our Street Medicine Pilot Project, which offers health care and case management services to homeless individuals living in encampments, is a permanent part of our Outreach and Health Ministry Program.
4711 N. Ravenswood Ave., 60640; 773-784-9000
info@thenightministry.org
For volunteer inquiries: volunteering@thenightministry.org
Paul W. Hamann,
President & CEO
www.thenightministry.org
facebook.com/thenightministry
twitter.com/nightministry
linkedin.com/company/the-night-ministry
youtube.com/nightministry
ONE Northside
​Organizing Neighborhoods for Equality: Northside is a mixed-income, multi-ethnic, intergenerational organization that unites our diverse communities. We build collective power to eliminate injustice through bold and innovative community organizing. We accomplish this through developing grassroots leaders and acting together to effect change.
Executive​ ​Director:​ J​ennifer
Ritter, jritter@onenorthside.org,
(773) 593-1296
www.onenorthside.org/
facebook.com/OneNorthside/
twitter.com/ONENorthside
Onward Neighborhood House
Onward Neighborhood House empowers families and individuals in need to achieve their full potential in a community-based setting through participant-driven educational, recreational and social service programs.
Executive Director:
Mario F. Garcia,
(773) 622-3215 or
nway@onwardhouse.org
5423 W. Diversey Ave., 60639
www.onwardhouse.org
facebook.com/onwardhouse
Open Communities
Open Communities' mission is to educate, advocate and organize to promote just and inclusive communities in north suburban Chicago. We provide fair and affordable housing counseling services, community education, advocacy and organizing for welcoming communities.
Executive Director: David Luna, david@open-communities.org,
990 Grove, Suite 500, Evanston, 60201; 847-501-5760
www.open-communities.org
www.facebook.com/
Open-Communities
twitter.com/OpenCommNS
instagram.com/opencommunities
Orion Ensemble
A nationally recognized and highly acclaimed ensemble dedicated to performing a broad repertoire of chamber music at the highest level, Orion brings world-class concerts to audiences in Chicago and across the nation. Orion is committed to the development of young artists through its summer chamber music program with OPUS, outreach initiatives and master classes.
Executive Director: Kathy Pirtle, KathyPirtle@sbcglobal.net
1107 Fischer Drive, Addison, IL, 60101; 630-628-9591,
orionensemble.org
The People's Music School
Our mission is to make the proven benefits of music education accessible to all, regardless of income. Through a sustained, intensive curriculum our students achieve excellence in music that transfers to other areas of life. They grow musically, socially, emotionally and intellectually, and develop a foundation of responsibility, self-esteem, resilience, and purpose. Today, we serve 660 children, ages 5-18 years old, from over 45 Chicago ZIP codes. We are 100% free, 100% underserved, over 90% of color with a 100% graduation rate!
Executive Director: Jennifer Kim Matsuzawa, jennifer.matsuzawa@peoplesmusicschool.org, 773-250-6612
931 W. Eastwood, 60640
773-784-7032
info@peoplesmusicschool.org
www.peoplesmusicschool.org
Project CARE
Project CARE (Community Adult Reading Experience) is Morton College's adult volunteer tutoring program. Project CARE serves Adult Basic Education students and English as a Second Language learners. The tutoring services are free for all eligible students. Project CARE was founded in 1986 and serves the communities of Berwyn, Cicero, Stickney, Lyons, Forest View, and McCook.
Mission: To enhance the quality of life of our diverse community through exemplary teaching and learning opportunities, community service, and life-long learning. Irina Cline, Literacy and Instructional Support Specialist, Morton College, 3801 S. Central Ave, Cicero, IL, Room 245C, 60804; 708-656-8000 ext. 2383,project.care@morton.edu.
Project Onward
Project Onward supports the professional development of artists with exceptional talents and challenges, ranging from autism to mental illness. The organization provides artists workspace, materials, professional guidance, exhibition opportunities, and art sales opportunities.
Project Onward serves 50 artists, each with unique creative styles and facing diverse challenges. Member artists range in age from early-20s to early-70s and represent over 30 Chicago neighborhoods and several suburbs. Half of all art sales go back to the artist, the other half goes to Project Onward to fund supplies and workspace.
Executive Director, Nancy Gomez.
1200 W. 35th St., 4th Floor., 60609; (773) 940-2992
info@projectonward.org
Gallery Hours Wednesday – Saturday, 11 am – 5 pm (FREE and open to the public). Parking is FREE in the Bridgeport Art Center lot
www.projectonward.org
Public Allies Chicago
In 1993, Michelle Obama launched Public Allies Chicago to build grassroots leadership and create pathways to economic and educational opportunity for young adults. Our mission is to create a just and equitable society and the diverse leadership to sustain it. Through our paid full-time 10-month AmeriCorps program, we place Allies at nonprofits in Chicagoland and offer professional development training with a community-centered, values-based approach. We have both paid and unpaid long-term volunteer opportunities and unpaid short-term volunteer opportunities. We bring volunteers in to lead training, review resumes, assist with job preparation, coordinate special events, or serve on our board.
For general volunteer inquiries or to learn about having your organization partner with us, please contact us at
applychi@publicallies.org or (312) 422-7777.
www.publicallies.org
Pulmonary Fibrosis Foundation
The mission of the Pulmonary Fibrosis Foundation (PFF) is to serve as the trusted resource for the pulmonary fibrosis (PF) community by raising awareness, providing disease education and funding research.
Pulmonary fibrosis is a devastating group of progressive diseases that cause scarring in the lungs, limiting oxygen intake. As a result the brain, heart and other organs do not get the required oxygen needed in order to function properly. Pulmonary fibrosis affects 200,000 Americans and results in 40,000 deaths annually. There is no known cure.
Pulmonary fibrosis affects 200,000 Americans and causes more than 40,000 deaths annually.
William T. Schmidt,
President and CEO
Pulmonaryfibrosis.org
Sarah's Circle
Sarah's Circle is a refuge for women who are homeless or in need of a safe space. By providing life necessities, housing, case management, clinical and social services, we encourage women to empower themselves by rebuilding both emotionally and physically, realizing their unique potential.
Executive Director: Katherine Ragnar, 773-728-1014, ext 309
4838 N. Sheridan Road, 60640
773-728-1014
www.sarahs-circle.org
facebook.com/SarahsCircle/
Selah Freedom
Selah Freedom exists to end sex trafficking and bring freedom to the exploited.
Programs: Awareness, Residential Safe Housing, Prevention, and Outreach.
www.SelahFreedom.com
President/CEO & Co-Founder: Elizabeth Fisher,
Elizabeth@SelahFreedom.com
PO Box 21415, Sarasota, FL, 34276; 941-677-8840,
Info@SelahFreedom.com
facebook.com/
selahfreedominc/
Twitter: @selah_freedom
Instagram: SelahFreedom
SGA - Youth & Family Services
SGA helps children, families and communities facing great challenges to realize their potential. SGA leads the evolution of services to transform challenged neighborhoods in the greater Chicago area into healthy communities. SGA is leading the way to behavioral health for CPS students in over 84 schools. It is also the lead agency reducing infant mortality in South Chicago neighborhoods. Our cradle to career or college services help break the cycle of poverty and adversity by creating opportunity to thrive.
Elizabeth Mason, VP of Development; emason@sga-youth.org; p: 312-447-4328 or Susana Marotta, President & CEO; smarotta@sga-youth.org; p: 312-447-4321
www.sga-youth.org
St. Sebastian Players
St. Sebastian Players is a membership-based theater company emphasizing collaborative theatre development in a supportive environment that fosters learning and growth. We believe theatre helps people from all walks of life more fully understand themselves and each other.
Now in its 37th season, SSP began producing theatre in 1982 at its original home, the St. Sebastian parish. For a complete production history, visit saintsebastianplayers.org/Production-History
Board President: Jill Chukerman Test, jchukerman@saintsebastianplayers.org
1625 W. Diversey, (enter on Marshfield), Chicago
1641 W. Diversey, 60614
773-404-7922
saintsebastianplayers.org
StreetWise
Mission: To empower those facing homelessness or those at risk of homelessness by providing access to resources and employment opportunities so individuals can work toward self-sufficiency with dignity.
The StreetWise model offers immediate access to employment through the Magazine Vendor Program and entry to traditional employment through STEP (StreetWise Transitional Employment Program) of job readiness training and placement opportunities. These two programs are supported by the Social Services Program, which provides direct linkages to medical or mental health services, substance abuse or domestic violence services, and referrals for legal services.
Executive Director:
Julie Youngquist,
jyoungquist@streetwise.org.
4554 N. Broadway, Suite 350
60640; p: 773.334.6600.
www.streetwise.org
Facebook: StreetWiseChicago
Instagram: @StreetWise_CHI
Twitter: @StreetWise_CHI
Susan G. Komen® - Chicago
Vision – a world without breast cancer.
Mission – Save lives by meeting the most critical needs in our communities and investing in breakthrough research to prevent and cure breast cancer.
Goal – Reduce the current number of breast cancer deaths by 50% in the U.S. by 2026.
www.komenchicago.org
facebook.com/komenchicago
213 W. Institute Place,
Suite 302, 60610
Executive Director: Bonnie Gordon, info@komenchicago.org, p:773-444-0061
Teen Living Programs (TLP)
Teen Living Programs builds community, hope and opportunity for youth who are homeless. We address their immediate needs and help them achieve independence and stable housing.
Jeri Linas, CEO
p: 312-58-5700 ext. 227
jlinas@tlpchicago.org
162 W. Hubbard St. Suite 400, 60654
p: 312-568-5700 f: 312-568-5701
info@tlpchicago.org
www.tlpchicago.org
facebook.com/
TeenLivingPrograms/
twitter.com/TLPChicago
instagram.com/tlpchicago/
Touched by an Animal
Touched By An Animal preserves the nurturing bond between people and their companion animals by helping the elderly and others maintain this loving relationship and by providing lifetime homes for cats when needed, in our home, where Cats-Are-Purrsons-Too.
Marijon Binder
Founder and President
www.TouchedByAnAnimal.org
773-728-6336
P.O. Box 59067, 60659
Tree House Humane Society
Tree House is a humane organization that promotes the inherent value of every animal and strives to educate the public about proper and responsible animal care, with a focus on the care and placement of stray cats with special physical and emotional needs. We are committed to finding every healthy and treatable animal a home.
7225 N. Western Ave., 60645
p: 773-262-4000
info@treehouseanimals.org
treehouseanimals.org
U.S. Holocaust Memorial Museum - Midwest Office
A living memorial to the Holocaust, the United States Holocaust Memorial Museum in D.C. inspires citizens and leaders worldwide to confront hatred, prevent genocide, and promote human dignity. Federal support guarantees the Museum's permanent place on the National Mall. The USHMM Midwest office is the Museum's largest fundraising office in the country.
Midwest Office Executive Director Jill Weinberg, P.O. BOX 1852, Highland Park, IL 60035. 847-433-8099
midwest@ushmm.org
www.ushmm.org
Youth Outreach Services
Youth Outreach Services promotes the strengths and abilities of youth and families by providing community-based services that empower and enrich each to face life's challenges with confidence, competence and dignity.
Our Values:
Compassion - We care for all the youth we serve as if they were our own, helping them to pursue positive choices and opportunities to thrive.
Impact - We better the lives of youth and families by providing positive, inspiring programs that make a difference, now and in the future.
Diversity - We embrace the differences of every youth, family and community we serve with an inclusive nature and diverse staff.
Perseverance - We commit to building the capabilities of all youth, regardless of circumstance, to overcome challenges and achieve success.
Collaboration - We rely on our staff, communities, supporters, funders and partner agencies to help shape the success of our youth.
Executive Director: Rick Velasquez, rickv@yos.org,
773 777 7112 ex 7225
The best way to contact Youth Outreach Services is by filling out the contact form on our website www.yos.org/contact-us, emailing info@yos.org, or call 773-777-7112.