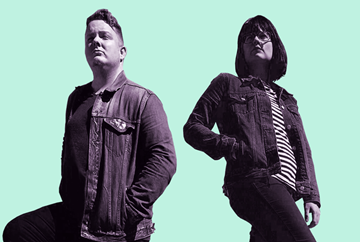 By: Mattie Alexander
April 16, 2018
Imagine driving along curving roads and long stretches of highway in a van during the day, occasionally stopping into the post office, or running a couple of other necessary errands. The day job consists of managing a schedule that spans the next four months. Late that afternoon, the van rolls up to a bar or music venue and you unload the instruments before playing music through the night. Relieved at last call as the last straggler buys a T-shirt, you load up the instruments after the high-energy show and get in the van and begin driving into the night. An hour's drive out of town finally ends at a Walmart parking lot where, in the back seat, a makeshift bed awaits for a restful sleep. Now, imagine waking up the next morning and doing it all over again. Imagine doing that for more than a year.
This is the "Never-Ending Tour" of North by North, a two-person band hailing from Chicago. The band will be returning home on April 11 to play at Chop Shop with The Pack A.D. and Bleach Party. Developing their own brand of infectious, spastic yet finely-honed rock and roll, band members Kendra Blank and Nate Girard toe the line between "3-minute garage pop anthems and your dad's favorite "prog-rock deep cuts" cassette tape, with plenty of hooks to spare." They have been on this grueling tour for over a year now with no plans of slowing down any time soon.
"We love it," said Kendra Blank, drummer and tour manager for North by North. "We are coming to most cities every six months at the maximum, but a minimum of every three to four months in between. We are able to utilize our contacts and keep in touch with our fans."
The two-person team works day and night to keep their show on the road. During the day, Kendra keeps the band moving by booking shows three to four months in advance, while Nate designs the merchandise and produces new music for the band to perform. At night, Nate sings lead vocals and plays guitar while Kendra drums. All while driving across the country.
"We try to make sure we get enough sleep every night," Kendra explained of the pair's demanding work hours. "The partying and rockstar lifestyle is not a part of our schedule. You can't do that every night and still function like a human being. Anyone who works a 9 to 5 and tries to go out on a weeknight will tell you the same thing."
Those who are new to the band may be surprised at how much noise two people can make. Chop Shop audiences can expect big things from seemingly small packages.
"We will definitely be loud," laughed Kendra. "We try to be as energetic and immersive as we can to create the experience."
For more information on North By North, visit their Facebook page or website at northbynorth.bandcamp.com.