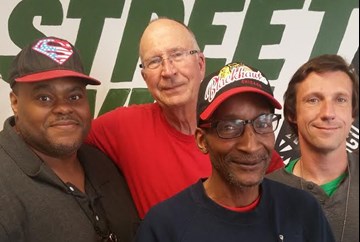 By: Staff
August 10, 2016
John: We are here today talking about the Olympics! What are your feelings about the upcoming Olympics?
Vince: Well, some people are very nervous because of the Zika virus. Even Pau Gasol who plays in the NBA with the Spurs and used to be with the Bulls and the Lakers, was mentioning that he was considering freezing his sperm—it's that serious. Russell over here is giggling like a little kid in school; I had to giggle on that one too. But people are that nervous, so you're not going to see everybody show. Most of your athletes are going to make it, but some of your bigger profile athletes like LeBron James and Stephen Curry may sit this one out. And that might swing the pendulum over to Spain. Pau Gasol has won two silvers in a row, and he says, "I want a gold!"
Russell: I'm concerned about the Zika virus too. Some of the athletes that aren't going to attend the Olympics this year will make me sad. But the ones that do attend, I might enjoy. Most of all, I'm going to enjoy the men's basketball. It's not the same: no LeBron, no Carmelo, but I think we might still have enough to beat Spain this year. There are some facts about Olympics basketball that I didn't know, though. The women's basketball team seems to win it every time. They've got a good team with Maya Moore and Elena Delle Donne. I'm really looking forward to the basketball, women's and men's, even with the time difference. I remember a couple years ago, I was up at 4 a.m. watching Olympic basketball.
Bill: Well, there are a couple things that I'll be looking for in the Olympics. One is that Michael Phelps is back. I believe it's his fifth Olympics. He's got beaucoup medals, something like 22 total and 18 of them are gold. He's going to be breaking all kinds of records just for being old and still swimming. I believe he's going to make probably two or three events, but the trials will decide a lot of that. And the trials, of course, are brutal because if you get one false start, you're out. That's it! It used to be that you got two or three false starts, but then people were cheating on the first two. And now, you can be a champion and go through all of these individual trials, and then you get one false start and you're out. You never know quite what's going to happen, and that's pretty exciting.
John: As far as the Olympics go, I can't say that I'm a fan, but one of the more interesting things to me is the triathlon sport. Why? Well, think about it this way. You go and do your swimming, and it doesn't just end with swimming. You go on your bike, and I'm not talking about a stationary bike. You ride a bike for many, many miles, and then that doesn't end. Then, comes the incredible marathon running. So you're doing three different things at one time. I can't imagine what that does on a body. You have some people who might even die if they don't condition themselves, and a lot of people faint. I think that would be the hardest sport to try. Also, as I'm looking through the list of this year's athletes, I see there are a lot more people 30+ years old competing like Kerri Walsh Jennings, Matt Emmons, and Dawn Harper-Nelson. The fact that these older people are coming back out is what stands out most to me.
Vince: Well, all of these people and their countries are competing for their own individual pride, and they've going to put their best feet forward. Of course, the USA team is going to be strong. They're heavily favored in basketball and track and field. Usain Bolt and the Jamaicans will be strong in the track and field as well, so it's going to be hard. There are some individuals who are just going to dominate in the Olympics, and unfortunately, there's always that one heartbreak that goes with it. I remember Mary Decker. She was running and she tripped up. She just broke down in the middle of the field. You have heartbreaks like hers and like when the United States lost to Russia in 1972. I'm still upset about that, and I was a kid when I saw that. But anyway, the Olympics will be 16 days of glory, and whichever team you're rooting for, may they have great success. For me, go USA!