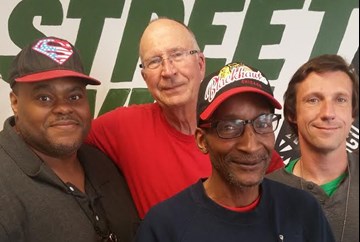 By: Staff
February 19, 2018
Donald: The major story of the Olympics for me is Russia being banned, then readmitted. Ice hockey and bobsledding are the two sports I am most looking forward to.
Russell: There are going to be a lot of competitive teams this year. I still remember when the US beat Russia in the 1980 Olympics and then went on to win the gold. That was a huge upset. Russia was a tough team and the US was made up of college kids.
John: I always enjoy the individual stories every Olympics. This year, one that interested me is Brittany Bowe. She was born in Florida, which is not known for its winter sports. She was actually a basketball player and she played collegiately at Florida. It wasn't until she graduated that she considered speed skating. She moved all the way to Salt Lake City and made it to the Olympics. I am excited to see how she does this time around. Another interesting story is Hilary Knight of the US Women's Hockey Team. When she was 5, her family moved to Chicago. Hilary convinced her mom to sign her up for skating lessons and went on to play hockey for the University of Wisconsin. She helped that team win a national championship and went on to join the NWHL and become a star in that league. She's won at every level, so she's looking to add a gold medal to that.
Donald: A lot of these athletes are impressive because they don't just play one sport. They are multitalented.
Russell: I am also interested in seeing figure skating and cross-country skiing.  There are going to be 102 gold medals given out and 15 different events, so good luck to everybody. Also, go US!
John: The thing to watch for me is hockey. It's going to get a lot of attention. Most of the events are individual, so hockey stands out as a team sport. Ever since the "Miracle on Ice" -- the US win over Russia in 1980 -- the US gives Olympic hockey a lot of attention.
Donald: I am interested to see how figure skater Nathan Chen does. He took up skating at the age of 3 and was actually a hockey goalie for a while. He eventually realized his true passion was skating. He entered his first figure skating competition in 2003 and went on to win three national championships. He's one of the most dominant figure skaters out there. What he does on skates is truly remarkable. His body control is fun to watch. He can stop on a dime and make incredible turns at high speeds.