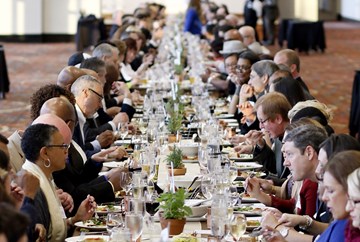 By: Suzanne Hanney, from prepared materials
May 1, 2017
The Chicago Community Trust has set aside Tuesday, May 16 for its fourth annual "On the Table" civic engagement initiative.
On the Table is intended to elevate conversations about civic issues, foster new relationships and inspire collaboration across metro Chicago. Members of the public are invited to host at least one conversation at any time May 16; it could be over coffee with friends, at the office, at home, or at a restaurant. More information and how to sign up are at www.onthetable.com
"At The Chicago Community Trust, we aim to put community voice at the center of everything we do. By listening with full attention to the diverse voices within our community, we set the stage for meaningful collaboration," said Terry Mazany, president and CEO of the Trust. "For the past three years, we've seen the power of people coming together with their neighbors to talk, listen, learn and take action, resulting in positive change in our community through On the Table."
The Chicago Community Trust is a foundation that partners with donors to leverage their philanthropy and improve the quality of life across metro Chicago by making grants to nonprofits working there. As it developed its new strategic plan, it sought to be successful by gaining input from many people, not just a few.
The first On the Table in May 2014 coincided with The Trust's efforts to be sure it was listening to the voices of diverse stakeholders as much as possible. When survey responses had been fully compiled and analyzed by the University of Illinois at Chicago's Institute for Policy and Civic Engagement, officials of The Trust saw the most frequent topics that year were:
1. Education and youth development
2. Community engagement
3. Equity and social inclusion
The premise of this year's On the Table remains the same.  Anyone can sign up to host a mealtime conversation – breakfast, lunch, dinner and everything in between – at a private residence, local restaurant, place of worship, library, office, backyard or other community location. A meal can be sit-down, catered, picnic or potluck – it is entirely up to the host to decide how the meal is designed. What matters most is that each host brings together a group of people for meaningful conversation.
Hosts can sign up at www.onthetable.com. The website provides materials to help guide conversations: a toolkit with prompts, guides developed for youth and families and, new this year, resources for discourse focused on equity and social inclusion.
Last year, with support from the John S. and James L. Knight Foundation, The Trust sponsored a learning symposium about On the Table attended by 60 individuals – from community foundations, government and nonprofits – in 40 cities, 25 states and Canada. Ten cities will have their own On the Table this year, with support from the Knight Foundation, which sees the discussions as a way to help cities attract and keep talented people, to expand economic opportunity and to create a culture of civic engagement.
To learn more, you can also call 866.737.6951. You can join the On the Table 2017 conversation on social media using the hashtag #OnTheTable2017.