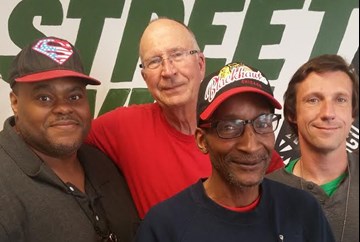 By: Staff
April 24, 2017
Russell: First of all, Derrick Rose is injured again! I don't believe this guy! I was saying to myself that the Bulls should have kept this guy. But now, I'm glad they didn't. I would have said, "here we go again, y'all." I think he should retire. His knee is going to be gone and he's not even retired yet. He's got to take care of his health. I like the guy a lot. He's my idol. I've got the shoes and the jersey. But, it is what it is. If he does come back, he's gotta take it easy and try not to do so much. It's sad, he's such a young guy.
John: We just recently got off another NCAA tournament, and of course no one won their tournament pool. It was North Carolina, of course, that won for the sixth time. It's just shy of the UCLA all-time record.  The last game where it was North Carolina against Gonzaga there were so many fouls! You couldn't keep track of how many there were! There were two players on each team who had at least four fouls. The fouls really stop the flow of the game. You can't get a feel for what the players are going to do. When the fans come in and spend their money, do you think they want to watch the officials officiate? I don't think so. They come to see the players play. My problem with this championship game was there was too much blowing of the whistles. Seriously, that's why the fans and broadcasters were ready to fall asleep during the telecast. In another topic, opening day is starting and it's good to see baseball back. The crack of the bat, the smell of the hot dogs, I just wish the Cubs and Sox would open on the road or in dome stadiums for two weeks, like we mentioned last year. Baseball in essence starts getting good around Memorial Day. When people have time off, or planned vacations, and people come from Iowa or Montana to see the Cubs, that's when baseball starts getting good. Russell, how do you see the NHL and NBA playoffs going?
Russell: I'm still praying for my Bulls! I don't think it's going to be Cleveland this year. I think they're struggling and it's time for the changing of the guard. Maybe the Boston Celtics will take it, but maybe Cleveland will turn it up a notch, or two. In the West there's Golden State, I mean they don't have Kevin Durant and they still have the best record in the NBA. For the NHL, you know what's coming out John…My Blackhawks! We've got the best in the West and will take advantage of that this year. They look good this year. Last year they were tired and this year they are coming out fresh and more energized. They gotta watch it because no one has won the best record in the conference and won the Stanley Cup. So you gotta watch, Hawks! Play hard!
John: I think it could be a possibility to see the Blackhawks win again. To me, it seems like a Blackhawk vs. Penguin Stanley Cup is likely. Now for the NBA, I still think Boston is a player and maybe a year away. Nobody is touching Golden State and Kevin Durant is coming back, they are going to be even more loaded now than ever before. It's likely going to be a Cleveland vs. Golden State match up.  Any final thoughts, Russell?
Russell: I'm glad baseball season is here and I'm looking forward to going to some games with my SportsWise buddies. We didn't go to any last year. This year let's do it all, do it right. Maybe we'll do some SportsWise at the game!