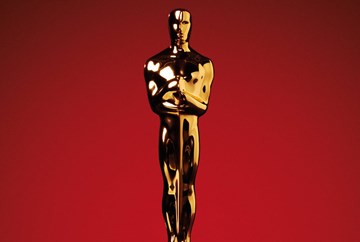 By: Dave Hamilton, Rebecca Parkinson, Jasmine Stewart, & Jenna Marcel
February 24, 2017
With the 89th Academy Awards ceremony hosted by Jimmy Kimmel set to be broadcast on February 26, we asked StreetWise vendors & friends to view a handful of the Academy-nominated films and share their thoughts.
Meet our Panel: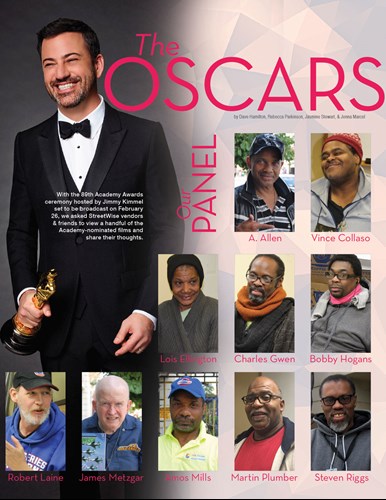 LA LA LAND
14 OSCAR NOMINATIONS
Best Picture
Actor in a Leading Role, Ryan Gosling
Actress in a Leading Role, Emma Stone
Cinematography,
Costume Design
Directing
Film Editing
Music (Original Score)
Music (Original Song), "Audition (The Fools Who Dream)"
Music (Original Song), "City Of Stars"
Production Design
Sound Editing
Sound Mixing
Writing (Original Screenplay)
Charles
I thought it was a tribute. To Hollywood, to musicals, to that style, and that cinematography and the art and the colors and the costumes. I think the idea was to bring back that type of old Gene Kelly, Technicolor, cinematic-type situation because we don't have that anymore. Most entertainment now is gritty and realistic and it's very hard to get out of this moment, and this movie sort of takes you out of Trumpville and all the stuff that's going on right now. It is escapism. Which is good. I related to both of the characters, not necessarily as people, but as ideas. They both had these dreams, and they let reality separate them from their dreams. That happens, it has happened to me, everyone really. I think the key of this movie was to get back to the dream. Another thing I loved was that the actors weren't professional singers, they were normal people singing. I liked it because it wasn't perfect. What put me off of musicals is this leap from people talking normally, then jumping into song. Because they don't have these huge voices, it made the transitions softer and easier to follow. It is deserving of a best picture nomination. I think it is what movies are about, you're supposed to forget about what is going on in your life and slide into another world.
Bobby
In the beginning of the movie, I didn't understand the nature of their relationship. She had a boyfriend. Then she met this guy and I thought they were supposed to be friends. It took me a second to realize they were falling in love. I loved it anyway. I loved the color, the music, and the outfits. I related to both since they were both struggling. It's good to have friends when you are struggling. John Legend was his friend and he came in right on time. It deserves to be nominated.
Robert
I am a huge fan of musicals. I grew up on them, my mom also used to perform on the stage down in St. Louis. This movie had all of the 1950's clichéd musical elements. It feels like the 50s when they first start but then they're using cell phones and he has a cassette player in the car. Who the hell has a cassette player today? I mean 90% of this movie was filmed on a soundstage, there was almost zero on-site filming, not even the car scene at the beginning. That was a soundstage. I thought the only really original number was them dancing amongst the stars in the planetarium. I was waiting for the big, spectacular musical at the end, to bring it home, like in "Guys and Dolls," in "Singing in the Rain," and so many other musicals. That was not it. As he's thinking this is how it could have played out and then it comes back to him to end the movie, but it was not a big number. The dance number overlooking Hollywood was cool. But it also reminded me of Gene Kelly and Cyd Charisse in "Anchors Away." I felt like I've seen this before in Gene Kelly movies. It was bringing back memories of Fred Astaire and Ginger Rogers, 'cause that was something they would do quite a bit in their movies. They'd have a dramatic set change when it would transition. Stylistic, 1950s, not much originality. Boy meets girl, that type of story line.It's okay, I can understand why it got the nominations, but in the musicals that are going on today, the brand new productions are a lot grittier, a lot more realistic, and this was trying to bring back the past. It's like the director and writer were wishing we could go back to the 50s, but I wouldn't want to do that. Would I have personally nominated it for best picture? I don't think so.

MOONLIGHT
8 OSCAR NOMINATIONS
Best Picture
Actor in a Supporting Role, Mahershala Ali
Actress in a Supporting Role, Naomie Harris
Cinematography
Directing
Film Editing
Music (Original Score)
Writing (Adapted Screenplay)
Martin
I identified with the main character. I got teased a lot, and I didn't like fighting. Still don't. It held my attention right away. It really stirred up some feelings that I wish I was over, but I am not. I had a lousy relationship with my mother, a lousy relationship with my father. He died six years ago, she died 26 years ago. It hurts to have to say that she never said she was sorry for the way she treated me. She took stuff out on me that she wanted to do to him. I didn't ask to be here. God wanted me here. I wish he had dropped me off at someone else's house! I also identified with the movie because I never felt accepted among the guys, I still don't. I've been withdrawn. I have issues with pent up anger, if I wasn't a Christian this would be a bigger problem! I would be in jail or dead, that's the truth! What has always bothered me is that women can be affectionate with one another, and men can't. That still bothers me. If you feel what you feel, I would rather you show that to me when I can see and feel it too, rather than crying over me in my coffin. If you say you love me, then say it when I can hear it. Men need to stop aligning themselves to fit into a mold. Have enough courage to be who you are, and to hell with what everybody else thinks! I think this definitely deserves to be nominated.
AAllen
From a black person's point of view, growing up in the 'hood, I can definitely relate to him having a drug-addict single parent mother. He was brought up in confusion and he couldn't identify with many people. He lost his identity. At the beginning another kid tells him that he isn't soft, so he starts to believe that, and you see him carry that all through the movie. He gets harder and harder. I think it is worth these nominations because it showed so much reality. For people that didn't grow up in the 'hood, they get some insight as to what it was like to be raised in the 'hood by a single parent. It's hard on both of them, it shows the mother trying to be a mother, but dealing with that addiction. It shows the struggle of him having to literally raise himself.

ARRIVAL
8 OSCAR NOMINATIONS
Best Picture
Cinematography
Directing
Film Editing
Production Design
Sound Editing
Sound Mixing
Writing (Adapted Screenplay)
Bobby
I was looking forward to the movie. Although I wasn't sure about the genre of the film I wanted to try something new. After watching, I did not feel that it was relatable to me particularly because of the sci-fi nature of the film. I have never been interested in sci-fi films because they do not strike me as being realistic. Though the movie did have an interesting plot, it moved very slowly and there was very little diversity among the characters. I did like the characters, specifically Forest Whitaker because I feel that I relate to him the most.  I liked that he was in a high-ranking military position but I wish he had more screen time and longer lines. It was okay, though I would not pay to go see it in theaters.
Steven
The movie started off okay; I was confused about the first few scenes because they were vague and did not match up with what the character was saying when the movie began. About fifteen minutes in, I fell asleep and was asleep up until the last 10 minutes of the movie. The movie moved very slowly, there were no action scenes or any romance to keep the story interesting. It was very hard to follow.
Amos
I came in towards the end so I did not see the entire movie. From what I saw it was very interesting but moved slowly. I liked that it was an alien movie that did not include an invasion or threat to humans. It was not much action and it was really dark in a lot of scenes.

HIDDEN FIGURES
3 OSCAR NOMINATIONS
Best Picture
Actress in a Supporting Role, Octavia Spencer
Writing (Adapted Screenplay)
Robert
I think it should be nominated and I wouldn't have a problem with it winning. It's historically accurate and a very compelling story that needed to be told, especially considering the times.  It accurately portrayed how engineers think. I'm an engineer; software engineering is my specialty.  I related to the math, to the attitudes of the engineers. They are still that way.  You have a problem, solve it. And if that means taking a crowbar to the problem, whatever it takes.  The engineers were almost  victims of the times as the ladies were.  The laws prevented them from doing certain things that they didn't agree with.  John Glenn didn't care and just wanted to get up there and back in one piece.  He wanted the smartest one and he found the smartest one, Katherine. 
Bobby
I liked how the movie talked about the struggles with the women and how they had to break that barrier.  Then the color barrier was broken too.  I could identify with the character that was in a relationship with the main character Katherine who had three kids.  I liked it, but I'm not really into space movies.  I think it deserves to win awards and I would take the kids to see it. 
A. Allen
I remember the water fountains at that time and they weren't like in the movie.  The black fountain was way down here and dirty and warm water.  I remember going into Montgomery Ward and trying to drink from the white fountain because I knew it was cold.  My mother said, "Don't do that." But this white guy came and helped me and picked me up.  I drank out of the fountain and thought, "Oh, that is good."  I could relate to the man that stood by Katherine, the main character.  He accepted her and her family.  I know when you start a relationship with a single parent and she has a ready-made family you've got to be willing to accept her family.  Everything about her including her kids, it's according to how much you love her.  I think the movie deserves to be nominated because it shows some of the reality.  Martin Luther King said, "Don't judge us by our skin but by the content of our character."  It went into more than just the character, but the intellectual part too.  And I liked that '57 Chevy.

FENCES
4 OSCAR NOMINATIONS
Best Picture
Actor in a Leading Role, Denzel Washington
Actress in a Supporting Role, Viola Davis
Writing (Adapted Screenplay)
Vince
I can see a lot of parallels to my life having raised my two sons and having the disconnection from my own father. Denzel's character, Troy, had those same situations. He also had a daughter that he loved very much, same thing. Troy has a brother who's impaired, and I have a son, a younger son, who's autistic and seizure prone, so when he has a seizure everything stops, you have to make sure he gets through his seizure. When I thought about this movie it brought back all those memories and it reminds me of the difficulties I'm facing with my children. At the end of the movie, [Spoiler
Alert] it's a beautiful scene when his brother played the horn and the son opened up and it reminded me of the distance I had between my father and me when he passed. When he passed my daughter was just a baby and she never met him. It took me a while to process those feelings. Being a man is tough. You want to raise your children in this world, this world chews you up and spits you out and you don't want that to happen to your children. I saw how tough he was with his son. My son, to this day, knows why I was tough on him at times. When my father passed I was angry at him, and it took me a while to process that. Holding my daughter at that time, now she's 13, helped me process and to start to love him on his own terms. I didn't realize though how much of a balancer and how wonderful a daughter is. I mean here's a little lady who depends on you. She looks up to you. All these years you were checking out women, and here you are, you have to protect this little lady and you see boys coming through the house, "may I see your daughter?" "No!" Click. And you start thinking, hmm where do I go to find a good shotgun? But you start to open yourself up to the feminine side, the female side of your life when you have a daughter. And I think that in Denzel's case I think that it helped soften him. I think he found some sort of solution, it would have been nice had he made peace with his son Cory, but Cory was in the military and he had to find himself on his own. But sometimes the ends of the rope, they find themselves and tie themselves in a neat little bow, even when we don't think they will. Sometimes, they do it themselves.
Lois
Give Viola Davis the awards now! She was excellent. [Spoiler Alert] After 18 years, for her to take on that- she didn't ask a man for one iota of a thing, no, no, now I'm getting emotional. She's a homebody, she took on the role, no baby. If it had been me, I would have been out of that door oh him, his woman and that baby. She took the baby in and accepted it as her own. What woman would do that? I mean seriously, after 18 years. And then you befriend… When the clouds are gone and you see the sun and you can visualize something is there. Lord have mercy, give her the award. I can do something like that but to have my feelings hurt and then he's going back over there to the woman and then coming and sleeping with me and I'm knowing all of this- NO! It's not acceptable! He's sleeping in one room and he's going over to her, no, no, no. I can accept the child but you know I just can't get with that kind of chaos, that's just drama to me. People will look at this and see something that plays a part of their life, in the picture.

SILENCE
1 OSCAR NOMINATION
Cinematography
James views Silence with Cardinal Blase Cupich
StreetWise Vendor James Metzgar attended a recent screening of the movie "Silence" at the Music Box Theatre with Cardinal Blase Cupich and other members of the public. The Martin Scorsese film is based on an historical novel about Jesuit missionaries in 17th century Japan: two young priests set out from Portugal to find an older priest who has allegedly "apostatized:" renounced Christ to escape martyrdom.
Metzgar's writing appears in StreetWise Magazine with that of other vendors in the StreetWise Writers' Group. He is a Catholic and lived in Japan in the 1950s when he was growing up with his Army family. He visited again in 2006.
Here is what he wrote about the screening with Cardinal Cupich:
"I would not want to see the movie "Silence" again because I am somewhat depressed by the torture shown: scenes of crucifixion by being tied with ropes to crosses and being close to the sea so as to be covered or nearly covered by high tide; people being wrapped up and thrown into the sea; people being hanged by their feet with their heads in pits. Seeing this leads me not to be judgmental because I don't know if I would have the courage to submit to such torture and not apostatize. I also don't know if I would be able to not apostatize if I were a priest and I knew that not apostatizing would make other people submit to torture.
Cardinal Cupich said this shows that we should not force our beliefs on others. Missionary activity should only be done so as to lead people to voluntarily accept our faith. Under the circumstances of that period in Japanese history the government was not accepting of Christian missionary work because they feared that such foreign influence would take over Japan by colonization.