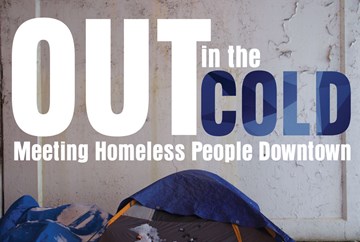 By: Suzanne Hanney
January 22, 2018
When 72-year-old John chanced upon a Thresholds' CTA Mobile Assessment Unit at an 'L' station downtown on a zero-degree day in December, he told them that he had run away from a nursing home and ridden the trains all night.
John didn't know his phone number and his phone was too dead to revive it, so Thresholds licensed professional clinical counselors Mada Leanga and Patrick Gaurano walked with him to a nearby Walgreens to try to briefly charge the phone on one of its photo scanners.
Along the way, John animatedly talked of attending Tilden High School on the South Side and then working as a sound engineer for Warner Brothers. He said he had worked with the Charlie Daniels Band, Lynyrd Skynyrd, the Marshall Tucker Band and The Who.
"I've lived all over the world – Hollywood, Hawaii, Spanish Harlem – and outlived five wives," he said. "I grew up with Steve Miller. Just ran into him today."
The phone charge was unsuccessful but John promised to meet the Thresholds duo a week later. As they left the drugstore, they met Shirley, a 53-year-old woman who was being ejected for having wet herself.
Shirley and her husband had also ridden the trains all night after staying in a nearby building until it closed at 1:30 a.m.
Shirley was shot in the legs and lost them to gangrene. She told Leanga that she and her husband became homeless about 18 months ago when the person who had paid their rent for six years stopped. She receives $400 monthly in benefits.
She said she didn't want to go to a shelter because she would be separated from her husband.
Leanga made an appointment to see Shirley at the same place in a week and encouraged her to go to the Haymarket Center at O'Hare for her heroin addiction. Shirley agreed to seek treatment – if her husband could be with her.
While walking over to a food court adjacent to a CTA station, Leanga and Gaurano ran into a 50-something man with a suitcase and duffel bag who ordinarily sleeps at a shelter near the Loop and then carries his things to Millennium Park. Unlike John and Shirley, who were new to them, this man is one of the 80 to 100 people regularly encountered by the Thresholds Mobile Assessment Unit.
At the food court they met 60-something Priscilla. She said she's legally dead, but she "rode the filthy-ass Red Line all day and all night" and asked for a Coke and a peanut butter and jelly sandwich.
Around the corner from her was a man who has been a pastor and "lived here and there," and "with sisters and brothers," another new person for the team. Nearby, a 73-year-old woman was eating a full dinner, camouflaged by a Macy's bag on the table. She needed a pair of boots and Leanga said they would buy them and bring them the next day.
After about an hour, Shirley appeared. She had another accident, which provoked an irritated look from a bystander and a "wet floor" hazard cone from food court personnel. "Why are you following me?" she said to the Thresholds team.
Thresholds receives a grant from the Chicago Department of Family and Support Services (DFSS) for its work adjacent to the Chicago Transit Authority stations in the Loop. The social workers are reimbursed for food and other items they buy for clients.
However, many agencies contribute to homeless outreach downtown, including the Salvation Army, Catholic Charities, the Elam Davis Service Center of Chicago Lights at Fourth Presbyterian Church and the Chicago Loop Alliance (CLA).
The CLA launched its Street Team Ambassador program in October 2013 with three goals: to provide directions, to identify cleaning needs on sidewalks -- and to connect homeless people with social service providers. Modeled after programs in New York City and Los Angeles, the Street Ambassador Program is funded by assessments on property owners along both sides of State Street from Wacker to Congress. Initial partners included Thresholds, CSH, Chicago Health Initiative, Chicago Temple, Health and Disability Advocates, Heartland Health Outreach and DFSS.
What should a pedestrian say when they encounter someone on the street, especially in cold weather? The answer is complex.
Two years ago, CLA introduced its Change for the Better program. Its goals were to both educate the public about panhandling and alternatively, to suggest online donations to multiple human service agencies, in light of state budget cuts.
"Street performers and vendors with
permits are not panhandling," according to the Change for the Better brochure, but also, "Many people suffer from drug or alcohol addiction and giving them spare change may only enable their addictions."
But more recent material on the CLA website says that when pedestrians encounter people who ask them to sign petitions or to give donations, "If you do respond, please be civil."
"The homeless are an important constituency for us in the Loop to be aware of and work with," CLA president and CEO Michael Edwards said in a telephone interview. "The goal is to get a high-performing experience so we get more visitors and investors in the Loop in general and State Street in particular."
Edwards continued, "People in general want a street that's clean and feels safe, part of the work we began three years ago to start our street team program. They are highly trained in social work and manage the State Street common areas. They recognize issues of homelessness and refer people to services they need to get them off the streets. They also understand panhandling and work with police to remove aggressive panhandlers. If people are shaking a cup and not standing in people's way, we get that. But if they are getting in doorways and getting in people's way, that's illegal."
"The key word is intimidation," added Brittany Tepper, CLA marketing director.
"State Street is popular [200,000 pedestrians daily] and if your issue is lack of resources, we understand why you would want to be there," Edwards said. "People in Chicago are givers."
Aside from panhandling, "If people want to be homeless, there's nothing we can do about that," Edwards added. "A lot of times we come to recognize they have mental illness. If you are mentally ill, we encourage you to get the services you need. We care about you. But if you have a lot of stuff around and you are not contributing to the vitality of the street, where can we move the person where they can get the services?"
CLA's current partners include Heartland Health Outreach, which provides permanent housing, examinations, immunzation and transport to service for people with mental illness; the Family Guidance Center at 310 W. Chicago Ave., a drug treatment center; Chicago Lights' Elam Davies Social Service Center at Fourth Presbyterian Church; and Street Plus, its hired firm of professionals with social work backgrounds. The ambassadors gather names and make referrals to services.
Sometimes they help people get IDs and other paperwork they need in order to access housing.
This can be more difficult than it seems. An older woman, for example, did not remember the county where she was born, the first step in obtaining a birth certificate, Thresholds' Leanga said. One of their clients said he was from the Mideast and gave French and English names. A lawyer Thresholds hired was unable to find his identity. And people with paranoia don't want to sign consent forms because they don't want to be found.
Last year, CLA street ambassadors distributed 1,500 pamphlets listing services for people who are homeless, which resulted in 1,000 referrals, Edwards said. Services listed in the brochures included:
• Catholic Charities, 721 N. LaSalle St., weeknight meals as well as rental assistance for newly housed individuals; transportation from hospitals and police stations to emergency overnight shelters
• Franciscan Outreach, 2715 W. Harrison St., 257 emergency shelter beds; and day services (free laundry, mail address, dinner, access to medical and legal services) at the Marquard Center, 1645 W. LeMoyne
• Matthew House, 3722 S. Indiana: day shelter services including case management, toiletries and food as well as shelter referrals to those leaving emergency shelter.
• Breakthrough Urban Ministries, men's housing at 402 N. St. Louis Ave. and women's housing at 3330 W. Carroll Ave. as well as free laundry, showers, meals, job acquisition assistance and case management.
The U.S. Department of Housing and Urban Development (HUD) mandates that each metropolitan area collect data on people experiencing homelessness and the services they receive. Since 2012, All Chicago Making Homelessness History has administered the federally mandated Homeless Management Information System (HMIS) locally.
HMIS is used for Coordinated Entry (CE), a process to ensure that all people experiencing a housing crisis have fair and equal access. Two of CLA's six ambassadors are trained in CE. Currently, All Chicago has 86+ partner agencies working together to end homelessness for 10,620 individuals and families in Chicago.
CLA transitioned four people off the streets in 2016.
Edwards said that nationally, the thinking is that once people get into housing, they have a place to deal with their issues. "They are not choosing to be homeless but they have specific issues that make getting one difficult. You might have to talk to them seven times before you can get them the services they need."
Leanga, supervisor of the Thresholds Mobile Assessment Unit outreach team, said that when it comes to homeless people, "everyone wants to impose their will, like they know better." Some homeless people resist nursing homes because the institutions demand all but $30 of whatever benefits they receive, which does not leave enough for personal items or storage bills.
Others are not ready for housing, she said. Who will wash the dishes, who will feed them if they have no money? And where will they find the same community as on the street?
Social workers must acknowledge the individuals' freedom and more than that, their pride.
"You have to be respectful, nonjudgmental," she said. "It is the most humbling experience, working with this population. I learned so much more than I learned my whole life. I learned to listen."
Thresholds outreach worker Patrick Gaurano added, "In the course of building a relationship with them, we will have a discussion like, 'It's getting really cold. How do you feel about housing?' We don't make people do what we feel is right. Through our relationship, they'll discover what they want."
"They've been let down so much," Leanga said. "They have a lot of loss. They are aggressive because they have to keep themselves safe."
Engagement takes a long time and so the Thresholds team starts slowly, perhaps asking the person if they want something to eat. An offer of adult diapers might also have been a good fit  for Shirley.
"As an outreach worker, you have to be genuine," she said. "If you have a savior complex, you are not going to make it. Respect them and do not judge them or they will not work with you."
Would she give to a panhandler on the street?
"I think it's like your duty as a citizen of the world. If you don't give anything, at least a smile." It's acknowledgment that they exist, she said.
And if the people use the donation for drugs, denying them a donation won't make them stop. "They need it for a reason. When you gift, you shouldn't care what happens to the gift if you give from the heart."
"I err on the side of giving the person more choice and more voice; it shows them respect," said Jackie Lorens Harris, director of the Elam Davies Social Services Center of Chicago Lights at Fourth Presbyterian Church. "A lot have turned to [drugs and alcohol] because of their homeless experience. We understand it has complex causes and effects. If they choose recovery or harm reduction, our staff does not have judgment.
"I would first engage with the person, ask their name, how they're doing," Lorens Harris added. "Like anything else about building trust and a relationship, it's what will help them in that immediate moment. Maybe a meal, a resource to a local shelter. Maybe a couple of dollars to get food or hygiene items. Just know they might choose to use it to the best of their needs."
The Elam Davies Social Services Center works with 1800 unique individuals every year: most of them homeless but others at risk of it, whether living on the street, in emergency or transitional shelters or on limited income in affordable housing. There are no geographic restrictions to participation. Clients have come from as far north as Evanston, as far south as Blue Island and as far west as Westmont. Even people driving across the state who have been referred by other clients have used the center's services.
The social service center receives no government funding, but rather donations from individual donors, corporations, foundations, Fourth Church members and Fourth Church itself. Separately, the Church offers a 4 p.m. Sunday supper and funds the Monday supper at Catholic Charities; it also offers a bag lunch program at noon Tuesday, Wednesday and Thursday that participants can access once a week. 
The Elam Davies Center has been doing street outreach since April 2013, first in partnership with Northwestern Medical Center's Feinberg School of Medicine and then in its own Good Neighbors program. In addition to Wednesdays in the Loop with Chicago Loop Alliance, Good Neighbors spend an hour both Tuesdays and Fridays on the Magnificent Mile. They proceed from the church's location at Chestnut Street and Michigan Avenue south to Wacker -- and on side streets if they see someone in need.
"We're really excited about partnering with Chicago Loop Alliance and other mobile outreach," Lorens Harris said.
"Working with individuals experiencing homelessness requires a lot of collaboration because people are facing a lot of complex challenges regarding housing, employment, medical and legal support. The more we can collaborate with agencies like Chicago Loop Alliance and Thresholds, the more we can help our clients feel empowered and supported to transition to more stable situations."