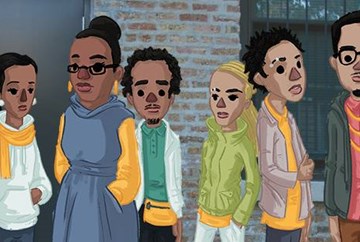 By: Suzanne Hanney
February 27, 2017
From Friday night, February 24 to 7 a.m. Saturday, February 25, the Out in the Open Sleep In is intended to wake up Chicago to the needs of unaccompanied homeless youth.
These youth include people like Kenyada, who was 17 when her mother chose her father over her and kicked her out; or Sharonee, who came out as transgender at 14 and was thrown out. "It's better to be you than to fight yourself to be someone you're not," she says.
Chicago Public Schools identified a record 22,144 students who were homeless or unstably housed in 2013-14. Meanwhile, 40 percent of homeless youth are LGBTQ, according to numerous national surveys. However, only 374 shelter beds exist for unaccompanied youth in Chicago.
The Sleep In, which will be at the Second Presbyterian Church, 1936 S. Michigan Ave., will benefit 13 youth-serving homeless agencies, shelters and drop-in centers:  The 750 Club Apartment Adoption Project, AIDS Foundation of Chicago, Broadway Youth Center at Howard Brown Health, Center on Halsted, Chicago Youth Storage Initiative (200 lockers so far for precious papers and possessions at shelters and drop-in centers), El Rescate, La Casa Norte, LYTE Collective, New Moms, The Night Ministry, Pride Action Tank, Teen Living Programs and Unity Parenting.
Chicago-based rapper Taylor Bennett, who is releasing his new album the same day, has created a team to raise funds for three South Side-serving youth agencies.
Starting at 6 p.m., the event will feature music and art, MC'd by Fawzia Mirza, fresh off the same job at the 250,000-strong Women's March on Chicago, and NBC Chicago's Lee Ann Trotter. New work by artist Erik R. Sosa-Kibby will be for sale, with all proceeds split among the nonprofits.
During the 7-10 p.m. program, attendees will hear from individual youth and will participate in a variety of activities. In addition, there will be special guest political speakers including Cook County State's Attorney Kim Foxx, Illinois state Rep. Juliana Stratton and Ald. Pat Dowell (3rd ward).
Entertainers will include Melo Makes Music, Lucy Smith, Jess Godwin, Yohan Stevenson, Alma Mendoza, Sami Grisafe, and Chelsea Coren on the church's beautiful organ. Poet e. nina jay will read from her work. Those who are not sleeping over can attend the 7-10 p.m. program for $20.
Sleep In preregistration is $75 and ends at midnight Monday, February 20, but participants may still register for $85 at 5 p.m. Friday at the event. Participants then select an agency for which to raise pledges. Checks should be made out to the AIDS Foundation of Chicago with "Sleep In" in the memo line. Young people under 17 are welcome to attend and discounts are available for families by emailing JThaney@aidschicago.org
This is the second such event to benefit unaccompanied youth. The previous Sleep Out was in November 2015 during a blizzard. Although this year's event is inside, participants are still encouraged to bring clothes to layer, extra socks, a heavy winter coat, hat and gloves, a sleeping bag, flashlight and water bottle. Tents and heaters will not be needed. Security will be provided.
However, toilet facilities will be limited to outdoor port-o-lets right outside the church. Because of limited parking, public transit and taxi use is encouraged.
This year, the event is also able to accommodate satellite events off-site. Would-be donors can create their own event in city or suburbs and select agencies for fundraising. This is perfect for schools, religious organizations and families, who can connect to the Second Presbyterian Church site through live social media posts throughout the evening.
Hosts include Pride Action Tank, AIDS Foundation of Chicago, Edelman, agencyEA, Windy City Times newspaper, Second Presbyterian Church, and a wide range of other partners.
To donate or sign up for this event and to learn more about
individual teen's stories, please visit sleepinchicago.org.
To volunteer or for information on team signups,
contact Jackie Thaney: JThaney@aidschicago.org.
For information on sponsorships, email Tracy Baim,
editor@windycitymediagroup.com .
Facebook: