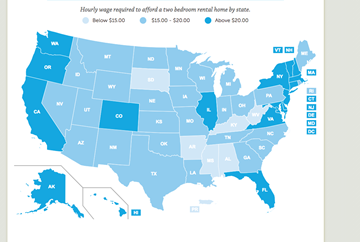 By: Meredith Melland
October 1, 2018
A metro Chicago worker would have to earn $22.69 to afford a two-bedroom apartment at fair market rent, according to the National Low Income Housing Coalition's (NLIHC) 2018 "Out of Reach" study. The hourly wage for Illinois is $20.34, 18th highest in the nation.
These wages reflect the larger trend that minimum wage workers cannot afford a two-bedroom rental home at fair market rent working 40 hours a week anywhere in the U.S.
Every year, the NLIHC examines the housing and rental market to determine just how out of reach affordable housing is for low-income or minimum wage workers. The coalition determines housing wages by looking at the fair market rent (FMR), or the U.S. Department of Housing and Urban Development's estimate of a modest rental and utilities in a specific geographic area, and matching how much money a worker would need to earn hourly to rent at FMR without spending over 30 percent of household income.
This year's national housing wage is $22.10 for a two-bedroom rental home and $17.90 for a one-bedroom rental home, an increase from the 2017 respective wages of $21.21 and $17.14. In order to afford a two-bedroom rental at the national average, a minimum wage worker would need to work approximately 122 hours weekly: the equivalent of three full-time jobs.
In reality, an average worker's estimated hourly wage in the United States is $16.88, which is $5.22 out of reach of housing affordability.
Wages have risen by 3.7 percent from 2016 to 2017 for the lowest 10 percent of wage earners as the economy has improved and states have increased minimum wages.
However, other trends have made it difficult for renters to stay afloat in today's housing market.
Numbers of renters have increased since 2001, but renter median income dipped during 2001 and during the recession from 2007 to 2009 and is still recovering, according to Will Fischer and Barbara Sard of the Center on Budget and Policy Priorities. This means renters' income lags behind their rental expenses.
The number of renters increased by nearly 10 million homes between 2005 and 2016 and caused rental prices to increase, according to the Joint Center for Housing Studies. During this period, the number of rentals priced at $2,000 or more per month increased by 97 percent with the development of high-end apartments and rising rents of existing buildings.
In the past, low-income tenants avoided excessive rents by choosing older buildings, which are  affordable by default compared to new buildings, a process otherwise known as "filtering." However, filtering takes time and does not provide enough housing to serve all low-income renters in one area. As buildings age, their upkeep can become more expensive for landlords than their income from rent, providing a profitable reason to remodel and update rental spaces.
Federal aid for low-income renters can fill in some of the gaps between renter income and rental affordability, but it is neither extensive nor guaranteed.
Though Congress provided a 10 percent increase in federal housing aid in 2018, the Trump Administration's 2019 budget will increase tenants' rent contributions from 30 percent of adjusted household income to 35 percent of gross household income, will remove medical and childcare deductions, and will triple minimum rents on non-disabled households from $50 to $150.
To learn about the fair market rent and average housing wage in your ZIP code, use the data map at http://nlihc.org/oor.