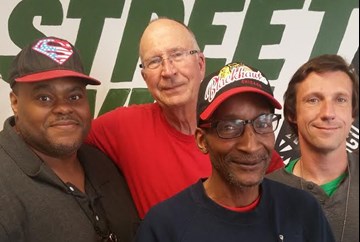 By: Staff
January 8, 2018
Russell: Football is a very dangerous game; you are going to get hit. There is so much focus now on where you can hit. They might as well get flags on and just play flag football. That'll take away all the controversy about getting hit. Basketball is the same way. Back in the day, I can't even imagine how many fouls Jordan would've gotten with the hand check rules. Baseball is okay, it's just too long. Pitcher goes to the mound and you gotta walk around a bit, spit, call the infielders to the mound. Man, sports are supposed to be fun. I hope they find a way to speed up the game. Back to football, they need to make the game better. It's ridiculous. No one knows what a catch is. A team scores a touchdown and then it's not a touchdown.
Donald: One issue I am having with college sports is the shuffling of teams and leagues. It feels like there are too many teams in the wrong league. The Big Ten doesn't feel like the Big Ten anymore.
John: It's about money. That's why there are all of these rule changes and conference changes. I will say, moving Syracuse from the Big East to the ACC makes absolutely no sense at all. The same can be said for moving Maryland to the Big Ten. They should be in the ACC with their original rivals: Duke and North Carolina. Switching topics, I don't understand why [NFL Commissioner] Roger Goodell got a contract extension. That boggles my mind. The ratings have been going down and so has the officiating. There have been more boneheaded calls than I can ever remember. One positive thing is the LA Rams. They are for real. I don't know how they've turned it around so quickly. They might be headed to the Super Bowl this year. I bet people in Chicago wish the Bears could have a turnaround like that.
Donald: I would like to give kudos to the Bulls, specifically Bobby Portis and Nikola Mirotic. They have been coming on strong recently. They are playing a great team game. Perhaps more impressively, they have gotten along socially. The fight is behind them. The Bulls have won six straight and it's been a lot of fun to watch. Mirotic is drilling threes and it's effortless. In the NHL, Patrick Kane is back. He's been phenomenal lately. He's back to his ways of beautiful behind-the-back passes and scoring incredible goals. The man ain't nothing nice!
Russell: I've been surprised by the Bulls. I never thought they'd win six in a row. They're supposed to be trying to rebuild. But you can't tell the players not to try to win. I think this might backfire on the Bulls. You can't tell Mirotic and Portis not to try, they want to win. The Bulls might've gotten over on that Jimmy Butler trade to Minnesota. They got a lot of good players. They play the Cavaliers next, so the streak is going to end.
John: I have to give kudos to the Rams. They're the biggest surprise in the NFL this year. The 49ers might do something similar next year. The NFC West is gonna be fun next year. Seattle and Arizona have taken big steps back, so it's going to be the two California teams like the old days. The 49ers' Jimmy Garoppolo and the Rams' Jared Goff are two up-and-coming quarterbacks, so it's gonna be an interesting battle between the two teams for a long time to come.