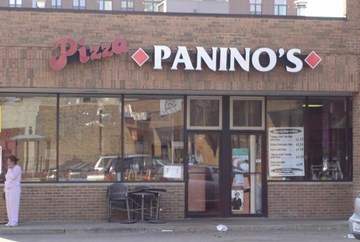 By: Alexandria Spillman
August 15, 2016
When JT walked into Panino's (3702 N. Broadway) with one of his most faithful customers, he had several thoughts going through his head. First, "Oh man! I shouldn't have eaten so much for lunch." Second, "That's okay, I'll just get something light." And then, "Oh wait. This is Panino's. There ain't nothing light in here."
He remembered all his previous trips to this favorite neighborhood spot. He pictured the pizza slices, the sliders, the beef sandwiches, the meatloaf, the veal cutlets, and all the chicken entrees an Italian cook could create available through carryout. His mind and stomach were at a stand-off. To disappoint a loyal customer and friend by not eating or to tolerate the misery that would come from being uncomfortably full later—that was the question.
But, to JT, it wasn't a difficult question. "I can't blow this guy off," he said to himself. He and his guest seated themselves at their table in the dimly-lit, sit-down portion of the restaurant. He flapped open his thick cloth napkin in the air before delicately placing it in his lap and he showed his already-full stomach no mercy as he boldly ordered a pork entrée with a side of mashed potatoes and a tall, cool glass of orange juice.
He may have regretted his choice to finish his meal later that night, but at the table and in the moment, he couldn't have been happier.
The quality of the food was no surprise to JT. After several trips to the restaurant, just a minute-walk from the Walgreens where he sells his StreetWise magazines, JT expected nothing less.
What he did not expect, however, was such attentive service.
"The waitress was very nice," he said, "and she kept coming over to ask if everything was okay or if we needed anything else. That was before I even mentioned anything about EatWise because my buddy and I were talking."
"So she kept asking me," he continued, "and then a guy came over and asked if everything was okay. I told both of them, 'Y'all don't have to keep doing that, seeing if we're okay, seeing if we have our drinks.' That's the restaurant. That's what I call respect. Not just one person. Not just one waitress. Sometimes you've got two or three people checking on you."
When their food arrived, JT finally got the chance to run the idea of a restaurant review by the waitress.
"When I told her I was going to put them in the magazine, she almost flipped out," JT said, laughing. "I showed her one of my old EatWise columns, one from last summer when I went to the Taco and Burrito Palace. She said 'whatever you want, I'll get it for you.'"
His server also offered to take a picture of him with his meal on her personal cell phone. She took several and sent them to JT's friend and regular customer. Then, his friend burned the photos to a disk for JT to have.
"Multiple people helped me get these pictures; those are the kind of people in my neighborhood," JT explained. "They really like me. They respect me."
JT advises anyone traveling in the Lakeview area to stop in at Panino's. For a birthday celebration, Fourth of July party, or just a regular Wednesday night out, Panino's has the food, atmosphere, and wait staff to make your night out comfortable and fun.