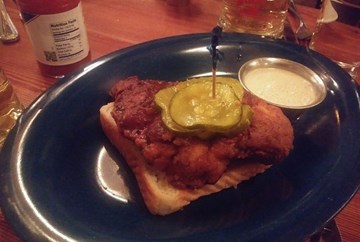 By: Alexandria Maloney
October 15, 2018
StreetWise vendor V.W. and her adventure-seeking taste buds discovered another Edgewater restaurant gem this summer. Always on the search for new flavors and experiences, V.W. made her way to Pearl's Southern Comfort at 5352 N. Broadway, near where she sells her StreetWise magazines and calendars every day.
She entered through the two sets of doors, grabbed a menu, and followed her server to an open table, ready to try out some comfort food with a kick.
She ordered from the specials menu. "The printed single and double numbers are the prices for each food item," V.W. explained, "but they don't have dollar sign symbols by them. I ordered Nashville Hot Chicken, which is a fried chicken breast fillet with their batter. I also ordered a cranberry juice, and the beverages come with a free refill if you want one. It cost $9.95 after tax."
V.W.'s order was served on a wide oval plate. Her Hot Chicken was accompanied by a "thick half-inch slice of toasted bread with two sweet, vinegary house pickles and a three-inch tooth pick inserted through," she described, "and Alabama white sauce in a steel three tablespoon-sized sauce holder with a medium-wide knife inserted underneath the food."
Even her cranberry juice had a special flare. "The server served my beverage to me in a 16-ounce medium, slim, near-full glass with a slice of lime laid across the rim and a long black straw," she said. "The server also brought me a 16-ounce glass of ice water and a weighty vase-like clear pitcher of ice water for self-service refills."
V.W. stands by her decision to go with the Nashville Hot Chicken, stating that the food was "good dining" and very filling. But, deciding on the Nashville Hot Chicken was no easy choice.
V.W.'s taste buds craved some of the other "attractive menu selections" like the Creole cornbread or the Pepper Jelly Pork Chop served with grilled sweet potato, red beans and rice, and porky pot licker collard greens.
An aside to anyone new to southern comfort food: "pot licker" is no typo. "Pot liquor," "potlikker," or "pot licker" all point to the broth that remains after boiling any kind of greens or beans. This broth contains many important nutrients like iron and vitamin C, which are lost from dark leafy greens when boiling.
When she returns someday, she'll take the Pepper Jelly Pork Chop and that pot licker for a spin.
Full from her Monday evening dinner, V.W. was ready to get back to her daily routine. "I asked for a half-glass refill of my beverage because I was full from my meal," she said. "It was served half a glass, with another lime wedge across the rim. Then I was presented the bill very discreetly in a medium-small leather binder and my server walked away. I sipped on my beverage then sipped water. I waved for the waitress and paid."