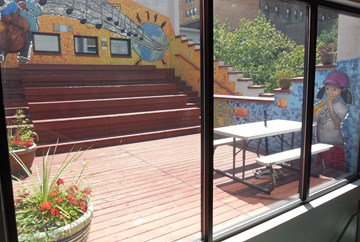 By: Suzanne Hanney
August 29, 2016
When Rita Simó was a child piano prodigy in the Dominican Republic, music education was free. After graduation from Juilliard, she pursued a piano performance career but realized that what she liked most was answering audience questions afterward: teaching.
Simó dreamed of opening her own music school. She envisioned it as free of charge, consistent with American beliefs about equal opportunity, so that children of all income levels could reap the benefits of music education, even if their parents could afford neither the instruments nor the instruction.
The People's Music School will celebrate its 40th anniversary November 4, its history always centered in Uptown. For nearly 25 years it has owned its flagship building at 931 W. Eastwood, at the corner of Sheridan Road marked with an "Honorary Rita Simó Way" sign authorized by the Chicago City Council.
Three more community programs are in William G. Hibbard School in Albany Park, Lara Elementary Academy in Back of the Yards and the Gary Comer Youth Center in Greater Grand Crossing.
Two years ago The People's Music School (TPMS) served 350 students and last year it taught 500, mostly age 5 through high school. Adults have weekend instruction in theory, piano, guitar, percussion and voice.
"The school is expanding rapidly," said Alli Henry, chief operating officer. "We are bursting at the seams. We will have 600 students in September, on our way to 1,000 in a few years. Because there's so many families who can't afford access and they know the power music can have in a person's life, even at 1,000 we're not going to be meeting the need that exists."
Last year 200 people participated in a lottery for 40 vacancies in the school. Siblings now get priority because TPMS officials realized it was unfair to have a sister studying there and a brother waiting four hours with nothing to do. Henry described a "heart-breaking email" from a mother who asked for an exception to the lottery because she had been trying for two years to enroll her daughter, like her friends.
"It's the motivation that keeps us going," Henry said.
TPMS has always been 100 percent free and always will be. "That's our mission."
One way the school maintains this calling alongside its $1.2 million budget (funded by foundations, individuals, corporations and government) is by having every family contribute eight hours of volunteer work each semester. Tasks range from cleaning to hall monitor, receptionist and security, to electrical work or roofing for tradesmen. It's the equivalent of 16 full-time employees over the course of a year.
TPMS's mission is also to provide access to the benefits of music education. "Part of that is the ability to play music, but our view is that music is a tool for other things," Henry said. 
There are four parts to the curriculum, roughly 12 hours of study weekly. Individualized instruction is one-on-one adult contact. Ensemble performance helps listening and collaboration skills. Music theory teaches analytics, similar to mathematics. And performance builds self-confidence, she said.
Each semester the students (even 5-year-olds) have a juried performance in which they have to introduce themselves to the three or four judges, perform and then sight-read. They are rated on their performance and their progress over the course of the semester.
Henry quoted Northwestern University's Nina Kraus PhD, who visited the school last December and described music's effect on schoolwork. Those who have studied music are better able to hear patterns, which means that in a crowded classroom they can hear what the teacher says and what he or she assigns as homework.
Most kids come in wanting to play piano, drums or guitar, but they don't get to choose until after their first semester, when they go to an instrument "petting zoo." They choose their top three and TPMS officials try to match their first choices.
The community-based programs in Albany Park and Back of the Yards, on the other hand, operate according to the Venezuelan "El Sistema" method, where students begin music education as part of an orchestra. The theory is that ensemble performance (and peer-to-peer teaching) is a metaphor for participating in society. The Gary Comer program is a band: woodwinds and no strings.
Some students do become famous.
Alan Pierson went on to become Brooklyn Philharmonic artistic director (where he did a collaboration with hip-hop artist Mos Def) and artistic director/co-founder of Alarm Will Sound, music that is arch modern or pop-influenced. The New York Times called it "the future of classical music." He has guest-conducted the Los Angeles Philharmonic, London Sinfonietta and Silk Road Project, collaborated with YoYo Ma,  and Dawn Upshaw.
Violinist Kristina Cooper graduated from Roosevelt University's music school in 2015. At age 12 she performed Vivaldi's Four Seasons at the Chicago Cultural Center and so moved virtuoso Rachel Barton that she helped Cooper through her instrument loan program and educational grants from her foundation.
Even without fame, however, music education can empower TPMS students. The Chicago Tribune's Rick Kogan in 2005 wrote about Terry Bakowski in a story recollected in "Music is a Gift: Pass It On," a history of the music school. Bakowski had read about TPMS in StreetWise after a divorce, enrolled as a voice student, and was playing violin in a band. Dorian Morningstar, 58, had been homeless after a series of setbacks. But after hearing the music at TPMS while walking down the street 20 years earlier, he was playing woodwinds in neighborhood venues.
Music had often drawn homeless people into the school's first location, a former street level beauty salon at 4417 N. Sheridan Road. Simó, after receiving a master's from Julliard and a doctorate from Boston University, started the school with desks from a closed parochial school and a piano from nearby St. Thomas of Canterbury Church. In 1986 the school moved to three rooms on the third floor of the Ecumenical Institute at 4750 N. Sheridan Road.
Little by little Simó gained nonprofit expertise and a network. By 1990 she was looking at the city-owned site on Eastwood, a former community garden, for the first home TPMS would own. She had hoped to obtain it for $1 but the city was seeking revenue and wanted fair market value: ultimately $60,000.
A story on the fundraising drive caught the attention of Richard Young, violist with the Vermeer Quartet, who persuaded 100 prominent musicians, members of the Chicago Symphony Orchestra (CSO), Lyric Opera and Chicago Chamber Musicians, to give master classes at TPMS. Young has remained involved with the students' biannual string juries.
Simó herself called CSO conductor Daniel Barenboim and asked him to serve as keynote speaker for the Eastwood site's groundbreaking in September 1993. As the wind blew the scores on two students' music stands, Maestro Barenboim got up to hold the papers in place until the young musicians were finished.
Two months later, Simó attended the groundbreaking for the Museum of Contemporary Art with Chicago Department of Cultural Affairs Commissioner Lois Weisberg; with Chicago's First Lady, Maggie Daley and U.S. Rep Sidney Yates, who had several years earlier presented Simó with an Arts Advocacy Award. Weisberg suggested they all visit TPMG, where they had an impromptu concert and saw photos of the groundbreaking.
Two weeks later, after a visit from a city attorney, Mrs. Daley called Simó. According to "Music is a Gift," she said, "our city representative has determined that the value of your program to the city of Chicago is worth $1,000 for every month you are actively engaged in service to your community." At the end of five years, TPMS would have full ownership of the land.