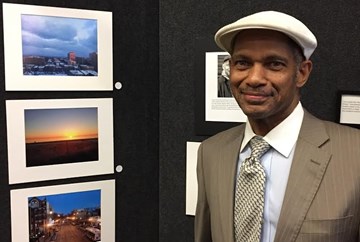 By: Kimberly Wong
July 6, 2017
The 15th annual After Supper Visions (ASV) photography exhibit opening on June 9 showcased the works of 67 photographers who are homeless or at-risk. During the evening's reception, the featured photographers talked to guests about the ideas behind their photographs as volunteers swirled around the room serving drinks and handing out hors d'oeuvres. Guests were given the opportunity to purchase prints and note cards of the photographs displayed, with proceeds going to the respective artists.
The annual exhibit is a culmination of the ASV photography program hosted by Catholic Charities. The organization holds a weekly Tuesday night supper for the homeless at its 721 N. LaSalle St. headquarters, and all supper guests are invited to join the photography program. "I had this idea more than 15 years ago, that I wanted to do something with the supper guests to really talk about their gifts and the positive parts of their humanity," Ellen Gorney, senior administrator at Catholic Charities, said. "One of the benefits of this is when we're in class and we're discussing, we don't just discuss the photography, we discuss attitudes of life. We as volunteers share our lives just like they're sharing, and we don't concentrate on problems, we talk about philosophy, different viewpoints, where we live, or what food we like… just life."
For many of the participants, the program opened up an area of creativity they had not previously explored. One such participant is StreetWise vendor A. Allen (see image page 11), who has had his work displayed in two exhibits. "It gives me a chance to interact with people that I normally wouldn't [interact with], and it gives me a chance to express my creativity," Allen said. "With StreetWise, I try to express creativity through writing, but this gives me another avenue to express myself." Fellow photographer Deborah A. also embraces having photography as a creative outlet. She said, "We all have talent, we just need to find our niche."
Out of the 67 participants, photographer Mike B. is the most seasoned, with this year's exhibit being his seventh one. His work has been popular at the exhibits over the years. "I like when people like my stuff and say they bought it and put it on their walls," Mike said. "One of my pictures is in California. I'm glad that people like [my photos]."
To support the artists, visit www.aftersuppervisions.com, where online sales of prints, note cards, and Christmas cards are ongoing.