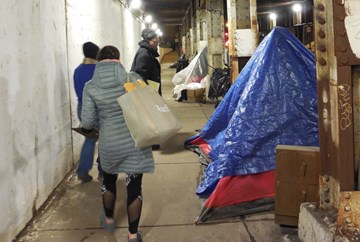 By: Suzanne Hanney
February 21, 2017
Roughly 400 volunteers combed every census tract of Chicago on January 26 for the biennial Point in Time (PIT) count, a federally-mandated census of homeless people living in shelters and on the streets.
Although the official report will not be released for several months, many volunteers returning to the command center said that they had not found homeless people in the target areas they had been given to search. Simultaneously, roughly 175 people were found on Lower Wacker Drive, which led some Chicago Department of Family and Support Services (DFSS) officials to ponder whether the population had moved there from other areas of the city. There were still 21 tents under the Lake Shore Drive viaduct at Lawrence Avenue and 14 tents at Wilson, the so-called "Uptown Tent City." Still more tents were located near the John F. Kennedy Expressway and the Chicago River.
Coordinator Adriana Camarda has done seven previous counts for DFSS. She told volunteers during the training that immediately preceded the 10 p.m. -2 a.m. count that she disagreed with a comment in San Francisco media that the PIT is "asinine."
"It's the best method we have," Camarda said. "We don't have a lot of information on these people. The quantity of data that we get goes to the feds [the U.S. Department of Housing and Urban Development] to figure out what kind of services they need."
As DFSS Commissioner Lisa Morrison Butler said in prepared material, "The Point in Time count provides us with invaluable information that helps us understand the evolving needs of our clients and match resources in a way that will effectively help residents experiencing homelessness get back on their feet."
Volunteers ask willing participants their age, race, length and cause of homeless, whether they have a physical disability, a mental health problem, HIV/AIDS, drug or alcohol use, whether they have a high school diploma or GED and whether they have ever served in the military or been incarcerated. Other questions cover domestic violence or foster care history, and whether they obtain any benefits such as food stamps or Social Security disability.
However, DFSS Deputy Commissioner of Homeless Programs Alisa Rodriguez cautioned volunteers about waking anyone up at 1 a.m. to take a survey. Volunteers' safety was a major concern, Rodriguez said, so they could just eyeball sleeping people and tally them. Census-takers should not approach an encampment where they were outnumbered and they should guard against judgmental facial expressions, which would end any chance of connecting with the homeless people. The volunteers signed waivers before they left.
Volunteers included members of the public as well as city and state employees. Many have social work backgrounds; a familiar comment is that they welcome the chance to "get out into the field." StreetWise was among three volunteers who rode along in a van with two employees of Catholic Charities, which handles mobile outreach for the City.
Our route encompassed the environs of I-55 (the Stevenson Expressway) and the Southwest Side. We drove down Wentworth from Cermak to 26th Street in Chinatown and saw no one, which was also the case for the waiting area of the emergency room at Mercy Hospital, 2525 S. Michigan Ave. 
At 35th Place and South Oakley, new construction had seemingly displaced whatever encampment we were supposed to find nearby, in a  grassy area at a CTA Orange Line station. As we wove around Cicero, Cermak and Archer Avenues all the way to Midway Airport, we looked for telltale signs, like the clothing hanging on an expressway fence. Tucked way up under the adjacent roadway was a mattress and possessions, but the resident was nowhere to be seen.
Hidden behind a rise and some rocks at the 31st/Ashland Orange Line station, we saw a broken tent, apparently abandoned.
We unexpectedly came upon seven tents on Cermak Road after finding no one at 26th and Halsted. Between us we interviewed four people, including a black man, 55, who said he had been homeless for 15 years since he lost his job. He had been released from prison last July. Before that, he had couch surfed with family and friends.
"I just want a job," said another man of similar age at this viaduct.
Still another couple – a white man and an unidentified woman – were playing cards and declined to be interviewed.
"I don't want anything from anybody but God," the man said. But at the lady's request, he accepted Girl Scout cookies and hats for her grandchildren.
Anna, (who did not want to use her last name) was a volunteer who went to Lower Wacker Drive, where there were roughly 175 people. She estimated that the population was 80 percent African American with whites comprising most of the remainder. Sites included two levels down on Lower Wacker from Congress to Lake Shore; under Trump Tower on the river walk; on Lower Wacker from Illinois Street to McClurg Court.
Anna's group also went to Canal and Cermak, which was "packed." Since it was 1 a.m. and the encampment residents were asleep, her group only counted them. They found eight or nine tents at 22nd and Union, four more at Roosevelt and DesPlaines, six at Canalport. "I always go on this count, I've never seen so many," she said.
Her group connected with a veteran who, which thanks to an Obama administration initiative against veteran homelessness, was receiving special treatment during the count. Volunteers were told to call the command center to have the vet picked up so that housing placement could begin the next day. And if the vet didn't want to give a name, volunteers were supposed to get his or her description and location so that Veterans Affairs workers could follow up.
The vet refused. "I was so disappointed," Anna said.
She also noticed a large number of people in their 60s despite numerous senior buildings in Chicago. "We have to target that population," she said.
Last year's PIT counted 5,889 people homeless in Chicago: 4,646 (79%) in shelters and 1,243 (21%) on the streets, on public transportation, in parks, in cars and other areas not meant for sleeping. The report released by the Voorhees Center for Neighborhood and Community Improvement at the University of Illinois-Chicago cited a 13 percent decline in homelessness over the previous year, which was controversial because it clashed with conventional wisdom.
Last year, veteran homelessness alone was down 22 percent over the previous year, said Nonie Brennan, CEO of All Chicago, which works in partnership with DFSS in implementing Chicago's Plan 2.0 to End Homelessness. Roughly 3,000 veterans have been housed in the last two years, with fewer than 650 still homeless; 400 of these are already on the path to housing.
"We know we will end veterans' homelessness, it's just taking longer," she said. Brennan said that the PIT and its January implementation serve as a benchmark, since the same methodology is used every year at the same time – when most people stay inside. The increased push to serve veterans has yielded other lessons for serving the overall homeless population.
First, there is just one list of veterans – and a name behind each one on the list, Brennan said. There's good data and the cooperation of the whole homeless provider community. A coordinated access system helps determine which vets need permanent supportive housing, who needs rapid rehousing and who just needs a security deposit.
Mayor Rahm Emanuel meets weekly with the veterans' task force and steps in when there is a challenge, she said. He identified additional funds and wrote a letter to private sector landlords asking them to become landlords to vets. Chicago has also received over 1700 federal housing vouchers for vets.
Nationwide, veteran homelessness is down 50 percent, and Brennan believes President Trump will want to build on that success.
"Homelessness is a bipartisan issue," she said. "There's nobody in this country who doesn't want to do the best for veterans."
As we left the command center at nearly 2 a.m., most of the other nine PIT reporting stations for volunteers, located at homeless providers across the city, had phoned in. There had been 20 calls about vets and two had agreed to be connected to housing, said an excited Stephanie Sideman, a program manager at CSH, which was chosen by DFSS to be the system coordinator for Chicago's Ending Veteran Homelessness Initiative. 
In November, housing was found for one of the two vets, but he had disappeared.
He was located again on the PIT count -- with a new telephone and a new phone number.