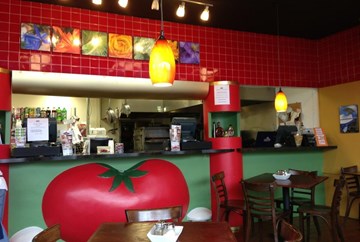 By: Staff
August 4, 2016
Pizzeria Aroma has been a staple of the Edgewater neighborhood for nearly 17 years. Located at 1125 W. Berwyn Ave., one block north of Broadway & Foster, Pizzeria Aroma offers an always-changing menu, filled with exquisite pastas, fresh salads, pizza, and a variety of chicken, ribs, and seafood. StreetWise vendor V.W. has sold magazines at the Jewel-Osco across the street from Pizzeria Aroma for several years, and she chose to dine at the pizzeria after walking past it every day for nearly four years. Each day Pizzeria Aroma features a different special. After ordering at the front counter, visitors are able to relax as they enjoy the full-service wait staff who offer wonderful hospitality.
Despite offering heaping portions of fresh Italian food, the service is exceptionally quick. The staff was very friendly and energetic, and includes servers, waiters, and at least six cooks in the back of the house. V.W. ordered the 6-piece Buffalo-Style Chicken Wing Meal, and for only $6 she felt like she got the most for her money. The meal came with a side of ketchup-based sauce and was served alongside a plate of fresh celery and ranch dip. As an appetizer, V.W. ordered garlic bread, which was toasted French bread with dense garlic and butter. Although V.W. felt the high-end restaurant typically catered to middle and upper-class customers, she could not help but feel a burden lifted off her shoulders as she comfortably relaxed and waited for her food to be cooked in such a warm setting.
V.W. mentioned that nearly everything that came out of the kitchen looked delicious, with other patrons ordering meals like wild salmon, baked potatoes, fresh broccoli, and chicken bites. The food looked so delectable, she was encouraged to visit the restaurant on another occasion. She says next time she visits Pizzeria Aroma she plans to try the vegetable lasagna, which contains spinach, eggplant, mushrooms and zucchini for only $8! V.W. joked that the low prices for the fresh, wholesome meals was one way she planned to increase the amount of vegetables in her diet.
About 80 yards west of the restaurant is Pizzeria Aroma's sister business, The Chicago Grind, a modern, contemporary coffee shop that specializes in caffeinated beverages, breakfast, and lunch. After visiting Pizzeria Aroma, V.W. stopped into The Chicago Grind to check it out. She was impressed with the extremely nice setting, which includes a large, living room seating area, Wi-Fi, and an outdoor patio near the sidewalk for customers to enjoy their coffee and meals throughout the summer season. V.W. encourages individuals to stop in The Chicago Grind and enjoy the many tasty options on the menu. The last thing V.W. wants readers to know is that she highly recommends these restaurants to anyone, because you can't beat the hospitality and quality of food, and especially for the low prices!