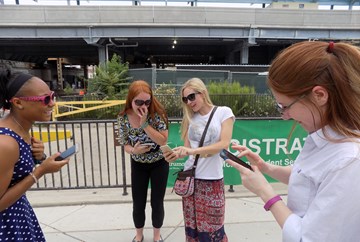 By: Alexandria Spillman
August 22, 2016
Twenty-somethings everywhere are finally living their childhood dreams: to become a Pokemon master in real life. Well, not real life, but close.
With the release of Pokemon Go, smartphone owners can travel the world around them using a combination of GPS tracking and their device's camera to catch virtual Pokemon, or "pocket monsters." Gone are the days when trainers had to scour the Viridian Forest tall grass to level up. Now, whether you're shopping at the Water Tower, walking by the Art Institute, or getting lunch at Chicago Joe's, you, too, can train "to be the very best like no one ever was."
The game also rewards trainers for things they already do in their daily lives, like visiting parks, museums, landmarks, restaurants, and CTA stops, or even just walking down the street with the app open. At these real-life hotspots, called PokeStops in the game, players earn experience points and various items to build their Poke-arsenals.
Unlike most single-player virtual reality games, Pokemon Go does not provide trainers with a gaming experience unique to them and their device. Two Pokemon Go trainers can have the app open side by side as they walk down the sidewalk or as they ride the CTA and they will encounter the same Pokemon superimposed in the same geographic location ready for capture. Both players can also catch it.
These similar finds in virtual reality are creating a sense of community in the real world. Before virtual reality entered the mobile gaming culture, smartphone owners already dabbled in games like Candy Crush Saga, Words With Friends, and Trivia Crack in their downtime. These games entered the social arena and cleared the way for games like Pokemon Go, so it's not uncommon or surprising to see already-acquainted players meeting at bars with PokeStops nearby, collecting Pokemon from their seats between conversations, appetizers, and drinks. People have been playing on their phones in bars and restaurants for years.
What those trailblazing games like Candy Crush, Words With Friends, and Trivia Crack did not prepare us for, however, was a chance to use virtual reality gaming to meet new people with similar interests.
Pokemon trainers who've never met before are making conversation on buses and trains about their search for Pikachu; players are leaving their couches and gearing up for walks around their neighborhoods; and Chicagoans who've lived in the city for years are exploring the city and sightseeing for the first time.
Nick Johnson, a Brooklyn man, traveled all over New York City to capture all 142 Pokemon available in the game to date—of course, die-hard trainers know that there were 151 Pokemon in the first generation games like Pokemon Red, Blue, and Yellow.
Rolling Stone reported that Johnson walked a total of 129 miles with the app open and lost eight pounds within the first two weeks of the game's release, averaging eight miles per day. He told Rolling Stone that to get one of each of the 142 available Pokemon, he had to catch 4,629 Pokemon and hatch 303 eggs. When asked for his secret, Johnson said to buy comfortable shoes, and he admitted ordering a few Ubers to find not-yet-caught Pokemon nearby.
But who are these trainers meeting, and where are they meeting? A study conducted and published by the Urban Institute suggests that at least in Washington D.C., all the major concentrations of PokeStops—and consequently, the Pokemon trainers traveling there to catch—are in predominately white, non-Hispanic neighborhoods. No studies have been published on how Chicago stacks up with PokeStops and inclusion, but a glance at user-generated Pokemon Go maps on Google and Reddit suggest a similar set up.
A lack of inclusion hurts the game's numbers and potential for in-app marketing, but an even larger threat to Pokemon Go players still lurks. The virtual reality nostalgic Pokemon Go trainers are living in is leading to dangerous situations outside of cyberspace.
On August 8, Linze Rice of DNAinfo reported that the City of Chicago is asking app developer Niantic to remove the Loyola Dunes from the game. According to Rice, many players are destroying endangered plant life by straying from the path inside the fenced-in preserve. Jessica Maxey-Faulkner, a park district spokesperson, described the severity of this kind of behavior when she mentioned the laws gamers are breaking. "These gamers can trample and destroy habitat protected under state and federal law by the Illinois Endangered Species Protection Act and the Migratory Bird Treaty Act," Maxey-Faulkner said.
Despite trespassing and safety warnings displayed on the game's loading screen and a pop-up reminder as soon as the trainer's GPS location is pinpointed, some players are still walking right into harm's way.
Autumn Deiseroth, a 15-year-old Pokemon Go player from Tarentum, PA, was playing the game when she was hit by a car in the middle of a busy four-lane highway. According to Brenda Waters of the Pittsburgh CBS local affiliate, the teen said she was not looking at her phone when she was hit, and she tried to move out of the way. Deiseroth's mother Tracy Nolan insists that, "The game dragged her [daughter] across that highway."
Even more Pokemon Go-related accidents are being reported with drivers at fault.
According to USA Today and several other local news sources, a week after the game's release, a man in Auburn, NY, was playing Pokemon Go while driving and his vehicle hit a tree. He survived with minor injuries, and no other victims were reported.
In Maryland, a driver was playing Pokemon Go when he collided with a parked Baltimore police car. The officers were outside the car when the accident occurred, according to a July 19 story on Chicago's WGN 9 website.
Some gamers' passions for Pokemon Go invite crime and create negligence like those that result in traffic accidents, but the game is also being used as a component to carry out justice.
Shayla Wiggins, a Wyoming teen heading off to college in the fall and an avid Pokemon Go trainer, was playing the game when she found a dead body. She was following the Big Wind River near her home as she was searching for water-type Pokemon: just like a fish in real life, a fish Pokemon can be found in the water. Her search brought her under the Wyoming Highway 789 Bridge where she found a man's body floating. Police suspect the man's death was an accident, but are still investigating.
Despite the traumatic experience of finding the body, Wiggins is still glad she plays the game. "I probably would have never went down there if it weren't for this game," she said. "In a way, I'm thankful. I feel like I helped find his body. He could have been there for days."
Pokemon Go also led to the arrest of Ricquel Barham, a woman wanted by the Smithfield, VA Police Department, according to the Virginian-Pilot newspaper in Hampton Roads.
The Virginian-Pilot reported that on July 20, Sgt. Bryan Miller of the Smithfield Police Department facetiously posted on Facebook that a rare metamorphic Pokemon called Ditto often spawns in their processing room. The post read:
"Since it so rare we can only allow a limited number of people in the building to capture it. We put the mainframe computer in the basement to work and came up with a list of random citizens eligible for this rare opportunity. If your name is on the list below, you are one of the lucky folks invited to come to the Police Department for the capture!"
The list that followed did not contain "random citizens," but instead, names of people with outstanding warrants.
Barham's sister saw the Pokemon Go-related post and made Ricquel Barham aware of her status with the police. Though she was not motivated by the rumored Ditto, Barham turned herself into police custody anyway—a warrant file that could not have been cleared without the mention of the trendy game.
Pokemon Go is sweeping the world, and the Second City is full of Poke-possibilities. Chicagoans can stay up-to-date on bizarre Pokemon Go-related news, find a list of hundreds of PokeStops and popular spawning zones, and meet likeminded "PokeManiacs" by checking the web and by striking up a conversation next time they open the app on the CTA.