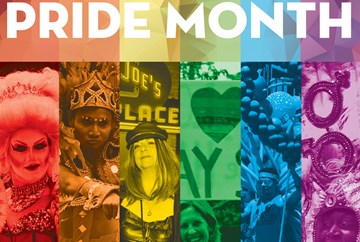 By: Compiled by Jenni Spinner, Dave Hamilton, & Nina Dong
June 9, 2017
As the summer months arrive, Chicago will light up with outdoor events; community gatherings, parades, festivals, meet-ups and just about any other reason to enjoy the warm weather and all the elation it is sure to evoke. Whether your idea of fun is a nightclub, theater, night out, street festival, learning workshop or choir performance, there is plenty to explore this month.
Among those celebrating is Chicago's diverse and inspiring LGBTQ community, which will be well represented through the yearly tradition of "Pride Month," including both the Pride Festival and the Chicago Annual Pride Parade.
Wed–Sun throughout June
'Bright Half Life'
7:30 pm Wed - Sat, 3 pm Sun
Theater Wit, 1229 W. Belmont
Winner of the 2016 Lambda Literary Award for Best Play, this work follows the ups and downs of a modern lesbian couple as they journey from being strangers, to lovers, to family. Tickets $40/$20 for students and seniors; more info at aboutfacetheatre.com.
June 1
Out of the Office
6 - 8 pm
IO Godfrey Rooftop Lounge,
127 W. Huron St.
This popular, annual event kicks off LGBTQ PRIDE Month in Chicago. 100% of ticket sales will benefit Chicago House's Trans Works program.
June 2, 9, 16, 23 and 30
'Steamworks: The Musical'
8 pm
The Annoyance, 851 W. Belmont
One of Chicago's premier comedy meccas is bringing back its popular story of a Chicago man looking for love in the city, including the notorious Boystown bathhouse. Tickets $20/$15 for students; more information at https://theannoyance.com.
June 3
Asians & Friends
Chicago Pre-Pride Party
3 pm
Private home
The Asian and Asian-American-focused organization is hosting a rooftop shindig, where designer Kevin Vong will unveil the gorgeous gown he'll wear as he rides AFC's 2017 Pride Parade float. More information at http://afchicago.org.
June 3
Lakeside Pride
Jazz Orchestra Performance:
'Make No Little Plans'
7 pm
Center on Halsted, 3656 N. Halsted
Celebrate the creative spirit of Daniel Burnham's 1909 Plan of Chicago, which resulted in the city's elegant layout and look, in this evening of new compositions and arrangements. Tickets are $15; more information at http://lakesidepride.org
June 3
Dick Uyvari
Memorial Celebrity Bowl
Registration at 10 am, bowling at 11 am
Waveland Bowl, 3700 N. Western
Support the Chicago LGBT Hall of Fame with an afternoon of fun-filled bowling—show your support by registering to bowl, or donating to the players. Free; email bowling@glhalloffame.org for more information.
June 4
Equality Illinois
Pride Kickoff Brunch
11 am - 2 pm
Life Creative, 1655 W. Walnut
Join community leaders, LGBTQ folks and allies in a delicious celebration kicking off the month of Pride celebration benefiting Equality Illinois. Tickets $40/VIP $50/young professionals $25; more information at www.equalityillinois.us.
June 4
The Takeover: Beyoncé!
10 pm
Scarlet Bar, 3320 N. Halsted
When life gives you lemons, you drink a big glass of LEMONADE, and celebrate Queen Bey herself, Beyoncé! Celebrate all things Beyoncé, from her defiant debut album, to her most acclaimed and most recent album, and all of the slayage in between. $3 well drinks | $10 champagne bottles
June 6
Senior Hot Lunch
& Discussion Group
11:30 am - 12:45 pm Lunch;
12:45 - 2 pm Discussion.
Center on Halsted, 3656 N. Halsted
Center on Addison (Center on Halsted's Senior focused care center) is a City of Chicago Golden Diners site for patrons age 60+. Lunch is $1.50, and seniors pay what they can. For more information contact Britta Larson, Director Senior Services, at BLarson@CenteronHalsted.org or by calling 773.472.6469, ext. 445
The "Senior Discussion Group" meets to converse on current topics: world events and the LGBTQ community. Discussions are structured and facilitated to allow each participant an opportunity to share thoughts and knowledge in a respectful environment.
June 6
OUTSpoken! LQBTQ Storytelling
6 - 9 pm
Sidetrack The Video Bar, 3349 N. Halsted
Gather at one of the city's most popular gay watering holes for an evening of entertaining and moving stories from members of the community. Free. More information at https://www.facebook.com/events/1266948690030187/. Stay after and enjoy '90s & '00s music videos. FREE.
June 7
Feminist Craft Circle
7 pm
Women & Children First, 5233 N. Clark
Join the Feminist Craft Circle and use hooks and needles to create a colorful installation for this Andersonville's Midsommarfest (see June 10). Learn the hows and whys of yarnbombing - street art made with knitting and crochet - and help to make a yarnbomb creation to be installed in and around the bookstore in June. Simple patterns will be provided, or you can let your creativity run wild! Please bring your own knitting needles or crochet hooks. Some yarn will be provided but any yarn contributions will be greatly appreciated!
June 8
Lady X: The Musical
7:30 pm
Mary's Attic, 5400 N. Clark St.
A tribute to the noir melodramas movies of the '30s and '40s, this musical tells the tale of menacing gangsters and loose women frequenting seedy, alluring nightclubs. Advance tickets $26/$30 at the door. VIP tickets with cocktail starting at $38. More information at www.handbagproductions.org.
June 8 & 9
Ride for Aids Chicago
Ride brings together those living with HIV, LGBTQ advocates, amateur cyclists, and endurance athletes to raise funds for HIV services and celebrate the human potential of an all too often overlooked population. The Ride is committed to providing essential services to people living with and vulnerable to HIV and AIDS.
June 9
Pride Kickoff Retro Style
6-10 pm
Center on Halsted, 3656 N. Halsted
Center on Halsted's Women's Action Committee kicks-off pride month with a blast to the past, featuring a throwback rendition of The Dating Game. Three Bachelorettes and three lucky contestants will play for a dreamy night out on the town. Taste a delicious array of out-of-this-world retro cocktails while taking in some sun on the rooftop, dancing to groovy retro beats, and making new friends! Early bird tickets available for $30 at centeronhalsted.org.
June 9–10
Great Trans*
Play Contest Winner Reading
7:30 pm
Pride Arts Center, 4147 N. Broadway
Local actors read the winner of the international playwriting competition celebrating the work of trans writers, directed by Pride Films and Plays company member Delia Kropp. Free. More information at http://pridefilmsandplays.com.
June 9–11
Midsommarfest
5 - 10 pm Fri, 11 am - 10 pm Sat & Sun
Clark, from Foster to Catalpa
Stroll through the city's Andersonville neighborhood during this vibrant street festival—while not an official LGBTQ event, the event features music, food, art and plenty of excitement. Suggested donation $10; more information at Andersonville.org
June 11
The Kiki:
Queer Comedy with Variety
5 pm
Laugh Factory, 3175 N. Broadway
Get ready for an evening of LGBTQ hilarity with performances by comics, storytellers, spoken-word artists, improvisers and other talented artists. 18+ only, two-drink minimum. More information at http://www.laughfactory.com/clubs/chicago $10.
June 12
SheFest
7:30 pm
Pride Films and Plays, 4139 N. Broadway
SheFest (formerly LezFest) is Pride Films & Plays' semi-annual variety show which celebrates Chicago's queer female and non-binary artists through spoken word poetry, Moth-style stories, comedy, clowning, a fire act, and dance. SheFest is produced and directed by Iris Sowlat and Julia Rufo, and stage-managed by Daiva Paulis.
June 14
Salute to LGBT Veterans
12 noon
Daley Plaza, 50 W. Washington
Join the city of Chicago and American Veterans for Equal Rights in this tribute to the sacrifices LGBT vets have made for our country. The event includes a ceremony and wreath-laying. Free. More information at http://www.averchicago.org.
June 16 (Girls Night Out),
June 23 (Whiskey, Wine & Women - Tasting Party),
& June 24 & 25 (Pride Weekend Festival)
Back Lot Bash
6  - 11 pm
Reza's Parking Lot, 5238 N. Clark St.
Back Lot Bash is the hottest, most rockin' and most attended outdoor women's festival taking place every Pride weekend  in Chicago. Each day showcases a different mix of music and entertainment for the entire community. Mark your calendar, gather your friends and plan the trip, as BACK LOT BASH is one amazing event over two weekends you'll never forget! Tickets start at $20 for a single event, up to $100 for 3-day weekend pass More information at http://www.backlotbashchicago.com/.
June 17
Chicago Red Stars Pride Night
3 - 5 pm
Toyota Park, 7000 S. Harlem, Bridgeview
Celebrate the city's LGBTQ community and watch an exciting game of professional women's soccer, featuring performances by the Lakeside Pride marching band. Tickets $5 off with promo code LAKESIDE; more info at http://chicagoredstars.com/.
June 17
#NOH8 Photo Shoot
2 - 5 pm
W Chicago-City Center,
172 W. Adams St.
Stop by anytime between 2 - 5 pm to pose for an official NOH8 photo by photographer Adam Bouska. No reservations needed!Single/Solo Photos: $40 Couple/Group Photos: $25 per person. Come camera ready, wear a white shirt, pose and make a statement!
June 17
Windy City Gay Chorus/
Treble Quire: Pulse
5 pm & 8 pm
First United Methodist Church at the Chicago Temple, 77 W. Washington St.
Different definitions of the word 'Pulse' are explored through a variety of musical styles. Classical, pop, contemporary, Broadway, and world music from Brahms to Gershwin provide an eclectic array of songs that will touch and inspire. $25.
June 17–18
Chicago Pride Fest
11 am - 10 pm
Halsted Street,
between Addison and Grace
Celebrate LGBTQ achievements as a community in the annual two-day street festival leading up to Chicago's world famous Pride Parade. Entertainers from across the globe perform to crowds filled with PRIDE as we celebrate LGBTQ history. This year Taylor Dayne, Thelma Houston, Kristine W (right) and more headline the event. $10 suggested donation.
June 18
Story Time with Drag Queens:
Stories of Dad
3 - 5 pm
Center on Halsted, 3656 N. Halsted
Join Muffy Fishbasket and her Good Time Galz as they enthrall kids of all ages with tales read from storybooks sold at the event by Women & Children First. More information at centeronhalsted.org.
June 23–24
Gaywatch: Searching for Pride
10:30 pm
Playground Theater, 3209 N. Halsted
Laugh with, not at, the LGBTQ community in this hilarious sketch revue by the talented Gayco comedy troupe. Tickets $15; more information at www.gayco.com.
June 24
Proud to Run
8 am
Montrose and Simonds, near Montrose Harbor
This annual athletic endeavor features a 10K run and 5K run/walk and benefits a number of organizations serving Chicago's LGBTQ community. Advance registration $45/$50 on race day; more information at http://www.proudtorun.org.
June 24
Dyke March
2 pm
A grassroots mobilization and celebration of dyke, queer, bisexual, and transgender resilience, taking place in the La Villita/ Little Village neighborhood. FREE. Details TBA, more information as it becomes available at chicagodykemarch.wordpress.com.
June 25
48th Annual Pride Parade
12 noon
Kicks off at Montrose/Broadway
Celebrate the culture and contributions of Chicago's LGBTQ communities at this event, with floats featuring entertainment, community organizations, local dignitaries and other notable Chicagoans. More information http://www.chicagopridecalendar.org/
June 30 - July 3
Exhilaration!:
Chicago Gay Black Pride
Host Hotel: W Chicago - City Center,
172 W. Adams St.
Held at various locations throughout Chicago over four extravagant nights. Parties of various themes that celebrate the black community include the Urbano Black Party, the Esteem Awards, and Love Fest Day Party & Festival. For more information visit:
www.windycityblackpride.info.
LGBTQ EVENTS BEYOND JUNE
July 28 - 30
Fed Up Fest
Chicago's Queer and Trans hardcore festival. Performers and locations TBA. For more information and updates visit fedupfestchicago.tumblr.com
Aug 12 & 13
Northalsted Market Days
11 am-10 pm
On Halsted, Belmont to Addison
Boystown fest is perhaps the Midwest's largest outdoor street festival; 180,000 people annually enjoy a vast array of national talent, unique vendors, arts, crafts, food and drink.
August 25
Lady Gaga Live at Wrigley Field
Lady Gaga's world tour that includes an August stop at Wrigley Field.The pop singer is set to perform Aug. 25 as Wrigley Field's first female headliner. The "Joanne" world tour is named for her most recent album. Field show. Tickets $140+