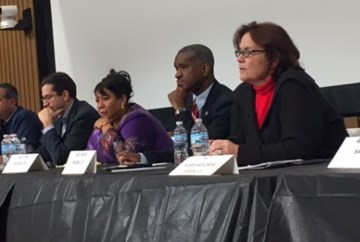 By: Suzanne Hanney, from prepared materials
November 29, 2016
Some 75 Chicagoans gathered at Malcolm X College on November 3 at a town hall convened by the City Council Progressive Reform Caucus to voice their concerns and ideas about the proposed 2017 City budget.
Attendees spoke to aldermen about unfunded city pensions, retiree healthcare cuts, community violence, the need for neighborhood economic development, underfunding of childcare and early learning programs, police hiring practices and alternative policing strategies.
Weighing heavily in the conversation was the move of funding for the city's nearly 900 crossing guards from the Chicago Police Department budget to the Office of Emergency Management and Communication (OEMC) budget. The crossing guards have been organizing and demanding that they be placed back into the Police Department, arguing that their work to protect children is more closely aligned with the mission and responsibilities of the CPD than OEMC.
Crossing guards said that when they worked with the CPD, their corners were always covered if they had to take a day off – a situation that has not continued under OEMC, said Elizabeth Burnside, Carole Hughes, and Gwen Ford Nino.
"We're not asking for more money but to shift us back," said Burnside, a crossing guard in the 16th district. "OEMC deals with traffic and crowds, they are not in the community with our children."
A crossing guard for 19 years in the 17th district, Hughes said she took off recently for a meeting at City Hall and no one covered for her. "Is the City ready for that liability?"
She also said that OEMC stopped hiring replacements and floaters but it did not show for a year because few guards took time off.
Hughes has gained the signatures of 47 aldermen on a resolution to return the crossing guards to the CPD. Right now, the crossing guards' CPD-blue uniforms and badges inspire respect among motorists, who slow down when they see them, she said. The OEMC green vest, on the other hand, looks more civilian and won't have the same effect.
A crossing guard at Halsted and Belmont, Nino said, "you think someone is going to cover your corner but instead, "people say, 'Ms. Nino, what happened?' "
Crossing guard Dee Gagen said that a crossing guard once watched a man follow a child off a bus; she intervened by stopping the child to ask if the man was the child's dad. When that turned out not to be the case, the guard called a Safe Passage representative to escort the child to school and informed the child's parents of what could have been a dangerous encounter.
OEMC did not return a request for comment. However, form letters to crossing guards and aldermen from OEMC Executive Director Gary Schenkel and CPD Supt. Eddie Johnson say that they are working with CPD and Chicago Public Schools in the transition. They have filled 112 vacancies and no positions will be eliminated. They have re-evaluated intersections and existing crossings to ensure guards are properly deployed. Also, the uniform will remain the same, but new hires will use the OEMC patch.
Others voiced concerns over the imminent total phase-out of subsidized healthcare for City retirees. 
"When I retired after working 33 years for the Chicago Public Library, I did so with the understanding that I would receive subsidies for my health care," said Mary Jones, president of the Chicago-area AFSCME Retirees subchapter, "Now the City is abandoning City retirees, and we are faced with some very hard choices about how to get by on our modest pensions."
Mother and childcare specialist April Drayton described the tense realities in the childcare field due to Gov. Bruce Rauner's slashing of childcare and early learning budgets.
"Despite having multiple degrees in early childhood education, I make just $11.35 an hour with no benefits, because that's all the daycare owner can afford to pay me," said Drayton. "We should be clear whose work is being undervalued and underpaid -- the childcare workforce in Chicago is overwhelmingly women, half of us are African-American, and another third of the workforce is Latino."
Speakers also voiced concern on apparent plans to privatize the Roseland Mental Health Clinic, poor conditions at the City's Animal Care and Control facility, the need for tax increment financing reform, and racial disparities in access to public transportation and health care.
The Progressive Caucus has hosted budget town halls for the past five years to seek public input and ensure their priorities align with their constituents.
"We really value hearing directly from Chicagoans in this process," said Progressive Caucus Chair Ald. Scott Waguespack (32). "We heard the voices of our constituents loudly--it is time to start asking the wealthiest among us and the major corporations who call Chicago home to pay more, so that we can fully fund the priorities and needs of our residents."
Other members of the Progressive Reform Caucus are Ald. Leslie Hairston (5); Ald. Roderick Sawyer (6); Ald. Susan Sadlowski Garza (10); Ald. Toni Foulkes (16); Ald. David Moore (17); Ald. Ricardo Muñoz (22); Ald. Chris Taliaferro (29); Ald. Carlos Ramirez-Rosa (35); Ald. Nick Sposato (38); and Ald. John Arena (45).
–Suzanne Hanney and prepared materials.