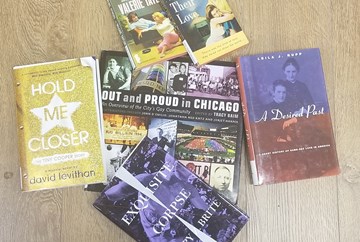 By: Jenni Spinner
June 4, 2018
The Gerber/Hart Library and Archives is one of the treasures of Chicago's vibrant LGBTQ community. One of the largest facilities of its kind in the country, the library is home to thousands of books, magazines, videos and other resources. The dynamic collection tells the tale of the city's rich LGBTQ history and celebrates its culture.
However, Gerber/Hart acts as more than a repository for books and movies—it's also a vital center for the city's LGBTQ population. Along with its impressive collection of more than 14,000 volumes, 800 periodicals and 100 archival collections, the library—located at 6500 N. Clark St.—also hosts community meetings, game nights, book discussions and exhibits about aspects of LGBTQ history and culture. The current exhibit, "Gay is Good: Homophile Activism before Stonewall," profiles the city's fascinating gay rights movement, active long before the 1969 protests at New York City's Stonewall Inn.
"When people talk about the gay rights movement, it often centers on Stonewall," says James Conley, a volunteer at the library. "In actuality, it started long before then. A really powerful movement started in Chicago, around 1924."
That's when Henry Gerber, one of the Chicago LGBTQ rights pioneers and a library namesake, founded the Society for Human Rights. The first gay rights advocacy organization in the country, the group had a short life (it was shut down about one year after its foundation), but a far-reaching and long-lasting impact. Its activities, such as the publication of the first national LGBTQ publication Friendship and Freedom, inspired activists for decades to come.
Gerber is one of the many figures from Chicago's LGBTQ history spotlighted in the Gay is Good exhibit. Another is Chicago author Valerie Taylor—best known for steamy novels featuring lesbian love, her books were more than just salacious tales. At a time when most books of that type were written by men for men, Taylor's had a larger purpose.
"Taylor was an activist in the homophile movement in Chicago and was notable for writing pulp novels from the perspective of a queer woman and for the consumption of other queer women," says Jennifer Dentel. "She also embedded coded hints for locations in Chicago where readers might find safe spaces or organizations."
Other legendary leaders and organizations profiled in the exhibit (designed by volunteer Kurt Heinrich) include transgender pioneer Reed Erickson, veteran activist Jim Darby, and the groundbreaking North American Conference of Homophile Organizations (NACHO).
An important piece of Chicago's LGBTQ history in its own right, Gerber/Hart was founded in 1981, with the belief that knowledge is the key to dispelling homophobia and that affirming information about LGBTQ people is important in building pride and confidence. The library invites Chicagoans to read and check out the titles on the shelves of its reading room.
"One of the things I've always loved about the library is the physical reading room space," says volunteer Chase Ollis. "From the rainbow-colored ceiling supports to the large layout, I feel like it does a lot to represent the identity of the community in the space really well."
Additionally, Gerber/Hart hosts numerous community events throughout the year, including game nights, a semi-annual book sale, book discussions and openings for its historical exhibits.
"These types of events are important for bringing new people through our doors to expose them to our shared cultural history and to provide a place for community building," says volunteer James Conley. "Libraries and archives are often not just a collection of rare or informative materials but historically have also served as meeting spaces and places for communities to build together and we try to do that through the various programming we put on."
For more than three decades, Gerber/Hart's operation has been a labor of love—with only one paid staffer on its roster, the facility and archives are maintained through hours of volunteer contributions every week. According to Conley, the collective of volunteers is a dedicated, tight-knit group.
"Our volunteers help us keep the doors open and the collections processed, and we're excited to welcome anyone who would like to lend us their expertise and time," says Conley. "We have archival collections to process, database entry, front desk work, and any number of other tasks available on any given day- we're eager to see what special skills our volunteers bring to us!"
In addition to volunteer contributions, the library's doors are kept open with help from fundraising and generous donors. While monetary donations are welcome, the library also happily accepts donations of books, papers, videos, buttons, posters, and other items on its wish list.
"We'd like to get some more shelving for our materials, and people's and organizational personal papers as donations," says Gerber/Hart director Wil Brant. "If people in the community are getting rid of old historical papers, that's very valuable to us because that fills in a lot of the historical gaps for information we just don't have. We love for people to come in and to come and participate in the library's events and collections. That increases awareness of the library and our materials as it helps us develop as a community resource. In blue-sky thinking we could use a few extra exhibit spaces as well."
If you'd like to help Gerber/Hart in its mission to educate and engage the LGBTQ community, drop by during open hours (Wednesday and Thursday 6 to 9 pm, Friday noon to 4 pm, and Saturday 10 am to 4 pm), or email Info@GerberHart.org. After attending a mandatory orientation session, volunteers are invited to help in a wide variety of roles—no prior experience is required.