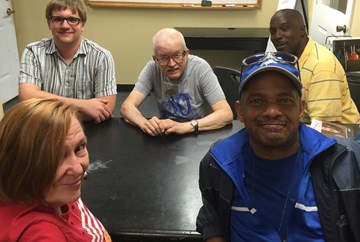 By: Staff
May 22, 2017
A. Allen
My favorite festivals are the Chicago Blues, Gospel and Jazz Festivals that take place in the spring and summer months. All three festivals are outdoors and are open and relaxing. I appreciate the downtown locations that are easy to access for many Chicagoans. This accessibility allows people from the North, East, South and West Sides to participate and creates a melting pot of race, culture and economic status.
Not only are these concerts free, but they have well-known and talented musical artist performances. I enjoy hearing the music and seeing the musicians on the stage or screen. I also support the events that surround the musical events such as the food and other vendors that participate in the festivals. It's also a good place to sell StreetWise as long as you're off the Park District property!
I really admire the City of Chicago for sponsoring such events because they offer people good, family entertainment that everyone can enjoy. I want to also thank StreetWise for allowing us the opportunity to express our appreciation here for the wholesome family festivities that come to us, often free, by the way of the City of Chicago and Park District. Thank you all for your active participation!
Robert Laine
The best summer fests are always the free ones. I can go in with no expectations and be surprised in the end.  I can't think of any free, summer long outdoor event better than the Millennium Park Summer Music Series, especially the ones featuring the Chicago Symphony Orchestra (CSO). Two summers ago I attended a concert featuring the Youth CSO accompanied by the Blue Man Group. This was one of the most fantastic concerts I've ever experienced and I've seen Pink Floyd and others live! Later that same summer I saw the CSO perform two requiems by Mozart with a vocal choir. It was quite meditative for me.
Beyond the summer festivals, my favorite fest is C2E2 (Chicago Comics and Entertainment Expo) that happens every April at McCormick Place. Only here can a person be whatever they want to be without judgment. Everyone is equal, including the guy wearing a blonde wig and dressed like Emma Frost (a.k.a. White Queen). It's like one big Kumbaya moment.
James Metzgar
The festival I attend regularly is the Ginza Holiday Festival, which is held annually in the Midwest Buddhist Temple in Old Town. It's a celebration of Japanese culture. This year it will be from August 11 thru the 13th. I am very interested in Japanese culture because I have spent time in Japan. I was there from September 1956-May 1958 as a dependent of my Army officer father, and I made a return trip from Jan 30th-Feb. 8th in 2006. I have also used this Temple as a place of my ecumenical activities. I am of the Roman Catholic faith but I have recently been trying to learn more about other faith groups. One part of the festival is that the pastor, a Japanese-American, gives regularly scheduled talks about Buddhism in the temple. The festival also has exhibitions of Japanese arts, crafts and martial arts. To learn more about this festival visit http://ginzaholiday.com/
Steven Riggs
The Taste of Chicago is my favorite festival because there are many different types of food from different types of restaurants. It's representative of just about every nationality that attends the Taste of Chicago, which makes it very diverse and unique.
Also it is a festival that is family friendly. It gives families an opportunity to spend quality time together, have fun, and eat at the same time.  There's music and sometimes there's small rides for little kids. It is the perfect Festival to take the family, out of town friends or a date. It's this openness and friendliness to everyone that makes it my favorite festival of the year.
Robert Smith
One of my favorite festivals is the Taste of Chicago. This event has all the right stuff! You have different varieties of food and beverages to choose and you can meet people from all walks of life. If you get too full, there's the option of walking, running or riding a bike on the lakefront. 
Every year there's a concert in the park where everyone's invited to see celebrities live and enjoy each other's company. Some people take food to see the concert to enjoy as they listen to the music. There's even a wedding nearby once in awhile! I had a chance to see Freddie Jackson sing at a wedding with Barry White, jamming like no other.
Overall, the Taste of Chicago is an event for everyone to enjoy with their family and friends or to meet someone new.