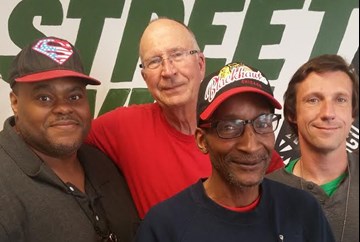 By: Staff
June 20, 2016
Vince: I want to give a big shout out to the Golden State Warriors. They were down three games to one versus the Oklahoma Thunder and I'll tell you, they made a comeback. Here's the funny thing: all you Bulls fans out there, myself included, some of us were slightly pulling for Oklahoma City and this is why: because Golden State broke the Bulls' record. They were 73-9 during the regular season and that broke the Bulls' 72-10 regular season record. However, "it don't mean a thing without the ring" and if Golden State didn't win the championship, the record doesn't really mean much. It's a statistic. They got the record, but they didn't get the championship (like the Bulls). And who did the Bulls beat that year? The Oklahoma City Thunder. Before they became the Thunder they were the – who?
John: Seattle Supersonics.
Vince: Anyway, it takes the heart of a champion to pull everything together and even though you've got your back to the wall, you just go one game at a time and pull everything together. You win one game, then you work on the next one, and then you hopefully take the series. The Blackhawks have done it and then they had almost done it again. So the Golden State Warriors are just the latest team to show you the true heart of a champion.
John: They do indeed have a heart like a champion, but I think they're going to be tired in the upcoming finals. I believe Cleveland is going to win because they are rested. They've got Kyrie Irving back although I don't think that's as relevant because Golden State came back from a 3-1 defecit. I think that's going to expend a lot of energy. Now, what Golden State has working for them is they were at home. They didn't have to travel. Granted, it's not like it was back in the old days with commercial flights, but still, it takes a lot out of you coming back from a 3-1 deficit. Now, I know a lot of teams have done it before like the Boston Celtics. They did it twice and won the NBA title, but LeBron James is a physical specimen unlike anything I've seen. He reminds me of Magic Johnson because his game is more like Magic's. Michael Jordan was more of a scorer; he wanted the ball. Magic did most of the facilitating and that's what LeBron is doing. So as long as Cleveland is healthy, this is their time.
Vince: You know what, I think the Cavaliers might pull this one out, mainly because they're due. The Cavaliers have never won a championship. Golden State has won a couple, and this year they look strong enough to win. The Cavaliers seem to have that versatile game where they can go strong short and they can go strong big. Golden State cannot go big like Cleveland can, so it'll be very interesting.
John: Okay, I want to close out with one final thing. I want to close on a high note! Shout out to the Cubs. They're doing well. The White Sox – what's up man?? The White Sox bull pen is generous like a drunk Santa. I mean these guys come in and they can't hold water. They are like a holey thimble, and a thimble is already holey. But these guys are like a damaged thimble. Hopefully the White Sox can pull it together. They're only a few games out. I saw them lose a game to Kansas City. They were up 7-1 in the 9th inning and the final score was 8-7! No more questions after that your honor, the defense rests. See you later!