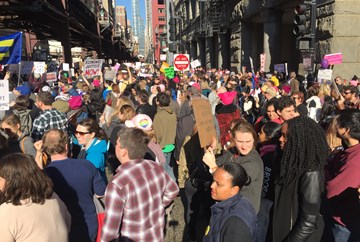 By: Marian Helm & Dirk Ingram
February 13, 2017
by Dirk Ingram
As my mom and I boarded the train to Chicago for the Women's March, I thought of the saying, "my mother raised me right." Mine raised me Left. And it stuck with me.
Arriving at Grant Park, I constantly lost sight of mom's diminutive 80-year-old form in the Chicago crowd. She enthusiastically pushed forward, wanting to get closer to the epicenter of the event. The social justice messages I heard in my youth, and have struggled to adapt to my life for decades, surrounded us on signs and posters everywhere I turned. I smiled at an older woman and nodded at the sign she was holding as she sat in a wheelchair. With a serious tone, she said, "I haven't made a sign since Vietnam. That was the last sign I made."
Social progress is often impeded. We expect that. There are periods when progressives are represented well and new legislation allows equality and human rights to flourish and advance. This is progress. I was shoulder to shoulder with thousands of people who understand this. These thousands of people understand that we could be on the brink of regression.
Mom noticed the Chicago Athletic Association hotel as we marched north on Michigan Avenue. It seemed right that we end our march in a building that once excluded women. While dining in the dark masculinity of the former Drawing Room, we talked about politics and religion.
The March was not a moment, it's a movement. In Chicago, and around the world, thousands of moms have raised their kids Left and they are unwilling to suffer regression.
by Mirian Helm
It seems safe to assume that all who are reading this know some people got together in the Loop on Saturday, January 21. I was one of them. With all the media coverage of the Women's March on the day after Donald Trump's inauguration, you need no further description of the event. I will share with you a bit of what I heard from several of the speakers who were there for causes now under threat.
I have been an activist for over 50 years and keep thinking it is time to pass the torch.  Let younger people deal with all of this. But, will they work as hard and as forever as have we who are older? Do they have the perspective to understand how unusual and serious the current threats are?
Author Sara Paretsky gave words to my own thoughts, repeated on her blog: "I am almost 70.  I have been an activist for Civil Rights and Reproductive Rights since I was 19, and there are days when I am weary with the struggle, but not today, not here, with 250,000 other Americans ready to work together to protect our rights. I was 25 when the Supreme Court decided Roe v Wade.....For a brief, glorious moment, we had forced open a window, allowing us to breathe in freedom....Almost instantly furious hands began pushing that window shut.  As had happened nine years earlier with the Civil Rights Act and Voting Rights Act, those who feared what free African-Americans looked like, those who feared free women, fought back. The culmination of the war against human rights was celebrated yesterday in our nation's capital. Now it is up to us....to go once more into battle for our freedoms."
There were no strangers in this crowd to which these leaders spoke. It was as if we already knew each other.
From a leader in the LGBTQ community:  "There should not be discrimination under the guise of religious rights. Trump, you may be in the White House for  four years, but the LGBTQ community will remain."
Advice from a Native American who trains others for action:  "Any issue we know of, there are already people on the ground fighting. Link with groups already organized for direct action."
A statement from Plato: "The price of apathy toward public affairs is to be ruled by evil men."
OK, OK, Plato was not at the rally, but this seems appropriate to the conversation. As does the following for me:
From the Jewish Talmund: "It is not incumbent upon you to complete the work, but neither are you at liberty to desist from it." 
So, I will persevere, taking heart in the thousands of young people at the march, especially a girl holding her own sign:  "I AM 14.  IN 4 YEARS I WILL VOTE."
Chicago Women's March Participants
Ari Afsar, Karen Olivo, & Samantha Marie Ware: From the cast of Hamilton
Jaquie Algee: Director of External Relations, SEIU Healthcare of Illinois
Marilyn Katz: Co-Founder of Chicago Women Take Action
Jean Albright: Master Sergeant (retired) U.S. Air Force
Eman Hassaballa Aly: Muslim community Activist, TRUST Collective
Faith Arnold: SEIU Healthcare Illinois, Fight for $15
Khadine Bennett: American Civil Liberties Union of Illinois
Eloise Diaz Bahrmasel: RISE Movement
Ann Christophersen & Lynn Mooney: Women & Children First
Cleopatra Cowley-Pendleton: Hadiya Pendleton Foundation
Rabbi Shoshanah Conover: Temple Sholom of Chicago
Pat Dowell (3rd), Susan Garza (10th), & Michele Smith (43rd): Alderwomen, City of Chicago
The Full Court Press Second Line Drummers: Performance
Kids Off The Block & Diane Latiker: Speaking and Performing
Eva Lewis, Maxine Aguilar, Maxine Wint, & Yahair Tarr: Youth For Black Lives
Lights of Zion: Performance
Tamar Manasseh: Mothers Against Senseless Killings
Fawzia Mirza: Actor/Producer, Emcee
Sara Paretsky: Author, Sisters in Crime Creator
Channyn Lynne Parker: Transgender activist, TransLife Project Manager
Rahnee Patrick: Independent Living at Access Living
Aislinn Pulley: Lead Organizer for Black Lives Matter Chicago
Maria Socorro Pesqueria: President, Mujeres Latinas en Accion
Tiffany Pryor: Executive Director, Illinois Caucus for Adolescent Health
Liz Radford, Ann Scholhamer, & Jessica Scheller: Co-Chairs of the Women's March on Chicago
Lucy Smith: Performance
Shani Smith: Lead Marshall of Women's March on Chicago, Safety Instruction, SEIU Healthcare Illinois
So Chi Voices: Performance
Opal Staples: Performance
Katie Thiede: Vice President of Development, Planned Parenthood of Illinois
Kimberly Wasserman: Executive Director, Little Village Environmental Justice Organization
Reyna Wences: Organized Communities Against Deportations
Rev. Dr. Janette C. Wilson, Esq.: National RainbowPUSH Coalition