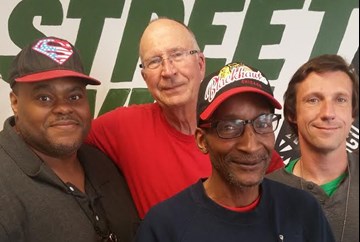 By: Staff
June 28, 2016
"I have wrestled with alligators,
I've tussled with a whale.
I done handcuffed lightning
And throw thunder in jail.
You know I'm bad.
Just last week,
I murdered a rock,
Injured a stone,
hospitalized a brick.
I'm so mean,
I make medicine sick."
-Muhammad Ali

Vince: Muhammad Ali was not just a boxer, he was a Civil Rights activist, a man who stood up for his own convictions, and that is something that is rare, especially from professional athletes.
John: I don't remember him much as a boxer because he was beginning retirement when I remember seeing him box for the first time. But I do remember seeing a commercial with him in 1980 about him having "two versions of Muhammad Ali." I can appreciate him because he wasn't the type of boxer to get the knockout in 30 seconds. He could go the distance. The thing that I think led to his downfall was the really heavy fight with Smokin' Joe Frazier, which he later referred to as "the closest thing to death." There were a lot of people serving in the military, to this day, that did not like Muhammad Ali. He didn't enter the military due to his Muslim religion, which led him to change his name from Cassius Clay to Muhammad Ali, and he never went back. Personally, I think he should have served since it was not a war based on ideologies. As an American, regardless of religious background, it comes as a duty of civilians. However, Ali did so many things for humanity, and boxing itself, that it can be looked over. It is highly unlikely that there will be another athlete like Ali.
Russell: Muhammad Ali, to me, is the greatest fighter to ever, ever live. He had to fight Smokin' Joe Frazier. Those were some hot battles in the '60s and '70s. Fifteen rounds of beating, that's crazy! I can't compare him to Mike Tyson and Larry Holmes, because to me, their boxing wasn't all that great, and the sport has changed a lot. I miss the good ole' days where you could come home from school, the fight would be on free TV. His fight against George Foreman was amazing too, but nothing compares to Joe Frazier because of his size. With Foreman, the eighth round came around, and out came Ali, and bam, bam, bam! Foreman was down for the count! To me, there shouldn't have been a Vietnam War to begin with. We were too preoccupied with fixing problems in Vietnam, we forgot about problems going on at home. With all the violence in Chicago and surrounding neighborhoods, we should use that effort towards our own problems, so I can't blame Ali too much for that.
Vince: I've got so many Muhammad Ali stories. I just wanted to say that Muhammad Ali was a part of my family. His first wife is my second cousin, my father's cousin. They didn't have any children, but he was crazy about her. She passed several years ago, but when he came to Chicago he would always look her up, because she was his first love. When they call Muhammad Ali the greatest fighter of all time, we need to recognize his athletic greatness. We can talk about his draft situation, but his boxing story is more significant. "Float like a butterfly, sting like a bee. The hands can't hit what the eyes can't see." He had a very particular way of doing things. He would predict what round he would beat you in a fight and do it. There was a time where Ernie Terrell disrespected him and would only call him Cassius Clay. He actually beat him and with every punch, you'd hear, "What's my name? What's my name?" It's unfortunate that Parkinson's took him down so hard, but that is what diseases of that nature do. When Mike Tyson was asked how he would have done against Muhammad Ali, Tyson said he wouldn't be able to stand him. He influenced an entire generation. In one way, it was negative because the style made some boxers lazy. For him, it was a strategy, he'd let other boxers tire themselves out. In his early career he did not like to get hit at all. That's why he had a lot of head movement; he was all over the place and had a really sweet jab. But as he became older, he had to become more vicious, and he started to take a lot of hits as well, which had some very detrimental outcomes for him.
Russell: I'm going to miss Ali. I will always miss watching him box, and there will never be another boxer or athlete as interesting as Ali. To me, he's not dead, his spirit is still here and it always, always will be, especially in the sport of boxing.