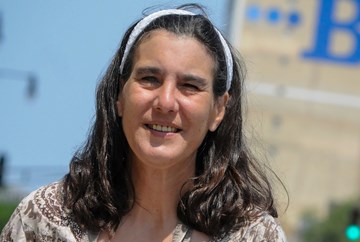 By: Madeline Cohen
August 15, 2016
I've been selling StreetWise for over 10 years, and I also work in the office when I get asked to. After working for so long, nothing much has really changed over the years besides the people. One of the things I enjoy about being a vendor is that you develop relationships with people, who say "oh, I haven't seen you in years!" People remember you like that.
I have been in the Gold Coast area for a number of years. Right now I'm on Dearborn and Division, which is in front of Walgreens and a block from Jewel, but I used to work in front of the Jewel. It is closed and is being rebuilt at this particular time, so that's why I moved. When I changed locations, I had to build some new customers. People drive to Jewel, so I lost some of the people who go through the parking lot. That's the thing about Walgreens--you don't see people all the time. It's not like Jewel, where the same people are in there every day to shop. With Jewel closed, my old customers didn't see me anymore. But the magazine helped to keep me alive and afloat.
Sometimes there are things going on in the neighborhood. And sometimes, days are just really slow, when you've got two hockey games and a baseball game and everyone's inside watching those. There are a lot of restaurants and bars in my general area, hotels, too, about a block away, so I do get a lot of visitors. And there are some people who live a few blocks over that take time to find me. There are small kids who look for me on a daily basis, the little small ones who are only 4-, 5-, 6- years-old. There are nannies that I see who take care of children, and you meet the moms. I try to keep my selling times regular. Sometimes I'll pop in early if I know the weather's going to be miserable later on, so I have time to get on public transportation and leave. I live up by Portage Park, so the commute to work is 45 minutes to an hour, maybe longer than that.
The secret to selling StreetWise is to be pleasant and share compliments. I try to help my customers in any way I can. You keep yourself humble. But you know, I enjoy my job. You build a lot of friendships here, and being in the same neighborhood for so long has helped. It helps in the sense that people know you, and they know you are doing something positive with your money instead of doing something silly and negative. A lot of people are very kind. If there's one thing I'd like to tell people, it's not to forget that StreetWise is a nonprofit organization, and every seller is an independent contractor, which some people don't know. We're not out here panhandling, it's not a hustle, it's a sale and it's about a relationship with the public. My enjoyment is different from other people—I get enjoyment just from being serene, taking care of myself. I really enjoy life.