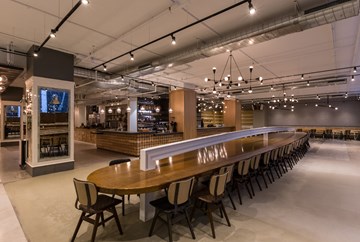 By: Alexandria Spillman
October 24, 2016
If you've ever wondered where you can say "goodbye" to machines and chemical preservatives and say "hello" to handmade food without breaking the bank, then you're in for some good news. StreetWise vendor Kimberley Wynne took the risk and did the research for you when she visited the new Revival Food Hall; all that's left for you to do is to go.
With the addition of Revival, 125 S. Clark St., your Chicago food hall options now include City Pool, Latinicity, and French Market; Kimberley's previous EatWise feature on Latinicity and her recent trip to Revival makes her the resident StreetWise food hall guru.
Kimberley started her day with magazine sales at her Thompson Center location on Randolph; as lunchtime approached and sales slowed, she walked the four blocks to the new food hall.
When Kimberley arrived at Revival, she scoped out her options. She saw kiosks for Brown Bag Seafood, Smoque BBQ, The Budlong, Aloha Poke Co., Harvest Juicery, Antique Taco, Black Dog Gelato, Union Squared, Graze Kitchenette, Furious Spoon, Farmer's Fridge, Danke, and the Fat Shallot.
Surrounded by choices for burgers, sushi, reinvented ramen, Italian ice cream, and ultra-Americanized Mexican food, Kimberley chose a classic: the grilled cheese sandwich. The chefs behind The Fat Shallot counter crafted her grilled cheese sandwich with Muenster cheese, sourdough bread, sautéed spinach, and caramelized onions.
"I make grilled cheese at home and eat it with my soup sometimes," Kimberley said, "and this was really good. The sandwich was kind of big. It was a little crunchy on the ends of the bread and soft in the middle. I could see the cheese when I bit into it, but it didn't make a mess when I pulled the bite away."
Kimberley sat at the Fat Shallot counter where she enjoyed complimentary pickle slices in between sandwich bites and sips of Goose Island root beer.
"I liked the root beer," Kimberley said. "It was a little sweeter than normal root beer like MUG, and it came in a glass bottle." Soda fanatics know that the bottle makes a difference; not only is the design something new to entertain the eyes, but the root beer's flavor is not muddled with the metallic taste of an aluminum can.
Kimberley also took note of the quality of service. She arrived right before the lunchtime rush, so she was greeted politely and her order was executed exactly as requested. But as she dined at the counter, the hustle and bustle of hungry people prevented her from striking up much conversation with the staff. She looks forward to her next visit to Revival, when she can learn more about each restaurant vendor and their food.
"Next time, I want to try Graze Kitchenette or the Furious Spoon where they have different kinds of noodles," she said. "At Graze, I'll probably get the Graze Burger with cheddar, pickles, grilled onion, and dijonnaise, but no tomatoes—I'm allergic to tomatoes."
Revival Food Hall has something for everyone, whether diners have allergies, exotic tastes, or are just plain picky eaters. "I like that they had a variety of different places to eat at," Kimberley said. "You could go there for lunch every day and get something different every time."