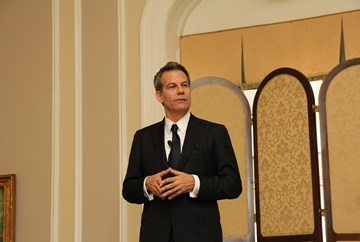 By: Suzanne Hanney
September 18, 2017
Richard Florida coined the term "creative class" in 2002 to describe the artists, musicians, tech workers and designers who moved back to cities because of their  high-paying jobs; lush dating scene; and restaurants, music clubs and museums in which to have great experiences.
By the beginning of the 21st century, the creative class encompassed 40 million people, or a third of the U.S. workforce, while there were 60 million workers (half the workforce) in retail, food prep and other service jobs and another fifth in blue-collar jobs such as factories, construction, transportation and logistics.
The idea of a highly paid, diverse – and sexually tolerant – creative class resulted in backlash from conservatives. Liberals blamed them for rising rents and gentrification, noted Florida, who is a professor at the University of Toronto's Rotman School of Management and a distinguished fellow at New York University.
Even before the 2008 recession, Florida said in his new book, "The New Urban Crisis," he realized that the natural clustering of talent and economic assets that cities produce was generating "a lopsided, unequal urbanism" in which a few superstar cities and neighborhoods benefited but the rest were left behind.
The growing class divide between haves and have nots was a "ticking time bomb," which manifested itself in the presidential election of Donald Trump and the British exit from the European Union. And in Florida's current hometown of Toronto, Rob Ford, a rich populist who fed on suburbanites' resentment that their money was going to bike lanes or downtown revitalization, won an upset election as mayor in 2010.
"We've gotta shift from 'winner take all urbanism' to 'urbanism for all,' " Florida said in a recent presentation on the book sponsored by the Metropolitan Planning Council. "We can move from exclusive prosperity to inclusive prosperity."
New York, San Francisco and London are the superstar cities with the highest inequality and rising rents. But the creative class has also returned to the urban core of Chicago, repurposing its factories and warehouses and blue-collar neighborhoods like Wrigleyville, Florida wrote. Service personnel get leftover spaces between creative class enclaves and at the outer edges of the city.
The richest 10 percent of U.S. households are the ones most likely to return to the urban core, as seen in New York, Los Angeles, San Francisco Bay, Boston, Washington, D.C., Chicago, Seattle, Portland and Denver, Florida writes in "The New Urban Crisis." Simultaneously, the poorest 10 percent were those most likely to leave U.S. cities between 2000 and 2014.
The wealthy return because they need to be close to other people in their high-tech or creative industries in order to be productive. They are also seeking shorter commutes and city amenities: bookstores, museums, restaurants, cafes.
While the urban crisis of the late 1960s and early 1970s was the exodus of the middle class from cities, the new urban crisis "is the evisceration of the middle class," Florida told the MPC audience.
Correspondingly, Americans are increasingly "sorting" themselves by income, education and class. Between 1980 and 2010, income segregation grew in 27 of the nation's 30 largest metropolitan areas. The top 10 economically segregated cities are Cleveland, Detroit, Milwaukee, Columbus, Buffalo, Memphis, Philadelphia, Phoenix, Kansas City and Nashville.
Florida combined statistics on income, education and occupation (working class, creative class, etc.) to create an Overall Economic Segregation Index in which Chicago ranked 9th out of 10 cities. The college town/knowledge hub of Austin topped the list, followed by all six of the nation's largest metro areas: New York, Los Angeles, Dallas, Houston, Philadelphia.
The problem with this aggregated segregation is that it reinforces the advantages of the privileged class while perpetuating the disadvantages for those at the bottom. Low-income children can't access good schools that can lead them to good colleges and social mobility. The problem compounds over generations.
"The harsh reality in America today is that poor neighborhoods stay poor and rich neighborhoods stay rich," Florida wrote in "The New Urban Class." Race figures into the equation because African-Americans are more likely to live in neighborhoods of concentrated poverty than whites.
Among the 15 largest U.S. metro areas, Chicago had 138 neighborhoods of concentrated poverty that were 80+ percent minority and 58 affluent neighborhoods that were 90+ percent white. Across all 15 metro areas, areas of racially concentrated poverty were in 75+ percent minority areas while affluent areas were 90+ percent white.
The problem is not only the lack of opportunity for minorities but that "our superstar cities and tech hubs will become so expensive that they will turn into gilded and gated communities, their innovative and creative sparks will eventually fade and they will price out the essential service workers needed to keep their economy running," Florida writes in "The New Urban Class."
The solution, Florida says, is more urbanism, not less: "sustainable urbanization," as he told the United Nations Economic and Social Council in 2014, so that clusters of people can unleash their own talent.
Current U.S. housing policy subsidizes homeowners via the mortgage deduction at the rate of $200 billion annually, while only $46 billion goes to housing assistance for people in need. Meanwhile, the number of renters who pay more than 30 percent of their income for housing (the threshold for being cost-burdened) rose from 14.8 million in 2001 to 21.3 million in 2014.
The U.S. subsidizes autos by funding highways but transit projects would be more productive for two reasons. First, once cities reach populations of five million or more, the auto is not as effective at moving people.
Second, transit is the "connective fiber" that increases the number of dense, clustered neighborhoods that are affordable to more people. Neighborhoods served by mass transit offer better access to jobs and more chances for upward mobility. New York, San Francisco, Chicago, Boston, Washington, D.C. all have such transit and could use more to reduce congestion and to link outlying areas (with cheaper housing) to urban centers.
High-speed rail can also connect separate metro areas together in "mega-regions," as in the "Amtrak Corridor" between Boston, New York, Philadelphia, Baltimore and Washington, D.C., an area of more than 50 million people and an economic output of $2 trillion. The U.S. has a dozen similar regions such as Chicago-Detroit-Pittsburgh; Miami-Tampa-Orlando and Seattle-Portland-Vancouver. High-speed rail similar to that in Japan or France could shrink the time between Pittsburgh and Chicago, for example, to 2½ hours, which would expand their labor markets and enlarge their economies.
Florida said in the MPC talk that the Trump administration is more likely to favor roads over transit. Conservative thinking tends to view cities as elitist, even "libertine" and overrun with crime.
But local interests can prevail, he said, citing Florida Republican Gov. Rick Scott's rejection in 2011 of $2 billion in federal money for high-speed rail, which was later revived by private investors. USA Today reported last year that the 230-mile Brightline service between Miami and West Palm Beach will be the first privately run passenger service launched in the U.S. in 100 years.
Local anchor institutions such as universities and medical centers can also improve urban conditions by creating a variety of better jobs for the people around them.
"The big story of the last 15 years is how we rebuilt our cities from the ground up," Florida told the MPC audience. "Our next battle is to recognize that to keep the revival going, we have to connect to inclusive prosperity."