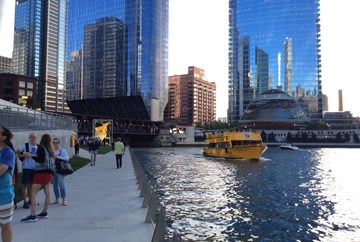 By: Suzanne Hanney
July 31, 2018
The Chicago Riverwalk brings all the amenities of a second waterfront to the city. The 1.25-mile path runs along the river's main branch from Lake Michigan to Lake Street, giving its underlying aura of history to experiences in nature, recreation and dining. Unveiled in 2016, it is open from 6 a.m. to 11 p.m.
The entire riverwalk project began in 1999 with a design that involved the U.S. Coast Guard, Army Corps of Engineers, community groups and commercial/recreational waterway interests. The Chicago Department of Transportation's (CDOT) east-west reconstruction of Wacker Drive in the 1990s resulted in build-outs that could accommodate the current amenities, such as the Vietnam Veterans Memorial west of Wabash Avenue in 2005. Tax increment financing (TIF) money funded the first phase between Michigan Avenue and Wabash in 2009. As Mayor Rahm Emanuel sought to complete the Riverwalk's final six blocks between State and Lake Streets, CDOT was able to apply for federal funding because of the Riverwalk's regional and national significance and the expectation that it would leverage other investment.
The Chicago River's "Confluence" is at Franklin and Lake Streets, where the main branch meets the North and South branches; it's the "Y" portrayed in many City of Chicago insignia and buildings. "Black Tiberinus," by Chicago artist Robert Burnier, is a site-specific installation commissioned by the City that will remain until next May. The artwork will feature three geometric sculptures made of steel, nylon mesh and rope. Visible from both river level and Upper Wacker Drive, it will reference the Roman god of the River Tiber.
Earlier this year, the City of Chicago provided plastic Adirondack chairs made of recycled plastic so people can sit and enjoy the view at the Confluence.
The Confluence area was the site of the city's first three taverns, its first hotel, The Sauganash, at what is now Wacker Drive and Lake Street; and its first convention center, The Wigwam, where Abraham Lincoln was nominated for president in 1860.
Fishing is permitted on the Riverwalk. However, you must have a license from the Illinois Department of Natural Resources and your gear cannot obstruct the Riverwalk for other users. Resident licenses start at $7.75 for seniors and are available at dnr.illinois.gov. You can retain your license online or pick it up at listed retailers and DNR offices at 100 W. Randolph St.
In addition, the Chicago Park District's free "Fishing at the Jetty" program lends anglers free poles and lures in the area of floating piers and wetland gardens between Wells and Franklin. Fish available in the Chicago River from May through August include largemouth, smallmouth and rock bass; panfish, crappie, carp, perch and drum.
This October, Art on the MART will be a lighting installation projected across the nearly three acres of the southern façade of the MART, the building formerly known as the Merchandise Mart. The installation will be privately funded by Vornado Realty Trust as part of the Terra Foundation for American Art's Art Design Chicago initiative and will be the first projection of its size without branding, sponsorship credits or messaging. You will be able to access the installation via the west Franklin stairway between Upper Wacker Drive and the Riverwalk.
The Water Plaza between Wells and LaSalle features fountains for splashing.
The River Theater between LaSalle and Clark Streets facilitates vertical access to the riverfront from Wacker Drive via stairway and wheelchair-accessible ramp.
Chicago's greatest loss-of-life tragedy happened July 24, 1915 on the Chicago River at the southeast corner of the river and LaSalle Street. The S.S. Eastland was boarding workers from the Western Electric Company for an employee picnic in Michigan City, IN. when the ship suddenly rolled over in the water at the dock's edge; 844 people died, including 22 entire families. Survivor families have reconnected at the site during annual observances hosted by the Eastland Disaster Memorial Society. www.eastlanddisaster.org
Chicago Water Taxi, 105 W. Riverwalk South – There's no traffic and no red lights when you take this boat to any of 7 docks on the Chicago River. The Riverwalk stop is at Clark Street, in the center of this attraction, but you can also stop nearby at River North, 325 N. LaSalle St.; and Michigan Avenue, along the west side of the Wrigley Building, 400 N. Michigan Ave. at Rush Street. You might also cop a secret from weekday train commuters by taking a water taxi from Ogilvie/Union Station at the Madison Street bridge. From there you might go north to Chicago Avenue (the northeast corner of the bridge at 600 W. Chicago Ave.) or to Goose Island, which will take you to Old Town and Wicker Park (near North Avenue and Sheffield at the Cherry Street bridge). Or, you might choose to cruise south to Chinatown and dock at Ping Tom Park. www.chicagowatertaxi.com
Tiny Tapp & Café, 55 W. Riverwalk South -- Cocktails, beer & wine "on tapp," in an outpost from Lincoln Square's Tiny Lounge signature craft cocktail bar. There's also locally roasted coffee, fresh baked pastries, ice cream, and more. Located in The Cove, between Clark and Dearborn Streets. $5+, along with the occasional Sunday morning yoga. www.tinytapp.com
Downtown Docks 27 W. Riverwalk South – Pause during a cruise on your own vessel to enjoy the land-based attractions of the Riverwalk. Highly trained staff will park your boat at locations between the State/Dearborn or LaSalle/Wells bridges. $25+/hour at 312.709.1358 or www.downtowndocks.com
Chicago Electric Boat Company, also 27 W. Riverwalk South. Hourly rentals for up to 12 people on the river, starting at $150/hour for even new drivers. Walk-ins and reservations welcome. 312.644-6411 and www.chicagoelectricboats.com
Frost Gelato - Coming soon to a café near the Downtown Docks is an outlet for handcrafted flavors of this Italian treat.
City Winery, 11 W. Riverwalk South -- Open 7 days 11 am-9 pm with sustainably served wine, locally made products and menu favorites from its West Loop location. Access is from Upper Wacker Drive via stairs at State or Dearborn Streets. Reservations not accepted. 312.229.5593 https://citywinery.com/chicago/riverwalk/
Chicago Brewhouse, 31-35 E. Riverwalk South & 318-20 N. Wabash Ave. Opening soon and serving locally-made craft beers as well as food and coffee along with food and drinks at street level.
Vietnam Veterans Memorial Wacker Drive at Wabash stairway access. One of the largest such memorials outside Washington, D.C., this tiered plaza designed by Vietnam veteran Gary Tillery features a lawn, reflecting pool and black granite slab with the names of 2,900 Illinoisans killed or missing in action from all branches of the military. Free to the public all year.
O'Brien's Riverwalk Café, 45 E. Riverwalk South, on the northeast corner of Wabash Avenue and Wacker Drive. Specializing in summer grilled foods, half-pound Black Angus burgers, buffalo chicken wings, summer salads and wraps. Open April –October: 11 am-9 pm Mon-Thurs, 11 am-10 pm Fri, 9 am-10 pm Sat and 9 am-9 pm Sun. 312.346.3131 or www.obriensrestaurant.com
Wendella Sightseeing, 400 N. Michigan Ave. Family-owned and operated since 1935, Wendella offers a variety of cruises, 7 days a week March through December: Chicago's original architecture tour, a lake and river tour, sunset cruise, fireworks cruise, Thursday night Beer & BBQ or Wine & Cheese cruises. Its main dock is at the start of the Magnificent Mile, with a secondary dock west of the Wrigley Building at the lower level of Kinzie and Rush Streets. 312.337.1446 or www.wendellaboats.com
McCormick Bridgehouse & Chicago River Museum, 99 E. Riverwalk -- Opened by Friends of the Chicago River in 2006, the five-story museum provides an understanding of Chicago's relationship to its river. It is the cultural anchor to the Riverwalk. Starting at river level, see the massive gears that move the Michigan Avenue (DuSable) Bridge – and watch them at work when the bridge leaf lifts to accommodate sailboats and other traffic. Roughly 40 "bridge lift" days each year between April and November are listed on the museum's website.
Successive levels of the museum tell the story of the Chicago River. Chicago exists because it connects the Atlantic Ocean and the Great Lakes with the Mississippi River. The Chicago River flows into the DesPlaines River and then the Illinois River, a Mississippi tributary, after a short wetland portage for early explorers' canoes. The uppermost story of the museum provides 360-degree views of the city and river. [See Calendar on page 5 for more information on the August 4 Chicago Portage tour]
Open Thurs-Mon 10 am-5 pm from May 12-October 29.
General admission $5 age 6-12, seniors over 62 and students with ID; $6 general admission; free on Sundays. Bridge Lift tickets $10; Loop Around the Bridgehouse tours 11 am & 2:30 pm Fri & Sat starting in June, $12. Reservations 312.977.0227.
www.bridgehousemuseum.org
Chicago's First Lady Cruises – Mercury, Chicago's Skyline Cruiseline, 112 E. Upper Wacker Drive – The official Chicago Architecture Foundation river cruise embarking here has been named "Top 10 Tour in the U.S." by TripAdvisor reviewers. CAF-certified volunteer docents describe the beauty of over 53 significant buildings and bridges from the comfort of open-air upper decks or climate-controlled interior salons. A portion of ticket sales support CAF architecture education. Daily, April – November. Also watch for sunrise yoga cruise August 12 – it offers a view so beautiful you might forget to exhale. Tickets at www.cruisechicago.com
The Northman, 233 E. Riverwalk – The Lincoln Square beer & cider garden plans to open a second outlet this summer near the Columbus Drive bridge. A roof deck and full kitchen is planned for next summer, according to Eater Chicago.
Island Party Hut & Boat Charters, 355 E. Riverwalk South – Located between Columbus and Lake Shore Drive, this outpost offers a tropical atmosphere for games (bocce ball, Jumbo Jinga, Bimini Island Rings and more), drinks such as Margaritas, Mai Tais and Riverside Ramblers; slow-cooked pulled pork, burgers and brats. Live music most Thursdays-Sundays ranges from Piano Man to reggae and island party music. You can also book passage on its Tiki Boat fleet, which feature water slides for swimming in the lake. Or, tie up your boat at its transient dock.
11 am- 11 pm seven days a week. 312.6000.HUT (312.600.0408) or www.islandpartyhut.com
Urban Kayaks & Urban Cantina, 435 E. Riverwalk South – Five different tours cater to all ages and experience levels, from a one-hour, small-group "Riverwalk Intro Paddle"  ($45), to a one-hour Fireworks Paddle biweekly down the Chicago River's main branch and into Lake Michigan ($50); and Historic Chicago tour on the river's main branch ($65), Sunset Tour ($65) of the city's earliest historic outposts and Ultimate Fireworks Outing ($70), all 90 minutes. Food service is new this year. Open 7 days a week 9 am-7 pm just west of Lake Shore Drive. 312.965.0035 or https://urbankayaks.com
Ellen Lanyon's Riverwalk Gateway – Under Lake Shore Drive on the south bank of the Chicago River. This 170-foot passageway connects the Riverwalk to the lakefront bicycle path. Commissioned in 1998, Lanyon's 28 ceramic tiles start in 1673 with the arrival of Jacques Marquette and Louis Jolliet, who learned from Native Americans the route between the Chicago River and the Mississippi River that fueled the city's growth. Other scenes include: Jean Baptiste Pointe du Sable's cabin, the first on the river; the Fire of 1871; the World's Columbian Exposition of 1893; the reversal of the river in 1900 (a sanitation initiative that the American Public Works Association says was the largest municipal earth-moving project ever completed); current efforts to clean up the river as a place for enjoyment.
www.chicagoparkdistrict.com/parks-facilities/riverwalk-gateway-murals