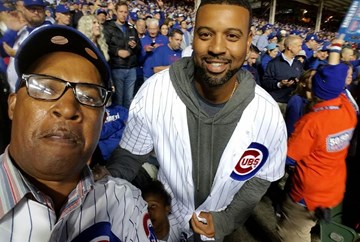 By: Carrie Bensfield
January 5, 2017
The Cubs made history this year when they won the World Series. After 108 years, the curse was finally broken. StreetWise vendor and lifelong Cubs fan, Robert Qualls, had the opportunity to attend several games, including games in the play-offs and World Series. He sat down to talk to us about his experience…
Carrie Bensfield: When did you start to have a good feeling about the Cubs?
Robert Qualls: Day one, spring training, the first game of the season. I'm a lifelong fan, so every year is basically the same thing—the Cubs are going to win this year. I'm always faithful and optimistic. I'm just a Cubs fan.
As Cubs fans, we always come in saying, 'this is our year.' Then whether it's earlier in the season or later in the season, the wheels seem to come off. But you were steadfast that this was the Cubs year. At what point did the feeling set in that this really is our year?
The All-Star break; they finished in first place. They had a little slide going into the All-Star break. Afterward, they picked it back up and started playing good ball. It just sunk in that this is a really good team, that they're not giving up. It's a bunch of young kids enjoying the game and playing really well. They were playing well and it just gave you a little added hope that they could continue to play well through the second half of the season, which they did. They stayed in first place all but one day.
When was the All-Star break?
July, early July.
What specifically did you see?
When they invited the whole infield to play on the All-Star team. Whoever picks the teams invited all the infield of the Chicago Cubs. That spoke volumes about how good they really were, from first base to third base. All of them were invited to play in the All-Star game and that hardly ever happens in baseball. It was great to see that and it made you feel good.
Where were you when all of this was happening?
I watched pretty much every game, but I went to 14 regular season games and they won all of them. I went to two playoff games and they won both of them. I went to game 3 of the World Series, which they lost 1-0. Made me a little sad, but I still felt they had a good chance to win because they only had a three-game losing streak. We kept the faith and they come through at the end.
You went to 14 games, that's a lot. How do you get the tickets, generally?
From customers, because I sell StreetWise in the neighborhood. Being a vendor for 10 years, my customers learned that I like the Cubs a lot. Most of them are season ticket holders and would give me tickets when they couldn't go or if it's a special day. I was fortunate enough to attend 14 games.
This year was special, I had about three random customers who heard about me and they offered me tickets. But the majority were people that I knew over the years from selling StreetWise, the season ticket holders. When they couldn't make it, they would offer me tickets.
These other three that heard of you, what did you think they heard that prompted them to give their tickets to you?
I am good StreetWise vendor, people love me in Southport. I'm a staple of the neighborhood, as they say, a pillar. If you don't know me, then you meet me and go home and talk to your neighbors and ask about me, I guess most people would say that Robert's a nice guy, so they're pretty friendly and nice and people give me stuff.
I've met a few players throughout my life. The players I know now are all retired, but they still live in the neighborhood and are pretty friendly with me. They make sure I get to opening day and special events like Cubs conventions. Just like the playoffs to the World Series, they made sure I was there to witness it live.
I got a picture with Derek Lee, he's a former player and we sat together at the World Series.
What can you say about your experience at the games?
The first game of the National League Division Series was against the Giants and Cubs' second baseman Javier Baez hit a home run to win the game. That was pretty exciting. The roof fell off the place and that was awesome.
The first game in the National Leauge Championship Series with the Dodgers. Miguel Montero hit the grand slam and things really went off then. When they hit the grand slam it was like magic in the air, it was really great. They won 8-4.
Game 3 of the World Series, we lost 1-0 and the Series took a turn for the worse. But everybody was still happy because we were in the World Series. It was not over, we had a good team. Everybody went home not smiling, but nobody was really sad because we knew we had four more games to play and we only had to win three. And it was awesome that they won 3 and 4.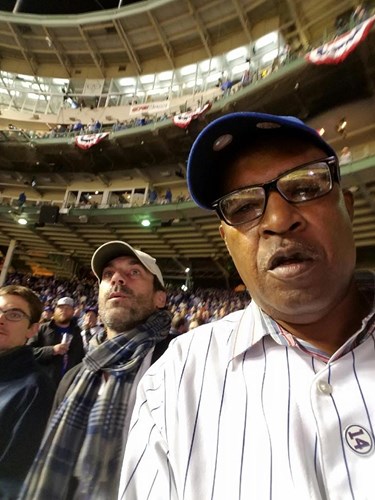 Who were some of the celebrities you saw in the crowd?
The actor Jon Hamm sat next to me and he bought me a hot dog. I took a picture of him. I sat with Derrek Lee. Bill Murray was a few rows away. There were so many people I was sitting next to because I was about 10 rows back from home plate. It was magical, it was awesome. I was sitting near the complimentary section where the players' families sit, so I met some of the families. They're nice people.
Where were you when the Cubs won the World Series?
I was home. It was raining here in Chicago, so I decided to stay home. I was at home on pins and needles after they tied it up. Once they won, I popped a bottle.
Best story ever. It never was written, it played out. It was awesome.
In the context of you being a lifelong Cubs fan, what did it mean when the Cubs won the World Series?
I don't know how to put it into words. I'm just as stunned now as I was the night it happened. It was just really great. So many people died wishing the Cubs would have won the World Series in their lifetime. 108 years is a long time to wait.
Is there anything else you want to say?
We got a good team and we'll do it again next year.