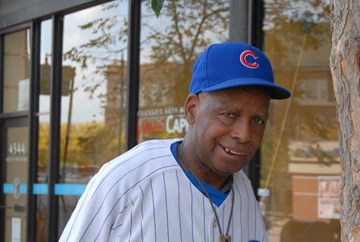 By: Shannon Barnet
April 11, 2014
When Ronnie Wickers saw his first ballgame in 1949, he became hooked on the sport. He began rooting for the Chicago Cubs when he was just 11 years old because he had a stuffed teddy bear and liked that the Cubs' emblem was a bear. His love only grew from there.
 Wickers has said in the past, "With a team like the Cubs and with a field like Wrigley, it's easy to fall in love. When you go to Wrigley Field, something just comes over you… It's a magic that is unexplainable, but it's a real good feeling."
Wickers got his nickname after starting his now famous (or infamous) chant at a game one day, "Woo! Woo! Woo!" Many times, he'll add the names of Cubs players to his chant.
While Wickers is well known among Chicagoans, specifically Cubs fans, the feelings towards him vary. Some find Wickers to be a loyal, excitable fan and a staple at Wrigley; others see Wickers as nothing more than a loud limelight seeker.
Regarding his naysayers, Wickers had this to say, "In life, some people will like you and some people aren't going to like you. But you just try to be a gentleman and have a lot of fun with it. Because it's all for fun."
Part of the fun of being at Wrigley for Wickers is being positive and cheering on the players with his chants of "Cheer 'em up! Cheer 'em up! Keep 'em up! Keep 'em up!" According to Wickers, fans should never boo players.
"Let them know that you're there for them. They come to Wrigley Field and there are 35,000 people cheering for you. It helps a lot. You think a little faster, look at the pitcher a little more, swing a little faster… it means a lot to have the 10th man out there."
Before Wickers became one of the most well-known fans in Chicago, he experienced some tough times. According to Wickers, he grew up at 4748 South Evans and was surrounded by quite a bit of gang activity. Rooting for the Cubs at Wrigley was an escape for him from the violence in his neighborhood.
Wickers experienced other hardships in his life including years of struggling in school, losing loved ones such as his girlfriend of 10 years and his grandmother, losing his job and, eventually, becoming homeless.
According to Wickers, continuing to root for the Cubs – and selling StreetWise – helped him to eventually get off the street. Selling StreetWise gave Wickers some income and, while rooting for the Cubs at Wrigley, Wickers met a woman who'd become a good friend to him and help get him set up in a hotel, off the streets.
After that, Wickers' life began to turn around. He got a job, moved to a city-assisted building and, in 2005, got to sing "Take Me Out to the Ballgame" at Wrigley.
"I was the first regular fan to sing "Take Me Out to the Ballgame." I'll never forget it. I love baseball and I love the Cubs. The Cubs really kept me alive," Wickers has said.
Nowadays, Ronnie spends the off-season taking pictures of Wrigley, working, and counting down the minutes until opening day. Luckily for Ronnie "Woo Woo Wickers," the wait until Wrigley opens its doors once again and the much-anticipated words "Play ball!" are uttered, is just about over. Opening day is April 4. - Story excerpted from StreetWise April 4, 2012 Ronnie "Woo Woo" profile by Brittany Langmeyer.