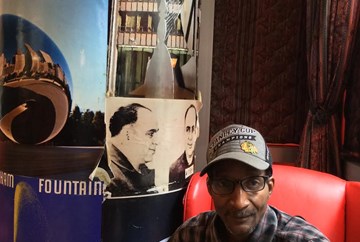 By: Staff
July 6, 2015
Whether coming or going, you have undoubtedly noticed Ronny's Steak House a thousand times before, at the southwest corner of Clark and Lake, signs on butcher paper in the windows, advertising outrageously well priced steak dinners and pancake breakfasts—$7.99 for a steak dinner, $5.99 for a pancake breakfast—and wondered about the place. Longtime StreetWise vendor and trusted community member, Russell Adams, set out to explore just this.
Established in 1963, the place is like one of that suspended in time. Nostalgia abound, the walls are festooned with photographs of Chicago personalities from yesteryear, Harry Carry, Al Capone, and "too many politicians to count."
"It was comfortable," states Adams, "Reminded me of the old days. In fact, they had a few different locations in the city back in the seventies. They had one at State and Randolph, and they had a big one by the Oriental Theater. That one had a disco on the second floor. You could go up there and listen to music and stuff. It was pretty cool."
This Ronny's Steak House, the last one standing, is cafeteria style, the food cooked to order. "But it doesn't take that long…not more than two minutes," Russell stated, "If it's not ready though, they'll bring it out to you. I liked the service. They're friendly."
"There was plenty of space there, so I got a space right by the window, that way I could see out to my spot in front of Walgreens. That's because this is the spot I can see into Ronny's when I'm at my spot at Walgreens."
Russell's favorite part of this experience? The food, of course. "They've got everything—chicken, ribs, pork chops, polishes, burgers, salads, salmon, other kinds of fish, pizza, sandwiches, snacks, French fries, everything—I mean everything, and they serve breakfast," Russell emphatically stated.
Russell settled for the house special however, chopped steak, baked potato, garlic bread, and mixed salad for $7.99, $10.59 if a regular size fountain drink is included, as Russell had. The steak, "First off, it was big. I said, 'McDonalds eat your heart out,' when I saw it. I thought, 'Wow, now this is a meal.'"
Russell, a man who obviously appreciates a good deal, loved the portions for the prices. "The salad was not thrown together any kind of way; it was perfectly made—cucumbers, tomatoes, lots of lettuce. I enjoyed that. I ate healthy on that one, right off the bat. Then I had my baked potato. It was delicious. Everything was delicious and it was big."
Russell went on to describe the steak cooked perfectly to his preference, well done, which he likes because that's just how he likes it, "I feel safest eating meat that way, and that's what I'm used to." How was the steak? "Excellent," Russell stated. He actually finished the whole thing, but stressed the generous portions, "You might want to get a doggy bag if you're not that hungry."
At the intersection at Clark and Lake, where six different CTA lines intertwine, Russell emphasizes that Ronny's Steakhouse is worth the stop. Perhaps you may even find Russell there on your visit, enjoying a steak cooked well done, since he plans on going back soon.