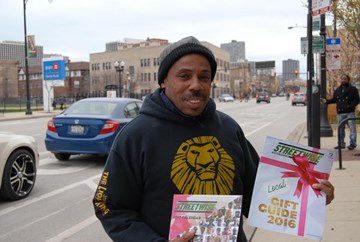 By: Emma Chernoff
March 14, 2017
You never know who you're going to meet while working with Streetwise. I've been working with Streetwise since January 2007 and have met and spotted a lot of different kinds of people throughout the years.  Currently, I sell Streetwise at the Whole Foods in Wrigleyville where I saw Rahm Emanuel's wife with a bunch of body guards. I didn't even know it was her at first until somebody told me! I've also had the chance to see many ball players. That's the great thing about living in Chicago is all the people you have the chance to meet and see.  One time I even saw Ice Cube in the Gold Coast.
I've lived in Chicago since I was a young kid. I currently live on the North Side by North and Clybourn. Working with SreetWise has taught me to always keep a positive attitude because I never know what people are going through in their lives. Maybe they've had a bad experience that they just haven't worked out yet. One day a person may say "no" and then a few days later they might say "yes." I don't like making assumptions about people because I know sometimes I don't want to talk to people. The only hard part is when people act like they don't see you. Sometimes I can feel people's negative perceptions of me, but I've learned through selling Streetwise to just stay positive. That's my biggest challenge.
I want to one day help recovering alcoholics because I know what they are going through. I have been sober for ten years after battling alcoholism. I graduated from Harold Washington College in 2012 with an Associates in Addiction Studies. I took the state exam in 2013. I understand how alcohol messes up the body and especially the mind. I understand after my own struggle how alcohol can ruin someone's life, and I want to help people overcome that.
I want to say thanks to my customers, and everybody. Hold on as we go through these trying times that are ahead of us. Stay positive.