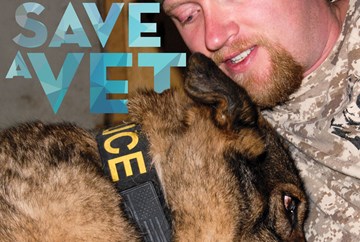 By: Suzanne Hanney
November 6, 2017
Nero was a U.S. Navy veteran of Operation Iraqi Freedom who saved 3,000 people when he detected a bomb before it blew up – although the building collapsed around him, breaking his back.
Because Nero's skills were so valued, the Navy medevacked him to Lackland Air Force Base in San Antonio, Texas, where he underwent surgery to fuse two spinal discs together. But Nero could no longer jump onto a truck, and whenever anyone patted him on the back, he nipped at them in pain.
The Navy deemed Nero aggressive and unsuitable for further service. He was set to be euthanized until he was introduced to Saveavet, a Lindenhurst-based non-profit that deals with "the other forgotten soldier."
The former bomb specialist helped Saveavet obtain an obsolete village pump house that was turned into a home for veteran Military Working Dogs (MWDs) like himself – and their fellow veteran human handlers. That's because Nero was introduced to Lael Miller just before Miller became village president of East Dundee five years ago.
"It's hard to say no to German Shepherd eyes," Miller said. "It's one thing to hear the story and another to meet the veteran. Nero was proof that this needed to happen and we would do whatever we had to do to make it happen."
Nero had a few years of retirement as the first dog the military asked Saveavet to take before he was twice diagnosed with cancer. Surgery took five teeth and part of his jaw, and then six months later another four teeth and more of his jaw.
The veterinarian told Saveavet founder Danny Scheurer that the next time the cancer came back, Nero would lose is whole jaw, so at 14 years old, it was time to let him go. When that happened three months later, Nero was put on painkillers for a week. East Dundee townspeople paid him their respects. A local bar owner prepared him a Kobe steak, cut it up and fed it to him.
But once he couldn't even eat ice cream, Nero himself knew it was time, Scheurer said.
When he was finally put down, Great Lakes Naval Base sent a full honor guard.
The first Saveavet hero, MWD Dexter, saved 1,000 soldiers' lives when he detected explosives hidden in a garbage truck before it could detonate at a mess hall. He spent six years with the Air Force in Iraq, before severe hip problems took him out of service and standard temperament tests at Lackland deemed him "too aggressive" for civilian adoption. Saveavet rescued him after a call from his former handler.
Saveavet takes unadoptable military and police dogs and places them in rescue facilities that it owns or leases from municipalities. It finds disabled vets to live with the dogs and take care of them. Essentially, the two vets deal with each other's Post Traumatic Stress Disorder (PTSD).
Scheurer, a combat veteran of the Marine Corps and Army with multiple tours of duty, founded Saveavet in 2007 after he learned of several MWDs who were euthanized. Scheurer, who was hit in the spine by rocket-propelled grenade and then by a truck in a firefight in Baghdad between 2004 and 2006, receives veterans' disability benefits. He now lives in the western suburbs with Canine Paddy 2.  An English Springer Spaniel, Paddy was a bomb sniffer at the U.S. Embassy in Kabul, Afghanistan for nearly four years, and was retired early because of combat injuries.
Disabled veterans who live with the canine veterans are required to do drug testing and go to work or school full-time and maintain above a B average.
"By the time you leave you will have your master's degree," Scheurer said. "We are canine rescue but we want to make sure the guys or girls we hire are doing something constructive."
A Save-a-vet canine handler at the Wyoming facility, for example, was a Marine Corps vet on the verge of homelessness after his home went three months past foreclosure. He is now a postal inspector. Another vet who had been living in his parents' basement worked as a forklift operator for 20 hours a week and is now a government contractor.
"All of our vets have moved on to better things," Scheurer said. He credits Saveavet's structure and accountability.
Army Reserve veteran Bob, for example, lives in East Dundee with Zander, retired from the Massachusetts State Police when he would no longer bite; and Laky, retired from the Baltimore County Sheriff's Department after he was mistreated by his handler and acted out aggressively.
Bob gets home between 3:30 and 4 p.m. from his job as a mechanic for the village. If he is more than 15 minutes late, Zander and Laky start chewing his things, so there's no time to stop for a drink. The dogs needed two months to feel secure with his comings-and-goings and they are sniffing the door, waiting for his arrival.
Their morning routine is a 4:30 a.m. wake up. Bob feeds them, lets them out in the enclosed property, gives them water and lets them out again. He throws the ball for them and gives them a walk, then showers before leaving for work at 6:30 a.m.
In the military, dogs would wake up at 3:30 a.m., look for explosives, play with a ball and then eat, Scheurer said. They would not eat again for 12 hours. In the process, their noses stay focused on food – or weapons. Staying thin also allows them to remain mobile for combat.
However, in retirement the dogs can eat, sleep and play. Gaining weight slows them down and subdues them, Scheurer said.
Bob served multiple deployments, in 2004-05 and 2008-09. He was in the 221st ordinance company in Afghanistan, which was tasked with distributing ammunition. He said he has mild PTSD, from a rocket that went off less than 50 feet from where he was about to go out for a cigarette.
"And then there was one time where I ran over a box of grenades. Nothing happened but it's the point that it still happened. I had a little bit of a hard time settling in because you know, you're used to being on a base, carrying around your gun at all times, so it's like, 'where's my weapon at?' Nobody's gonna lunge out and attack me like that but that's still the point." He also had a friend who committed suicide a year after the second deployment.
Bob said he self-medicated by drinking, which led to the dissolution of his nine-year relationship that led to marriage. He has a 6-year-old son whom he sees every Thursday and alternate weekends.
"Honestly, the dogs help out a lot, just them being around. It's more or less the vibe that they give off. If I start feeling any type of emotions, it's just like they come up and help. They do have their own problems, but they help me out too."
Bob has had several German shepherds and says that Zander and Laky are now about as calm as his civilian dogs were. They are not even aggressive toward females. A friend brought his lady dog over and Zander simply sidled up to her – a little closer than he does with Laky – but nothing more.
Bob had been living with his parents but now, living with the dogs in Saveavet's property, he's saving money because he pays only the water bill. He filled his time by going to mechanics' school and he has a job as the park district's only mechanic.
Besides the East Dundee property, Saveavet has facilities in Wisconsin, Virginia and Wyoming and is renovating a 15,000-square-foot building on three acres in Peru, Ind. This new property will house 21 disabled veterans and 25 canines, as well as a veterinary clinic.
Donated by Vohne Liche (pronounced Von Lick) Kennels, a supplier of military and law enforcement dogs, the former barracks is being renovated using volunteer labor: accessible living quarters, new kitchens, bathrooms and specialty rooms for some dogs. The nonprofit is also seeking donations of insulation, furnaces, washers and dryers, electric stoves, freezers, dishwashers and accessible plumbing.
"We're an all-volunteer organization," Scheurer said. "We have more assets than money."
Saveavet's methods have drawn inquiries from other countries that use MWDs: Switzerland, the Netherlands, Germany, England.
"It's pretty cool when the ministry of defense from another country contacts you," Scheurer said. "We gave them all our research and the guys in England were able to rehabilitate their dogs so they could take them home."
But Bob's experience with Zander and Laky shows other intangibles to the vets' rehabilitation.
When Scheurer first introduced Bob to the two dogs, they grabbed the cookies Bob brought and went upstairs. He won them over by "just being with them. Spending time with them. Petting them. Playing on the floor with them. Throwing the balls to them. Sleeping in the bed with them is the biggest thing." That first evening, he went to sit down on the sofa with them and "it's almost like they were watching TV with me. They didn't have a care I was there."
Bob surmises the two dogs get along because they both worked in narcotics/apprehension. It tickles him that when they are out walking, each of them watches the other out of the corner of an eye and tries to nose ahead. He simply pulls on their harnesses to get them to sit.
Laky also has a habit of sitting down with his paws crossed, staring and rolling his eyes. "It's adorable," Bob said. "And Zander, he's a cuddlebug. He has bad hips so he doesn't jump on the bed as much and at 110 pounds I am trying to regulate his diet to help him along." 
Bob is saving up to buy a house but admits he might stay indefinitely because he wants to make sure both Laky, who is almost 8; and Zander, almost 12, are good.
If he were to leave, "No doubt about it. They would be in the back of my mind at all times.
"Honestly, every night before I go to bed it's, 'I love you and see you in the morning.' Every night, as corny as it sounds. They just lift up their heads and look at me, then slap their heads on the ground."