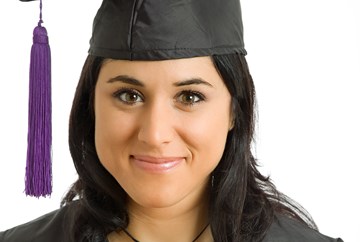 By: Justin Jia
August 5, 2014
Natalia Delery is a second-year student at the University of Chicago who grew up primarily with her grandmother in Queens, N.Y. They received welfare and were intermittently homeless. Her father was seldom in the picture and after Natalia reached middle school, her mother was often unemployed.
Despite these hardships, Natalia was driven to succeed and graduated from the Academy of American Studies, located in Long Island City, New York. Being a low-income student, her fees for college entrance exams such as the SAT and ACT were waived, but Natalia said that supplemental things she needed – such as test preparation – were not.
"I know some people who got tutoring for $70 an hour," she said. "It took a lot of work on my part… took a lot of searching, word of mouth, letting people know what I needed and wanted. My grandma was the main income for the household and that was difficult because in a household of three, an income meant for one is not that helpful."
Low-income students can bring much to the table, Natalia said, because they bring diversity to their colleges and universities and "passion for social change. If you are looking to get out of a situation, I think that education is really powerful in helping you achieve that social mobility." At the U of C, she is a Comparative Human Development major, which focuses on social, cultural, biological and psychological processes that influence human development.
Natalia said that while low-income students might know what they need, they do not know what is out there.
"For example, before I came here [to the U of C], I didn't even know what Khan Academy was," she said of the free interactive tutorial website.
Her background is stronger in history than in math and science which is emphasized at the U of C, meaning that material other students might find supplemental is all new to her. "You don't know what you know, so it's like you are building on an unstable foundation. That building will eventually fall."
Natalia says she is passionate about education and was planning to graduate from high school and get a job to save up for a city college in New York. She didn't have the opportunity to visit colleges and made her choices from The Best 377 Colleges.
The turning point was when she found the QuestBridge program.
"I found out about Quest online while I was looking for scholarships or any other ways to go to college for free, because that was the only way I could go to college." She found QuestBridge a month before the September application deadline, but was still able to obtain the necessary recommendations from teachers. Acceptance to QuestBridge meant free applications to 35 elite colleges and universities. Just as important, "you have this supplement telling all this information about you that you wouldn't get on a regular application. You are able to tell your story. You are not just a number. And that really helps when applying to elite schools."
The QuestBridge application allowed students to explain if they had to pick up siblings from school and babysit, for example, or outline anything else that may have interfered with studies and extracurriculars, she said.
Now that she is at the university, the QuestBridge chapter provides support similar to that of a family, she said. "I didn't have the opportunity to go home for Thanksgiving because I didn't have the money to fly back, which I think is a major thing for a lot of Quest kids. So we went up to Northwestern [another QuestBridge partner school] and had a great Thanksgiving feast there instead."
QuestBridge has also reinforced her feeling that low-income students bring diversity to a campus, even in class discussions. "Colleges are all about diversity, so anything that
 you can bring that is unique to you, that is something that will be appreciated and valued, whether you know it or not." She went on to quote the CEO of QuestBridge himself: "Being low-income does not equal being poor. Being poor is a mental state. Being low-income is an economic state. There's a difference. You are in no way poor."
Among Chicago Public School (CPS) students, 84 percent receive free or reduced lunches, which means they are also low-income. According to the Consortium on Chicago School Research, "only about six percent of CPS students earn a four-year college degree by the time they are in their mid-20s."
StreetWise has created the list below of broad scholarships from the CPS ChooseYourFuture.org website and other sources.
DePaul University
Deadline: November 15 (Early Action)
Monsignor Egan Hope Scholarship
 Award Amount: $17,000
The Egan Hope Scholarship Program was created to honor Monsignor Egan's lifetime work of social activism and community service and is designed to prepare inner-city students from Chicago to continue that work.

Adult Bridge Program
This program offers six to 10 courses every year. Team-taught by City College of Chicago and DePaul faculty, each course meets initially at Truman or Wright College and then at DePaul's downtown or O'Hare campus. For more information, please contact Dr. Susan McGury, co-director, at smcgury@depaul.edu.
Illinois Institute of Technology
Application/Scholarship Deadline: December 1
Chicago Police and Fire Departments Scholarships
In honor of their service to the city of Chicago, IIT offers $20,000 annual scholarships to the children and grandchildren of members of the Chicago Police Department and Chicago Fire Department. The application is separate from admissions.
Collens Scholars Program
Eligible Chicago Public School graduates can attend IIT as full-time students with full financial support for all tuition, books and fees. Since its launch at the end of the 2006 academic year, 181 CPS students have benefited from this program.
Northwestern University
Application Deadline: January 1
Good Neighbor, Great University
Scholarship for students who graduate from high schools in Evanston and Chicago, public or private, determined by ZIP code.
Eligibility: The scholarship replaces student loans, summer earnings, and work-study jobs that students normally must take in order to contribute to the cost of their education. Award range: Eligibility is based on demonstrated need and may range from $1,000 – $12,300.
Vice chairman of World Business Chicago, Michael Sacks, who is also a Northwestern trustee, has made a $5 million gift to NU, $3.6 million of which is dedicated to scholarships for CPS graduates.
Last December, NU and the City of Chicago announced Northwestern Academy, a new program to help students who are not in selective enrollment schools gain admission to elite colleges and universities. The program encompasses tutoring in academic skills, college counseling, test preparation, support from mentors and family workshops. Application deadline is January 31 and information is available at academy@northwestern.edu.

University of Chicago
Application Deadline: January 1 
All application fees for CPS students are waived.
Chicago Public Schools (CPS) Scholarship
Full-tuition, four-year scholarships to students who show the greatest potential for making contributions to the academic, extracurricular, and community life of the College. Financial need does not affect admissions decisions.

Odyssey Scholarships
Families with incomes below $90,000 a year will have their federal student loan obligation reduced or eliminated with grants from UChicago. For students with family incomes below $75,000 a year, all expected federal student loans are replaced with Odyssey Scholarships.
Chicago Police and Fire Scholarship
Full, four-year scholarships are available to children of active Chicago firefighters and police officers.
QuestBridge
Application Deadline: September 26
Through the National College Match, QuestBridge pairs high achieving, low-income students with elite schools such as MIT, Brown, Stanford, Princeton, the University of Chicago, Dartmouth, and others with full four-year scholarships. Special care is given to applicants with extenuating circumstances.
Chicago Scholars
Application Deadline: Early February; open to juniors
Through a five-year program, the Chicago Scholars Program assists talented but under-resourced Chicago high school students apply to college take college prep workshops senior year, graduate in four years, and transition to post-graduate lives. Students receive full four-year scholarships to attend highly selective colleges and universities such as Harvard University, Emory University, Stanford, the University of Notre Dame, Vanderbilt, and Yale.
Posse Scholars
Nomination Deadline: Varies; contact local office
The Posse foundation offers full four-year scholarships to students who demonstrate leadership and academic potential. The Posse Foundation identifies, recruits and trains student leaders to pursue their academics and to help promote cross-cultural communication at premier colleges and universities such as Northwestern, the University of Pennsylvania, Cornell, Georgetown, Berkeley and the University of Southern California. Students attend college with their "posse," which allows them to already have a family, even before they step onto campus.
Golden Apple Scholars
Nomination Deadline: December 1 The Golden Apple Scholarship was founded to address the need for excellent teachers in high-need schools. Students will also have the opportunity to participate in summer teaching internships. The Golden Apple Scholars receive $2,500 per year as freshmen and sophomores and $5,000 per year as juniors and seniors.
CPS Siemens Historically Black Colleges and Universities Scholarship
Event Date: November 14
Registration: October 15 (tentative); registration is through school counselor. Siemens Industry Inc. and Chicago Public Schools have partnered for the past 10 years to host two events: a morning college fair featuring 30-35 Historically Black Colleges and Universities and a scholarship reception. Students will have the opportunity to receive scholarships that range from $1000 – to full tuition, room and board, and stipends.
Charles Scholarship at Davidson University Nomination
Deadline: November 2
Awarded to CPS students based on academic excellence, personal achievement leadership ability and financial need. The scholarship covers tuition, fees, room and board as well as a travel 
allowance and
 special study opportunity funds.
Chez Scholarship at the University of Illinois at Urbana-Champaign

Application Filing Period: September 1 – December 1.
The Chez Scholarship is offered to Chicago Public High School students from economically disadvantaged backgrounds. A GPA of 3.0 is required in a college preparatory curriculum, including work in math, science and English. The Scholarship is worth up to $10,000.
Gates Millennium Scholarship

Application Deadline: January 14
The Gate Millennium Scholarship was established in 1999 to provide outstanding African American, American Indian/Alaska Native, Asian Pacific Islander American, and Hispanic American students with an opportunity to complete an undergraduate college education in any discipline. Scholars are offered full four-year scholarships with the option to petition for funding a graduate degree program in one of the following disciplines: computer science, education, engineering, library science, mathematics, public health or science.