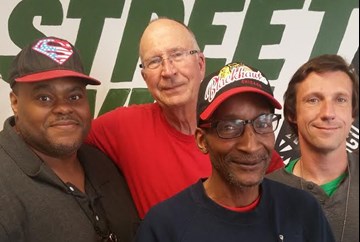 By: Staff
May 15, 2017
Vince: For years I've been watching women's tennis. It started when I was a little boy watching it with my mom.  It's more exciting than men's tennis. The women have more finesse and they use their gut when they play. My favorite tennis player is Serena Williams. She just won the Australian Open a couple months ago and now she revealed she was pregnant when she did it. I'm sure the woman she played is looking back thinking, "it did look like she had four arms and four legs when she was playing on that court." Serena unfortunately has to miss the rest of the season to take care of herself and the baby. I saw that happen years ago with Candace Parker and she came back and played well. Shout out to those women athletes that go through stress and come back stronger. 
Russell: I was reading the other day about the US women's hockey team talking about boycotting the championship because they don't get paid like the men do. Equal pay for equal play. They deserve what they are supposed to get. If the owners start paying more attention to the women and pay them what they deserve, this shouldn't be an issue. I know they don't get the attendance like the men do, which might be a reason. But, I'm glad we are seeing these women in sports because we've got these men making a lot of money and not doing much with it. A lot of these women athletes play hard. Look at UCONN women's basketball. They have done something that's never been done before. They won 110 games in a row. Men's teams haven't done that. The men struggle but the women just cruise. Look at the women's US soccer team, they win gold medals. The men don't. I also want to give a shout out to Serena Williams! You go, girl! To all the women athletes, win those championships and I'm always going to be a fan!
John: I think it'd be interesting to see more women coaches. Like the late Pat Summitt when she coached Tennessee, she was remarkable. I mainly watch women's beach volleyball and tennis. There is more intensity when the females play volleyball than when the men do. They have spunk and personality. I really enjoyed watching Chris Evert play tennis and more recently Martina Hingis. Now I might not be as big of a fan of the Williams sisters as you Vince, but you have to admire their strength and stamina for what they are doing. These are some very strong women. Women's tennis has a lot more excitement than the men's. When the men play, it's like watching paint dry. The women bring the passion. If there's passion in sports, no matter the gender, I'll watch it. 
Vince: I'll never forget what Pam Shriver said about Serena Williams. If you are playing her and winning, she all of a sudden turns into a warrior. She starts kicking your butt. I've seen her clench her fist, start yelling and when she does that her game goes to another level. Her opponent can't keep up. She's one of the few athletes to do that. That's why she's a top winner. Before we go, we want to thank Becky Parkinson who was our intern working with us this year. 
Russell: I want to add about my Becky, we had brackets during March Madness and she had me game for game. I thought I would beat her hands down, but no she gave me a run for my money and we tied. Happy Mother's Day to all the mothers out there and to all the women in sports, you go, girls!