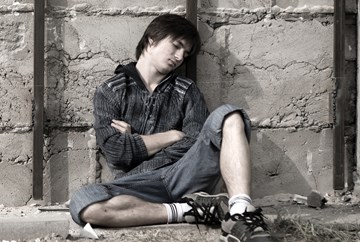 By: Suzanne Hanney
May 30, 2014
Eighteen months after the adoption of Chicago's Plan 2.0 against homelessness, two long-term action items are in place for unaccompanied homeless youth: drop-in centers and shelters have opened across the city, raising the number of overnight beds from 20 to 114.
Creation of a comprehensive menu of services for unaccompanied youth was one of seven priority goals of Plan 2.0, which sought "to prevent homeless youth from becoming the next generation of homeless adults."
"To have a strategic plan for ending youth homelessness, that has galvanized the community, the young people, the providers, advocates and funders," said Maura McCauley, director of homeless prevention policy and planning at the City of Chicago Department of Family and Support Services (DFSS). "It's really given us a basis about where to address our work, our attention and our resources."
When Plan 2.0 went into effect in August 2012, youth from all over the city typically congregated at the Broadway Youth Center, at Belmont and Broadway on the North Side. Meanwhile, The Night Ministry operated a nearby low-threshold emergency shelter, The Crib, with 20 beds nightly available by lottery.
But Mayor Rahm Emanuel wanted to expand the ports of entry for youth into the homeless service system, said Jeri Lynch Linas, executive director of Teen Living Programs and co-chair with DFSS Deputy Commissioner John Pfeiffer of the City of Chicago Task Force on Homeless Youth, an advisory body for Plan 2.0 that includes service providers, homeless youth consumers of services and advocates. There was a recognition that young people might come seeking supportive services, a place to shower, do laundry, have a warm meal or just rest, but there was also the realization the young people might not be ready for places that demanded they pull themselves together in terms of education, employment and physical health, Lynch Linas said.
These safe drop-in centers needed to be scattered throughout the city, Linas and McCauley said. And the centers needed to be connected to nearby low-threshold overnight shelters.
The City's privatization of mobile outreach services by outsourcing them to Catholic Charities resulted in a savings of $2 million. One million dollars was identified in a competitive request for proposals as the basis for expanding overnight emergency beds; the other $1 million dollars went to an RFP for three drop-in centers.
"This was the first time this kind of money had been put into this kind of strategic collaboration," Lynch Linas said. "What we wanted to do is take advantage of the opportunity but also come together as a collaborative."
In late 2012, Teen Living Programs was selected as recipient of funding for the South Side drop-in center. Between finding space and hiring people, it was operational by April 2013. La Casa Norte was awarded funding for drop-in centers on the southwest and northwest sides and the Broadway Youth Center reopened at Wellington Avenue United Church of Christ, 615 W. Wellington Ave. on the North Side.
In terms of shelters, The Night Ministry continued to run The Crib at 835 W. Addison and La Casa Norte added Casa Corazon North on the North Side. A Safe Haven opened new overnight beds on the West Side. And on the South Side, there were Unity Parenting and Counseling, La Casa Norte's pregnant and parenting beds and Casa Corazon South.
Catholic Charities still runs the mobile outreach van so that if kids are turned away from The Crib, for example, they can be transported to another youth bed of their choice, McCauley said.
Meanwhile, the task force had been meeting every six weeks at DFSS offices to define what the drop-in center/shelter network would look like, McCauley said.
Across Chicago, young people should experience the same youth development, trauma-informed care, harm reduction and services that were culturally-competent for the still-developing minds of young teens through 18- to 24-year-olds.
Consistency was also important, Lynch Linas said, because if one program allowed weapons or intoxication and others did not, the young people would flood the more lenient program and the others would be ostracized. Adult shelters are also being trained in youth programs so that they can better serve older unaccompanied youth.
The added capacity has been a matter of "build it and they will come" for Teen Living Programs, Lynch Linas said. Between April 15 and the end of December 2013, the program offered 2,500 units of service and reached 350 unduplicated young people it had never seen before. Open Monday through Saturday from 10 a.m. to 7 p.m. — in temporary space without showers — TLP was so crowded it was telling young clients to wait at the library down the block and come back an hour later.
Before the drop-in center opened, TLP did street outreach four nights a week. If workers met homeless youths, they could tell them to meet at their transitional living program. But there was not the same sense of space that has allowed them to serve so many more young people, Lynch Linas said.
Although drop-in centers across the city were a public policy priority, people living in nearby neighborhoods were not always welcoming. Lynch Linas said she can understand that an alderman in a neighborhood that is becoming reenergized with mixed income housing might find homeless youth a hard sell.
Just the same, she said she sees programs for homeless youth as strengthening the community. "When young people accept the high-threshold challenge of finishing their education, getting a job, living independently, we have to show the community what an asset that is."
The challenge of serving homeless youth, Lynch Linas said, is that they try not to look homeless. The vast majority are on their own because of family conflict. 
Sometimes is it the rules of their home – as many as 40 percent of homeless youth are LGBTQ — but other times it is physical or sexual abuse or addictions within their families that lead them to feel safer alone on the street. A mother might also turn out a child if a new partner tells her to do so. Kids exiting the foster care system at age 18 can also become homeless.
In talking to her staff, Lynch Linas says she has heard that foreclosures since the recession have also increased youth homelessness. A mother who has lost a job and a home may be able to go into a women's shelter, but her older son might not be welcome there.
Julie Dworkin, director of policy at the Chicago Coalition for the Homeless, referred to the new drop-in and emergency shelters and the training for youth providers and said, "I think we're doing a decent job" in implementing Plan 2.0.
However, an annual count of homeless youth is a short-term action item in Plan 2.0 and Dworkin was less enthusiastic about a count undertaken last September 25-October 8. "We got sidetracked with figuring out what kind of survey questions we should be asking, we never came up with the methodology for a count. We didn't really count homeless youth, we just surveyed some 580 youth in Chicago about their housing situation."
DFSS Spokesman Matt Smith, however, said that semantics were important in formulating the survey questions. Youth who are couch surfing do not consider themselves homeless. "But if we spell out certain scenarios – 'have you lived in a relative's house for x period and do you have a different residence now' – that's when we start getting answers."
The YOUth count was a huge collaboration with the City and service providers, Lynch Linas said. It allowed for how young people would receive the questions and it touched many of the issues that could determine their likelihood of remaining homeless into adulthood (see Page 13). Methodology involved access to the survey online and at pizza parties; DFSS officials plan to continue using both these approaches and developing new methods to encourage even greater participation.
McCauley added, "We found there is no one right way. The youth count will yield helpful information whether it gives an actual count or is adapted."
Estimates of unaccompanied homeless youth range from 2000, taken from a 2005 University of Illinois/CCH survey, to 3,000 of the 19,000 homeless students in Chicago Public Schools.
The issue of Chicago's unaccompanied homeless youth gained visibility in 2009 when the Broadway Youth Center's H.E.L.L.O (Homeless Experts Living Life's Obstacles) group went to a City budget hearing and gained Mayor Richard M. Daley's attention. The group invited Daley to their annual art show, which he attended, and they later met in his office. The youths sought more drop-in programs across the city and comparable pickup sites as well as services for 18- to 24-year-olds so they could get an education and better jobs.
Mayor Emanuel's transition team retained many of their ideas. Then, when Chicago's first Plan to End Homelessness was evaluated, long-time youth providers sought more visibility, Lynch Linas and McCauley said.
"We wanted to make sure youth was a specific priority, not just couched under other populations," McCauley said.
DFSS's Smith said that Mayor Emanuel sees breaking the cycle of homelessness by focusing on youth as one of the best ways for Plan 2.0 to have long-term impact.
"The genesis of many of our efforts is the priority that Rahm Emanuel places on protecting Chicago's youths and providing the types of opportunities that can change their lives for the better. That's the energy he brings to the game."