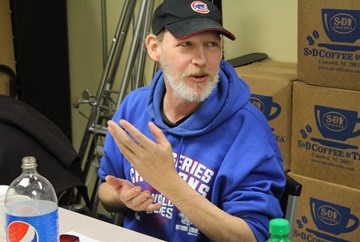 By: Robert Laine
April 2, 2018
In our last column, we talked about solar energy paying for itself after the cost of parts and installation.
"As of the first half of 2017, the average price for a solar panel system in Chicago was $3.48 per watt," according to EnergySage (http://news.energysage.com/much-solar-panels-cost-chicago/)
Thus, since the typical system size in the U.S. is 5 kilowatts (5,000 watts), the average cost of a solar panel system in Chicago is $17,421 before any rebates or incentives.
The $17,421 is the cost for a homeowner. A renter's cost would be significantly less overall, but still the same per watt.
Because the federal government still gives a 30 percent tax break for solar panel installations, numbers then drop, as the following table taken from EnergySage shows:
System size          Average solar system cost
3 kW                   $8,877
5 kW                   $12,195
7 kW                   $16,349
10 kW                 $23,386
12 kW                 $27,281
It is estimated that the average homeowner will see a complete payoff on their investment and start reaping a 100 percent savings after 20 years (the length of a mortgage).
An alternative to storing the energy yourself is to send the energy back to the electrical grid. This is known as "net metering," which is available here in Chicago.
Net metering is when the electric company gives you credits for how much energy you send into the grid. This way, as you build up credits, you can simply use your credits to make up the cost difference and still not pay for that month if your grid does not make enough energy for that period.
Solar energy could help the homeless population. I recently thought about a previous issue we did on Chicago's tent city. If these people were to have access to cheap solar panels (cost, not quality), then they could power radios, a small hot plate, and flashlights. Now, this only works during the daytime, unless they have a storage battery of some sort that could be used at nighttime.
Chicago is planning to go renewable in 900 municipal buildings starting next year, which will include solar, by 2025. http://www.utilitydive.com/news/chicago-to-power-city-owned-buildings-with-100-renewable-energy/440203/
"As the Trump administration pulls back on building a clean energy economy, Chicago is doubling down," Mayor Rahm Emanuel said in a statement. "We are sending a clear signal that we remain committed to building a 21st century economy here in Chicago."
The Shedd Aquarium has installed over 900 rooftop solar panels and reduced its energy consumption by 50 percent. It has made a new commitment to go further.
Let's look at Illinois and some facts, both good and bad.
For the good, Illinois is ranked 17 in solar jobs nationwide, and had a 7 percent job growth in solar jobs in 2016. We produced enough power through solar energy to power 10,192 homes in 2016.
We earned an A in interconnection policy and a B in net metering policy. Interconnection means the number of solar panels actually connected to the electrical grid. Net metering, as explained earlier, is putting energy into the grid for others to use. Cook County had 1860 solar jobs in 2016, more than three times as many as the second highest county in Illinois.
On the bad side, Illinois was ranked 40th in the nation for solar jobs per capita. (In defense, we are the 5th largest state in population.) We're ranked 32nd for installed solar capacity. We're ranked 32nd for average electricity price, putting us on the high end.
To find out more on our stats, go to SolarStats.org.
Robert M. Laine has been working in the IT industry for 30+ years. He has a B.S. in Computer Science. He has worked for the Chicago Tribune IT group and as the in-store technician for Staples. You can email him with questions or comments at BobLaine_sw@mail.com and visit LaineTech.blogspot.com