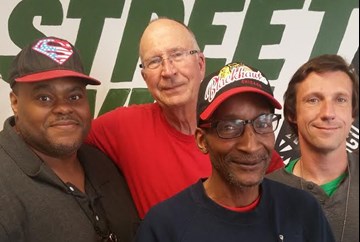 By: Suzanne Hanney
October 8, 2018
The 10-2 losing score to the Cleveland Indians told the whole story when SportsWise went to the last White Sox game of the season September 26. The 100-level outfield tickets were a prize at the  StreetWise C.O.O.L. Party last spring that was donated back for their use.
Donald Morris: The White Sox got whooped, they wasn't even trying. The pitching was good but they lost out on defense: the Indians is getting runs. [The White Sox] are probably slow and tired because it was a pretty bad week: they won two, lost two to this point. They are not as aggressive as they could be. The coverage of the field was lacking. They gotta come up with offense. 10-2 tells the whole story.
John Hagan: In this game, [White Sox Coach Rick] Renteria is trying different combinations to see what parts work and what parts don't for 2019 and beyond. If they get one or two more strong pitchers, they will start to compete. They're in a division that, outside Cleveland, is winnable. This game was the toughest mountain to climb.
This is a rebuilding year coming up. They need pitching, hitting too. In their starting lineup, their designated hitter [Omar Narvaez] is .271, while the rest of the team is .250 or below: not home run hitters but singles and line drive hitters.
Russell Adams: The 10-0 score at seventh inning is surprising. I expected it to be closer than this. They played Cleveland last night 5-4 and beat the Boston Red Sox two out of four, New York Yankees two out of three.
It will be a rebuilding year and I support 'em. You gotta start from somewhere. The young players will be winning like the Cubs. It was nice being here but pitching let 'em down today; they gave up 10 runs. Cleveland offense was too strong today."
Donald: This is a different team than last weekend, riding off their past successes, too overconfident. Last week they were dangerous. They were hitting more. You can see the hard work ethic in Cleveland. The White Sox don't have it. You have to be willing to catch balls, dive in that grass, slide into bases. They can do better and will do better with the draft and playoffs.
There's a lot of hoopla about how famous the club is. The atmosphere was real friendly right from when we walked in and showed our tickets.
Russell: It was nice being here.
John: In the outfield you get to see all the action. In the upper deck, the players look like ants but here they look like human beings. And you have an opportunity to be on TV.