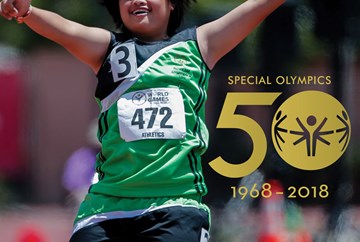 By: Suzanne Hanney
July 23, 2018
When Nandi was born with Down syndrome in the United Arab Emirates, doctors told her parents she would likely never walk, talk or even be toilet-trained. But after her family came to the United States when she was 9, she joined Special Olympics, which opened up her world.
"After I came to Special Olympics, I don't feel lonely anymore," she wrote in her journal.
As she trained in successive sports – track and field, roller skating, sailing, ice hockey, basketball – she developed a range of skills and confidence in her accomplishments.
Although legally blind, she has her own business now. Special Olympics has also encouraged her to become a public speaker. Her mother says she has been able to help other families see possibilities after they have been given the worst news, according to the Special Olympics website.
"I can hear her talking to them, 'Don't cry: My mom says I'm a blessing – and your child will be a blessing, too."
The International Special Olympics, first conducted at Soldier Field 50 years ago July 20, is the world's largest sports organization for people with intellectual disabilities (ID). International Special Olympics encompassed 5.7 million athletes and Unified Sports teammates in 172 nations as of 2016.
"Tens of millions of people of every race, creed, color and religion have been inspired by an idea given birth here in Chicago," Illinois Supreme Court Justice Anne Burke, a founder of the organization, told the City Club of Chicago. "The stigma that once surrounded people with intellectual disabilities has been erased."
Justice Burke was a 21-year-old physical education teacher at West Pullman Park in spring 1965, when the Chicago Park District created a program to teach children with ID how to run a race, throw a baton, hit a ball, swim and dance. The goal of the pilot program was to give these kids – whether they were institutionalized or living at home – a chance to participate in mainstream life.
"This pilot project would change the world," Justice Burke said. "No program like this had ever been attempted by any public agency in America. As I taught these children I began to understand that whatever labels had been applied to them, they possessed the same goals as any other child. They loved to learn, they loved to compete and they loved to win. I saw the positive impact the competition created in my students' lives and their families'. Sports competition gave them validation, encouragement and a positive new self-image."
Burke moved from the Far South Side park to Chicago Park District headquarters in 1967, where park district president William McFetridge and vice president Dan Shannon suggested she seek funding to do the program city-wide. Because the Joseph P. Kennedy Jr. Foundation had given the park district $10,000 in 1965, she presented the proposal there. In January 1967 she was invited to meet in Washington, D.C. with Eunice Kennedy Shriver, who headed the foundation.
"I was truly intimidated," Burke told the City Club. "After all, I was 23 and meeting President [John F.] Kennedy's sister was over the top." But her apprehensions evaporated, she said, as she talked about the positive effect that the physical exercise and competition provided to the children she was teaching.
Mrs. Shriver, meanwhile, had been doing similar work as head of the Joseph P. Kennedy Foundation since 1958. In 1960, she had urged her brother to make ID a priority of his administration. And in 1962, she had written in the widely-circulated Saturday Evening Post about their sister Rosemary, who had ID. The article was credited for helping similar families overcome the shame and guilt that was typical of the period.
Also in 1962, Mrs. Shriver had begun summer camps for young people with ID in her backyard. There was a 1-to-1 ratio of volunteer counselors and campers, age 6 to 16, who came from local agencies and institutions.
When they met in January 1968, Mrs. Shriver suggested that the Chicago Park District proposal encompass not only Chicago but all 50 states and Canada too, Justice Burke told the City Club. In March 1967, the Kennedy Foundation awarded a $25,000 grant to help sponsor the very first "Olympic" games for children with intellectual disabilities. It was a joint venture between the Chicago Park District and the Kennedy Foundation.
And on July 20, 1968, Mrs. Shriver opened the games with a quote from Roman gladiators: "Let me win but if I cannot win, let me be brave in the attempt."
The first games featured over 200 events, including broad jump, softball throw, 25-yard swim, 100-yard swim, high jump, 50-yard dash, water polo. Mrs. Shriver promised to repeat them in 1970 and every two years afterward as a "Biennial International Special Olympics." 
Amelia Hernandez and Frank Olivo have participated in Special Olympics since those first games and they joined Justice Burke at the City Club presentation. Hernandez, who competed in the first 50-meter dash at Soldier Field, said what she enjoys most is the competition and making new friends. With increased participation, she hoped to win new medals. She is employed at El Valor, a community-based nonprofit founded in 1973 that helps all its members to live, to learn and to work, even if they have special needs.
Olivo said being with his friends and talking was his favorite thing about Special Olympics. Coaches helped him a lot; he didn't know his left from his right. And he had traveled to Ireland for games, which he found interesting.
Also on the City Club panel was Jeremiah Johnson, 13, a student at Jonathan Burr Elementary School in Bucktown, whose favorite sport was basketball. Johnson said that from day one two years ago, Special Olympics, "allowed me to become more social and physical, like I am not lonely all the time. It just makes me happy." He has made new, long-lasting friendships, played multiple sports and learned how to compete. He said he hopes to help other people with ID participate in Special Olympics and to someday participate in world games himself.
Panel moderator Jessica Frantz, who lives at Misericordia and who hosts the Special Olympics Chicago show on CAN TV, said the program changed her life, because "It definitely made me more sure." She has done track and field, the 100-meter run, the softball throw and won gold in floor hockey. She has also been a featured artist for three Special Olympics calendars and she works in the Misericordia recycling center.
There are about 6.5 million people with an intellectual disability in the United States, according to the International Special Olympics website. ID is more common in low-income countries: 16.41 in 1,000 persons. Around the world, there are as many as 200 million people with ID: roughly 1% to 3% of the global population. The organization seeks to reach as many of these individuals as possible, with 30-plus sports that help them focus on their abilities, not their disabilities.
"The ultimate goal of our work is to rid the world of discrimination against people with intellectual disabilities and, by doing so, to open the hearts of every human being to the beauty and dignity of each of us," said Special Olympics International Chairman Dr. Timothy P. Shriver, (son of founder Eunice Shriver) and Mary Davis, CEO, in the 2016 annual report.
"In 2016, it also became clear that we are living amidst a global crisis of intolerance and fear of difference," Shriver and Davis continued. "We saw it in armed conflicts, in elections, and even in schools. Our community knows bullying and misunderstanding well and in 2016, we were reminded that our work of overcoming it is more urgent than ever."
Also since 2016, Special Olympics has reached out to refugees with intellectual disabilities. Among 65.6 million displaced persons around the world, about half a million have ID. Special Olympics and Human Rights Watch have briefed the United Nations High Commissioner on these refugees.
Intellectual disabilities can be caused by problems with cell division during pregnancy or maternal drinking during that period (Fetal Alcohol Syndrome); by problems during birth such as a baby getting insufficient oxygen; by diseases like whooping cough or measles; by exposure to lead or mercury; by genetic conditions such as Down syndrome, Fragile X syndrome or phenylketonuria (PKU).
Children with Down syndrome may have a short attention span, impulsive behavior and delayed language development, but they will reach most or all of their milestones. Physically, they often have poor muscle tone.
Andy was just such a baby, until his mother began playing in the water with him, according to the Special Olympics 2016 annual report. Within four weeks his muscles became strong enough that he began to crawl. At age 6 he joined Special Olympics. Twenty years later, he has competed in U.S. Masters Swimming Competitions (USMS) alongside its national and international record holders.
"Down syndrome doesn't matter to me at all," he said.
People with intellectual disabilities are at higher risk for preventable health conditions, often because health professionals don't know how to communicate with them. Special Olympics has worked to close this health gap with 1.9 million free Healthy Athletes screenings since the program was founded in 1997. More than 220,000 health professionals in 135 nations have also received training.
During Special Olympics Botswana's 29th national games, for example, a team of 11 audiologists and technicians removed fruit seeds and grass embedded inside athletes' ears. At a Special Olympics Nigeria screening, a staff member noticed an athlete was squinting; she received prescription eyeglasses on-site. More than 162,728 free pairs of prescription eyewear have been given out since the program began.
In Singapore, out-of-school youth and their caregivers were trained in exercises for upper and lower body that could be done at home as an alternative to obesity and neglect. More than 300 dental colleges in India agreed to provide free treatment to Special Olympics athletes.
Special Olympics officials said these efforts have achieved breakthrough success at the world's highest levels.
Egypt's president Abdel Fattah el-Sisi, for example, celebrated the end of Ramadan 2016 at the presidential palace with political and public figures, as well Special Olympics athletes. He also employs Dina Galal, who has been a Special Olympics athlete since 2004. She collects information about events within his administration and helps to run his daily schedule.
In addition, the First Lady of Zambia, Esther Lungu, celebrated the International Day of Persons with Disabilities alongside Special Olympics athletes. Discrimination against children with intellectual disabilities means they have poor health, lower education, less economic participation and more poverty, Lungu said. "The world would be a better place if these children can live out their dreams and contribute to society through their many talents."
The work is ongoing to make sure that people with disabilities – including mental illness – live life to their fullest possibilities, Justice Burke told the City Club. Still, she said, the pivotal moment was 50 years ago, even though Special Olympics had few cheerleaders at the time.
"There was no one in the [Soldier Field] stands. No one would endorse us. We got money from the Kennedy Foundation and but for [Mayor] Richard J. Daley, the unions and the park district, it never would have happened. Nothing stopped them.
"You can see we changed the world," she continued. "I think that's what we need to continue to do for people with disabilities: long-term living arrangements, health insurance, jobs. We cannot sit by and watch our fellow human beings not be treated equally. It is our job. That's what we're supposed to do on Earth. When we entered the [Soldier] field in 1968, it did change the world."