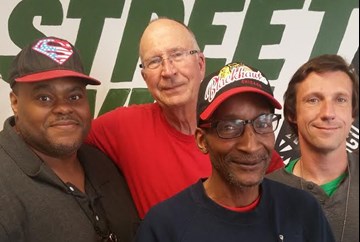 By: Staff
May 22, 2017
Vince: Before we start, we want to say that Bill Coats has retired and we are broken up about it.  We wish him the best! Today's topic is sports salaries! I know you are looking at your boss and thinking, "I wish you would pay me like one of those athletes." Athletes are paid a lot and we know this is a subject of scrutiny.
John: First off, I want to say that on the Chicago Bulls, every player on this current roster except for two is a millionaire. I don't have a problem with big players like D. Wade getting millions of dollars, but you mean to tell me that Michael Carter Williams is worth a $3.1 million salary a year? Or even worse yet, Jerian Grant, I know he's Horace's son but he should just be getting athlete minimum wage. As far as the White Sox go, you only have five players making $10 million plus. The White Sox highest paid player is James Shields, who makes $21 million. The Cubs have 4 players at $16 million plus. The highest paid player in all of Chicago sports is Jason Heyward. I can't believe you have Addison Russell only making $644,000 a year.  I thought he'd be a millionaire by now. Same could be said for Kyle Hendricks ($760.5K). 
Russell: I didn't know Jason Heyward made $28 million, wow. He makes more than Rizzo and Bryant. But that's for now though. Look out Cubs, in a couple seasons you're going to be millionaires too. Kyle Schwarber for the Cubs is getting $565,000 a year? C'mon, give this guy some money. He's going to be a free agent soon, so take care of the guy now. Isaiah Canaan of the Chicago Bulls made $1 million this year, I guess that's reasonable. But Michael Carter Williams makes $3.1 million a year? To do what? Jerian Grant  ($1.64 million)the same way, he had his chance in the playoffs, but what did he do? Nothing! These guys are getting paid too much money.
Now the Chicago Blackhawks, check this out. Patrick Kane $10 million, Toews $10 million, Seabrook $6 million, Crawford $6 million, everybody making good money, but they did not win a game in the playoffs. They got swept. You could take that money and spend it on someone else.
Vince: I'm the opposite of you guys and believe that every athlete should get as much as he can. Back years ago when the White Sox were the best team in baseball, they were picked to win the World Series. Owner Charles Comiskey was so cheap that he wouldn't pay them. The team decided to blow the World Series. As a young player you are told you are traded and you have to uproot your life. As you get older you get contracts for five or 10 years with one team that protects you and you have to OK a trade. As you go on, you realize you get injured, your body isn't as strong as it used to be. If you were a star, you were performing at a high level and you weren't making that type of money. Players like Addison Russell making only $644,000? I'm not shedding tears for these guys 'cause you know when those contracts are up they will knock on the door and say, "management it's time for you guys to pay me up." Unfortunately, the Cubs management isn't going to be able to pay all these guys.  They deserve to be paid this money. They should prepare themselves and play to the best of their abilities and  hopefully, you can justify it. If you can't justify it then prepare to get criticized.