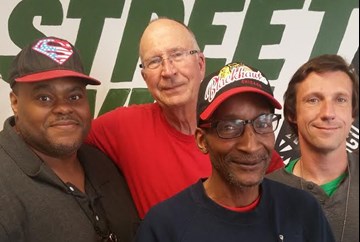 By: Staff
August 15, 2016
John: There has been an unfortunate and untimely passing of Minnesota Coach Dennis Green, the first black coach in the Big Ten. What he did with players will always be remembered. Randall Cunningham was experiencing a declining career and wound up in Minnesota. He instilled confidence in Cunningham and he almost took the team to a Super Bowl. Chris Carter was coached by Green. He had the talent, but needed to be taught the right way. Sort of like StreetWise with new vendors who undergo orientation- they just need to be provided with a better way. Green taught Carter the right way and allowed him to have the tools to become a great receiver, Hall of Famer, and a great leader. Randy Moss in 1988 fell into another wave of social consciousness, in which teams were looking for players who had character, regardless of how great a player they were. The Cowboys and Cardinals passed on Moss because he was getting in fights at school and doing things the public did not approve of. Green was willing to overlook Moss's past incidents and focus on ways in which Moss would be able to benefit the team. Green's vision of Randy Moss's talent set up a solid foundation for the Randy Moss that we know today.
Bill: Muhammad Ali is probably the best example of a guy who took the heat and represented a large number of people, with his decision to change his name, change his religion, and change behaviors that led him to avoid the draft. With Randy Moss, if he were a white guy from the same state, he may have not been treated the same. Race and gender are interesting in sports. We have the first woman coach in the NFL, and this is a big deal. With the number of men coaching female sports, it's almost shocking it has never occurred before. Even the Spurs have an assistant female coach in the NBA. A lot of times, we revise history. With Jackie Robinson, when he came up, he had to live separate from the team, be picked up and brought to practice and games, submit to segregation and live on the South Side, and deal with the opposition of many baseball fans. He broke the color line in the American League for Caribbean black men, and a good thing, because it contributes to the stars we have today.
Russell: I was touched by the All-Star game dilemma, with the game being taken from Charlotte. It was an interesting move, and I don't know if I agree, because you can't fault everyone for the poor decisions of others. The fans look forward to the game, the vendors look forward to money that could have been made, and we don't even know if it will make an impact on the LGBT dilemma occurring. It doesn't really matter what you do- if you're straight, gay, or lesbian- we're all human beings and we all do the same things. We need to get together and stop pointing out differences- we all go to the bathroom, eat, and sleep the same way. When the state doesn't support something, is it okay to take it out on everyone, like sports fans? The WNBA wore supportive shirts for the shootings of African-Americans and their team fined them. I don't understand that and what we're coming to. We're all human and we shouldn't be making decisions for others whose actions don't affect us, especially in sports.
Vince: We were a little bit all over the place, but I think our hearts were in the right place on the main issue. Dennis Green is like that guy who gives you a second chance. We always talk about African-Americans and gays and lesbians being discriminated against, but people don't remember that years ago, the Detroit Tigers had a star player named Hank Greenburg. He was Jewish and there is a prejudice against Jewish people, that led him to hold his flag a little high. It's a lonely walk through that tunnel to the baseball field when you have 25 guys who are supposed to be together, and you're set apart for being black, or because of your sexual orientation, or because of religion. It shouldn't matter, because that's an aspect of being a member of a team. I remember the Chicago Bulls years ago when they had Dennis Rodman and people were worried he would destroy the team chemistry. Well, Michael Jordan and Scottie Pippen would not let that happen, and also, Phil Jackson had an understanding of Rodman being a little different from everybody. As crazy as he was, he brought the fish home, with the most rebounds on the team, and he got things done. People don't want to be preached to about their daily lives while at sporting events- they want to go to the game, take a break from reality, and enjoy their time at the field. We also would like the athletes to be able to enjoy it, and part of that is accepting the athletes as they are. When we start accepting athletes as they are, we can begin to show true appreciation.