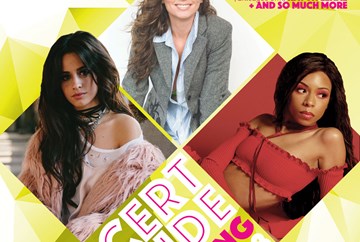 By: Jonathan Corvin-Blackburn
April 16, 2018
We may be well into spring but the concert season is just getting started. Venues throughout the city have booked some amazing artists over the next three months and our guide has all the shows you have to see. From one of the biggest names in country returning to the stage to up-and-coming locals about to make it big, this guide has something for everyone.
April 10
Ravyn Lenae
Lincoln Hall
7 pm
$20
Chicago's very own Ravyn Lenae is on the brink of breaking out. From a lounging hip-hop style in "Free Room" to a jazzy, nu-soul sound in her latest single "Sticky," she has been showing her range. Join her as she promotes her recently released Crush EP and you'll be able to say you saw her before she made it big.
April 10
Janine
Subterranean
7 pm
$15
This star of VH1's "Love & Hip Hop" is now making hip-hop that is sure to charm. Originally from New Zealand, she is now setting off on her first headline tour. Her lo-fi sound is driven by soulful vocals backed by quiet beats. The recently released "Unstable" is an emotional bop and really shows off her vocal prowess. See her at this intimate venue "Before It's Too Late."
April 11
North by North
1st Ward/Chop Shop
8 pm
$13 ($15 at door)
While not good reading a compass, this psychedelic garage rock band knows how to create a catchy melody. Hailing from our great city, they are creating rock and roll that's accessible to everyone. See them as they open for The Pack A.D.
Read an exclusive interview with North by North on page 12.
April 12
yaeji
East Room
9 pm
$12+
Grab your galoshes because yaeji is about to "Make It Rain." Making her way from Queens, she will be bringing her unique brand of bilingual electronic music. Mixing house beats with laid-back hip-hop influenced vocals, her show will feel relaxed but inspire dancing at the same time.
April 14
Penguin Prison
The Empty Bottle
9 pm
$15
Penguin Prison can bring summer early with his bright, electropop tunes. He first gained notoriety remixing artists such as Marina and the Diamonds and Ellie Goulding and has grown to produce original work that stands on its own. The show will feature songs from his latest EP Turn It Up.
April 14
Geographer
S.P.A.C.E.
10 pm
$16
Geographer is an artist whose voice feels like a direct path to his soul. Every note and lyric he sings is beautiful, emotional, and intense. His synthpop sound is the perfect vehicle for his crooning, falsetto vocals. Join him as he promotes his latest EP Alone Time.
April 15
Wild Child
Thalia Hall
7 pm
$17+
Guided by the back-and-forth between the two lead vocalists, Kelsey Wilson and Alexander Beggins, Wild Child's music never feels repetitive. They have been building a following since their well-received debut Pillow Talk and they are continuing that trend with their recently released album Expectations.
April 18
NoMBe
1st Ward/Chop Shop
6:30 pm
$15 ($18 at door)
German artist NoMBe combines elements of classic rock & roll with soulful hooks. His bassy, raspy voice shines. Touring to promote his recently released They Might've Even Loved Me, he joins Mansionair and Mikky Ekko for a night of great music.
April 18
Phoebe Bridgers
Lincoln Hall
8 pm
$15 ($17 at door)
This singer-songwriter creates indie folk music that tells a story. See her as she performs music from her highly-acclaimed debut album Stranger in the Alps released late last year.
April 18
Skizzy Mars
Concord Music Hall
8 pm
$20+
After dropping out of college to pursue his music career, Skizzy Mars has been honing his craft. His latest single "American Dream" tells his own story in a way that is impressively self-aware of both his accomplishments and his faults.
April 22
Camila Cabello
Riviera
7:30pm
$39.50+
This former member of Fifth Harmony is more than just a chart-ready manufactured pop star. Her debut album Camila shows a large range of delightful pop songs that absolutely prove she can make it on her own.
April 23
ALMA
1st Ward/Chop Shop
8 pm
$12
First is the worst, second is the best, and fifth is the one with a record contract. This former Finnish Idols contestant is proving that you don't have to win to make it to the top. With a powerful, raspy voice and bright yellow hair, this singer is creating pop music that feels years ahead. She has a few big-name Scandinavian friends, as shown by featuring MØ and Tove Styrke on her Heavy Rules Mixtape. Catch her now so you can tell your friends you saw her before she was big.
April 26
Bon Jovi
United Center
7:30 pm
$29+
If you're known for giving love a bad name, you may have heard of Bon Jovi. Celebrating a rerelease of This House Is Not for Sale with two new singles, this classic rock band is parking their tour bus in our fair city. Whether you're "Livin' on a Prayer" or "Wanted Dead or Alive" you'll definitely want to be at the United Center this April.
April 30
Jessie Ware
Vic Theatre
7:30 pm
$30
This British singer-songwriter in traveling across the pond for a U.S tour this spring. She has a unique brand of exuberant and relaxed pop music with soulful vocals and some latin flare. Her voice and lyrics are vulnerable and raw and are sure to pull on your heartstrings. She has come a long way in her career, originally getting her start singing backup vocals for Florence Welch and Jack Peñate. Catch her as she promotes her third album Glasshouse.
April 30
Jaden Smith
Lincoln Hall
7 pm
$25 ($30 at door)
Creativity must run in the family when it comes to the Smiths as the middle son of Will and Jada Pickett has expanded his pool of talents into music. He creates rap music that has an ease to it; one may assume he is freestyling the entire time. With playful rhymes and elements of many genres, his debut album Syre has proven to stand on its own. And with a second album already on the way this year, he's sure to have plenty of new material to perform.
May
2
Jorja Smith
Thalia Hall
8 pm
$25+
With no relation to Jaden, this up-and-coming artist from the UK is heading to Chicago. This artist has been gaining momentum in the last year with songs on popular soundtracks including Black Panther and HBO's Insecure. Her music is an infectious style of R&B with jazzy vocals and a chill beat.
May 2
Sofi Tukker
Metro
7 pm
$21
This house duo from New York is swinging over to Chicago to promote their debut album Treehouse. Their music has a clear Brazilian influence, which creates a fresh take on electronic dance music. After being featured in the first iPhone X commercial and performing at multiple music festivals last year, they're gaining more and more momentum. Their recent single "F--- They" is an absolute banger and their new album is sure to include many more.
May 4
MELVV
Lincoln Hall
9 pm
$12
From nearby Milwaukee, this up-and-coming DJ is heading on tour. He creates light and bubbly electropop that he describes as "cute" and "happy" music. He samples unexpected noises such as drips and voices to create his unique sound. He may still be in college, but don't let his youth fool you, he has been creating music for over nine years after being inspired by a Daft Punk concert.
May 5
Kygo
United Center
7:30 pm
$39+
Kygo is filling stadiums throughout the country. He first gained notoriety with a remix of Ed Sheeran, and has gone on to produce two full-length albums. He has a unique style of deep house music that incorporates tropical and folk elements. This gives him a sound that's both chill and upbeat at the same time.
May 9
Rejjie Snow
Schubas
7 pm
$15
This Irish hip-hop artist with Jamaican and Nigerian roots is heading to Chicago to promote his debut album Dear Annie, a rap journey about a lover he abandoned to follow his dreams. He incorporates disco sounds that create a unique backdrop for his steady and smooth rhymes.
May 11 & 12
HAIM
Aragon Ballroom
7:30 pm
$42.50
What do you get when you take three long-haired siblings and put them in a musical group? No, it's not Hanson, it's HAIM. With a sound that brings influence from George Michael and Fleetwood Mac, this trio is creating a fresh take on indie pop.
May 15
Amber Mark
Schubas
8 pm
$15
With German and Jamaican roots (or Germaican as she states) and some of her childhood spent in India, you can hear a wide range of influences in the rhythm of her music. With deep and smooth vocals, she creates melodies with bouncy rhythms that are so catchy you will find yourself singing right along. With her latest single "Love Me Right" released early this year and a debut album in the works, she is sure to have plenty of new music to share.
May 19
Shania Twain
United Center
7:30 pm
$54+
Even if you're not impressed by much, you'll be impressed by Shania Twain. A pioneer of bridging the gap between country and pop music, she found international success with her albums Come On Over and Up! Originally retired in 2004, she recently revealed that she stopped performing due to long-term medical issues. But country music's best-selling female artist is back and in Chicago to support her latest release Now.
May 23
Joey Bada$$
Concord Music Hall
8 pm
$26+
This rapper, actor, and producer is making "Waves" in the industry. His latest release All-Amerikkkan Bada$$ is as political as the name suggests and speaks to what it's like to be black in our country today. With real and relatable raps and laid-back, catchy melodies, even those who aren't typically fans of rap can find something to enjoy in his music.
May 25
SOSUPERSAM
East Room
9 pm
$5
Samantha Duenas, also known as SOSUPERSAM, is a DJ and R&B singer. Her latest single "Drip" is a sexy, seductive jam giving off Janet Jackson vibes. She will surely be performing new songs, as her Priority EP was just released on March 30.
May 29
Yeah Yeah Yeahs
Aragon Ballroom
7:30 pm
$45
Join this well-known indie rock band as they celebrate a rerelease of their first album, Fever to Tell. Combining a grungy garage rock with bits of electronics, this band has made its mark in the alternative rock charts. Originally getting their start performing as openers on tour with The White Stripes and The Strokes, the trio has worked hard and come a long way to take their place in the spotlight.
June 7
Gavin Turek
Sleeping Village
8 pm
$13 ($15 at door)
Often compared to Donna Summer, Turek brings disco into the new millennium by adding a modern EDM edge. With catchy melodies and funky bass lines, she'll having you shaking your hips all night long.
The Venues:
1st Ward Events/Chop Shop, 2033 W. North Ave.
Aragon Ballroom, 1106 W. Lawrence Ave.
Concord Music Hall, 2047 N. Milwaukee Ave.
East Room, 2354 N. Milwaukee Ave.
Empty Bottle, 1035 N. Western Ave.
Lincoln Hall, 2424 N. Lincoln Ave.
Metro, 3730 N. Clark St.
Riviera Theatre, 4746 N. Racine Ave.
Schubas Tavern, 3159 N. Southport Ave.
Sleeping Village, 3734 W. Belmont Ave.
S.P.A.C.E., 1245 Chicago Ave.
Subterranean, 2011 W. North Ave.
Thalia Hall, 1807 S. Allport St.
United Center, 1901 W. Madison St.
The Vic Theatre, 3145 N. Sheffield Ave.