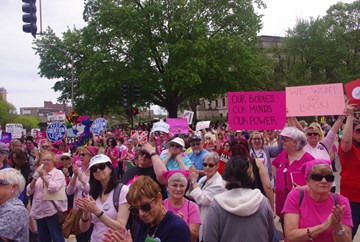 By: Suzanne Hanney, from prepared materials
May 22, 2017
Woman's March on Springfield draws 2,000
Wearing black T-shirts with pink bulls eyes, about 2,000 Illinois women marched on Springfield Tuesday, April 25, as legislators returned for the final weeks of the Illinois General Assembly's spring session.
Members of 100 women's organizations and the general public sought not only a responsible budget in Illinois but an agenda that encompassed women's health and choice, labor issues including the Fight for $15, protection for childcare and homecare programs, immigration, homelessness, criminal legal reform, the environment, LGBTQ, gun safety, healthcare, economics, education and passing the Equal Rights Amendment.
Among the bills they sought to move in the General Assembly are:
• HB 40, which would continue legal abortions and their insurance coverage in Illinois, even if the U.S. Supreme Court overturns Roe v. Wade.
• HB2771, the Healthy Workplace Act, which provides five sick days after six months on the job; and SB1296, which also requires specified sick days.
• HB2462 and SB 981, the Illinois Equal Pay Act, to target systemic discrimination by making it illegal to ask for past wage history.
• HB 3215, the Learn with Dignity Act, which would make feminine hygiene products available at no cost to all public school students.
• HB 3904, the Women's Correctional Services Act, which would require the Illinois Department of Corrections to establish gender-responsive and evidence-based practices and programs throughout all its facilities.
HB40 passed the Illinois House April 25 and it was sent to a Senate committee. However, while Gov. Bruce Rauner is pro-choice, his office issued a statement to the Chicago Sun-Times that, "recognizing the sharp divisions of opinion of taxpayer funding of abortion, he does not support HB40."
Both HB2771 and SB1296 await a final third reading in their respective chambers. Chicago Foundation for Women (CFW) notes that almost a million workers in Chicago and Cook County will soon have paid sick time but that still leaves 1.5 million more Illinois workers without. The legislation is intended to let people take time off to take care of themselves or their children, especially when they may have contagious illness.
The Illinois Equal Pay Act passed the House April 26 and was sent to a Senate committee while the Senate version of the bill awaits a final third reading. The feminine hygiene bill and the Women's Correctional Services Act both moved from the House to the Senate.
The women's marchers also support three bills brought by the Chicago Coalition for the Homeless and similar groups statewide. This "Three Steps Home" legislation includes:
• HB 3212, to establish a pathway for unaccompanied 16- and 17-year-olds to consent to housing with a DCFS-licensed youth transitional housing program.
• HB3211, the College Hunger bill, to allow low-income students in vocational programs to qualify for food stamps. Supporters include the Sargent Shriver National Center on Poverty Law and Heartland Alliance for Human Needs and Human Rights.
• HB3709, Increasing Counseling Services, to allow minors over 12 eight counseling sessions instead of just five.
Participants at the April 25 march included the Pride Action Tank, SEIU - Healthcare IL and IN, Windy City Times, Chicago Women Take Action, CFW, ACLU of Illinois, Mujeres Latinas en Accion, National Council of Jewish Women, Personal PAC and Planned Parenthood. The complete agenda and list of legislation is at www.illinoiswomenmarchonspringfield.org
'People and Planet First' March to Springfield
Fair Economy Illinois is starting a March to Springfield May 15 in order to convince the General Assembly to pass a "People and Planet First" budget.
The advocates distain legislators' "grand bargain" of budget cuts and regressive taxes such as an expanded sales tax and increased flat tax.
What they seek instead is to close tax loopholes, pass a "LaSalle Street Tax" of $2 each from buyers and sellers on the Chicago Mercantile Exchange and Chicago Board of Trade and enact a graduated income tax. The result, they say, would be $23 billion annually – enough to fully fund pre-K through high school education ($5 billion); universal health care ($4.5 billion) human services ($3 billion), repair infrastructure ($3 billion) and increase pension funding ($2 billion).
The march will leave the James R. Thompson Center at noon and arrive in Springfield on May 30. The first leg of the march is 7.5 miles to Archer Avenue and Pulaski Road.
Fair Economy Illinois includes Common Cause Illinois, Illinois People's Action, Jane Addams Senior Caucus, National Nurses United, ONE Northside and The People's Lobby. More information is available at www.marchtospringfield.org