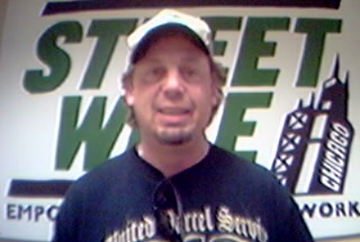 By: Macayla Dowling
October 1, 2018
How long have you been with Streetwise?
Since 2004.
What is a good experience you've had since you started selling StreetWise?
Well, it's a good occupation—something to do. Being your own boss, I would say. There's nobody following me around. There are no set hours. I do as I please.
What did you do before you became a StreetWise vendor?
I did a lot of things. Worked on fishing boats. I've worked on cars. I did a lot of mechanical work, painting, maintenance; I did several things.
What drew you to selling magazines since everything you did before was working with your hands?
I just couldn't do that anymore. This is a lot easier than the other stuff. I don't have to get dirty; I don't have to get greasy.
What does a good day look like for you?
It's just nice to see the people that are contributing to me and my dog.
Where's your spot?
I'm in Evanston by Northwestern. If I go there it takes 10 or 15 minutes to get there from where I'm at on Irving Park, right down the highway.
What is your least favorite thing about StreetWise/selling StreetWise? Or what's a hard thing about it?
When there are panhandlers around when you're trying to sell. That plays a role in it.
What has happened to you since you started selling the magazine that you think is a good story to tell?
Not much has changed. I really don't do anything. I don't drink; I don't use drugs. I'm from the South Side originally. I was all over. I was in Englewood. I was in Bridgeport. Rogers Park. West Side, East Side, North Side—I was from all over Chicago.
When did you settle down and find stable housing?
My friend actually has a store on the North Side, a carpet store. I stay in the attic over there, so I've been up there for awhile. I leave every now and then, but then I come back.
Does StreetWise help you pay your rent?
Yes, I have had help from StreetWise. It helps me take care of myself and my dog—a chocolate lab. He's 13 months. His name is Duke.
Since you've been a part of StreetWise have you used any of the supportive services that we offer here or talked to a social worker?
Yeah, they helped me get glasses, with the reading glasses. They gave me the letter, I took it to LensCrafters, they gave me an exam, then they gave me the glasses in a week. I didn't have to pay for them.
What is an interesting fact about you that you want your readers to know? Like, did you come up with the name Duke?
I was in Alabama, and he's from the South. I went to Tennessee, actually, by my sister. I went to Cleveland. Then I went to Alabama. I went to Florida. It was gonna be Daisy or Duke. My other dog was Latte; she was chocolate and Golden Retriever. If I had a girl it would be Daisy and a boy it would be Duke.
I'd just like to say thank you to StreetWise for supporting and supporters on the streets at Starbucks and Park Ridge and Evanston and Whole Foods—all the people that support me and my dog, Duke. Thank you.