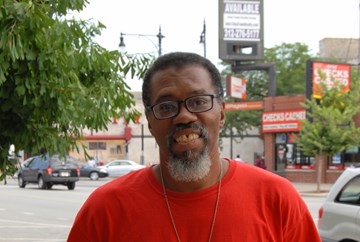 By: Carrie Bensfield
November 14, 2016
StreetWise has saved my life. On the back of the magazine it says that within 24 hours of coming into contact with the magazine, you can have gainful income. I am a testament to that. Within days of being released from jail and coming to StreetWise, I was making money.
While I was in jail, I kept thinking about selling StreetWise. Upon my release, Corey Buchanan from Chicagoland Prison Outreach Ministries helped me, putting a bus pass in my hand so I could get to the StreetWise and Inspiration organization offices. After completing training at StreetWise, I went out right away and sold the 15 magazines I was given.
I believe in coming to work with a positive attitude, all the time. You have to have a positive attitude. You have to be clean, and you have to be neat.
Through StreetWise, I can make an honest living. I don't have to go back to selling drugs, I don't have to steal. Not only is it an honest living, but it's an honest living with a purpose. Ninety cents goes back into the magazine, which provides employment for a whole group of other people. That's important to me.
Selling StreetWise benefits others and it benefits me, too. It is helping build my self-image, my self-esteem, and my self-confidence because I can earn my own money. It is also benefitting me physically because I can buy my own food, clothes, and shelter now.
I have been working for StreetWise since May. I work at the Jewel in Lakeview at Lincoln and Hudson and by the Starbucks at Roscoe and Seeley in Roscoe Village. At each location, my customers welcomed me with open arms.
My customers have impacted my self-growth a lot. I've had customers buy me water, buy me food, stop and talk to me. They are extremely polite to me, concerned about my life. It touches me when they ask about my life, where I came from. And sometimes I just listen to them, let them vent, and it helps them.
To my customers, I want to say, I really appreciate you all, I thank you all. And I want you to know that I will stay faithful to you. Rain, snow, sleet, or shine, I will be out selling StreetWise at least six days a week. Because it's about the customers. And it's also about the program because the 90 cents going back into the magazine is helping every other person at StreetWise.