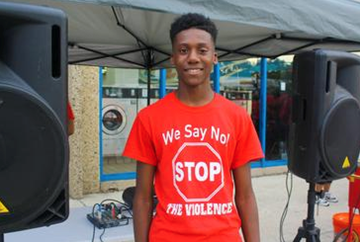 By: Suzanne Hanney
May 14, 2018
The reason for today's gun violence, says Debra Glover, is that since the 1990s, too many children are lacking one or both parents. 
"I work with a lot of young kids. Half don't have a mama or a father. They're staying with their auntie or friend and looking for love in the wrong way. They find people on the street."
As a result, 16- and 17-year-olds are committing crimes at the behest of older youths, with illegal guns bought on the street, said Glover, a member of the West Side group Stop the Violence. "Kids that lost don't have nobody to say 'I love you.' They're in the streets all night and their grandma can't control them no more.
"I watch the ones on the 'L' and wonder where their parents are at. They don't live with their mama, their dad. They are going through so much. People get tired of them and say, 'you can leave my house.' So they go house-to-house 'til they run into the wrong people on the street. They think that's where their love is, so they start doing the wrong things: 'I live as I live, die as I die. I don't care if I go to jail, nobody loves me.'"
Glover said she tries to be a "mom, dad, everything" to these kids. But there was one teen whose mother was on drugs, in and out of jail. He never knew his father.
"You have to be a man," she told him. "You've got to love your parents no matter what they are, what they did. You have to set goals. If you let that hold you back, it will tear your life away." She even reminded the young man that his grandmother had given him a home, had taken him to school.
"But he was so focused on his parents in his life. It was tearing this little boy up. I guess that wasn't enough." Glover heard that he had been locked up for robbery.
Stop the Violence tries to provide a solution, Glover said. She joined the West Side group when she ran into friends she had grown up with who had lost children to violence, just as she had. One of her former skating friends had lost a son and the other, a nephew.
"We get more things that kids can do," she said. "When I was growing up, there was skating, the park. But a lot of things closed down, especially in the black community."
Stop the Violence goes out on the street twice a week, generally from 6 to 8 p.m., to help kids sign up for the GED, "to let the youngest kids know there's still love out there" and even to feed them. As the weather warms up, Glover said, you'll see their barbeque grills for hamburgers and hot dogs at California and Harrison, or North and Central, or Laramie and Washington.
"I don't know what time they last ate. They'll be looking for those hot dogs. We give out 300 or 400 a day." Stop the Violence members also bring a popcorn machine and chips for kids who don't like popcorn.
When school starts, they cooperate with the 15th district police at Madison and Menard to pass out book bags. They had a coat drive at the Boys & Girls Club at Laramie and Lake and, they are looking for a brick-and-mortar home so they can provide homework help and a place to talk.
Glover keeps her 6-year-old grandson busy passing out juice bottles at the barbeques. "I try to get him into it so he knows what's wrong and right when he gets there." The little boy lives with his mother, who readily brings him to see his grandma.
Yet it saddens Glover that the way he relates to his father is by visiting his grave. She lost her son on Sept. 16, 2012 when he attended a party for someone's cousin who had just gotten out of jail. It was a big event, with 150 people, a cameraman and a DJ, people in the back yard and on the front porch.
But around 2 or 3 a.m., someone came in and started shooting.
Two or three people were hit, but her 21-year-old son was the only one killed. She says it's possible the shooting was retaliation on the person who had just gotten out of jail. People also say the intended target got away.
"That's how it happens. When you know they're looking for you, you're gonna be alert. You're gonna be the first to get out. The rest are just having fun."
Meanwhile, "the streets don't talk," even though "9 times out of 10, people know who did it."
Kids are afraid to talk, which impedes police investigations, she said. After 48 hours, details are no longer fresh in everyone's minds.
And the kids are bent on revenge. "You kill my friend, I kill yours."
It helps Glover to help people, however, which is why she volunteers with the group.
"I just hope the gun violence stops so kids can live again, go outside and play again, that's my dream. It takes a community. It starts from the bottom. They say Englewood gun violence went down a lot on the news. [Last November 15, the Sun-Times quoted Police Supt. Eddie Johnson on 158 Englewood shootings as of Oct. 31, 2017, which was roughly half that of all of 2016.] That's a plus. It happens slowly but it's happening."