By: JoseAngel Ramos
June 30, 2015
Have you ever looked around the city of Chicago and seen the street art sprayed on buildings? Believe it or not, most art in Chicago is not vandalism because most places pay artists to paint murals and graffiti in and out of their stores.
JC Rivera is a local artist who is known for his character called "The Bear Champ," and he believes people are entitled to their own opinion about what they think of his art.
"The art around the city is very different and it depends on who you talk to about this because some people think all art is vandalism," Rivera said. "For artists, we believe it's art but for others they look at it as vandalism."
Rivera is one of many artists around the city who is compensated for their work and he has done a great job getting around the city.
"Whenever I am talking about my art or showing my work to others they say 'oh nice hobby' and I correct them, no this is my career," JC Rivera said. "I have two kids and a wife and I feed them with what I make and so I don't think this is a hobby, because it's my career."
Sentrock is another street artist in Chicago who loves painting murals around the city and who doesn't let people affect how he works.
"I like to create work and my work falls under street art. I also think my work reflects how I feel at times," Sentrock said. "Everyone has an opinion but if they don't get the message then they don't get it. I can't get caught up with what other people think about my work."
Many bars and buildings call upon artists like JC Rivera and Sentrock to help attract people to their locations.
"I have a lot of work around (Chicago) and I am very proud of my work," Rivera said. "I painted a mural for Emporium that is on Fullerton and Milwaukee a couple of weeks ago and I love seeing it."
JC Rivera and Sentrock collaborated on a project on Grand and Milwaukee but a week after they were finished the building was bulldozed.
"I have a hard time dealing with my work being taken down because I put a lot into my work and at times I feel a little salty," Sentrock said. "It's a special thing to see the work when it happens because it might not be there forever. We did take a ton of pictures before the building went down."
Artists Lindsey Meyers and Rachel Slotnick had to deal with their work being vandalized.
"I adopted a wall from the CTA because of their program 'Adopt-A-Station' and I was really excited because it was a great spot, by the Logan Square Blue Line," Meyers said "and after we finished the mural, taggers defaced it and my heart split open."
Meyers said she was emotionally unprepared for the destruction of the colorful mural, which depicts two peacocks, a swan, a three-headed mermaid/dragon, horses, tigers, an owl and several butterflies.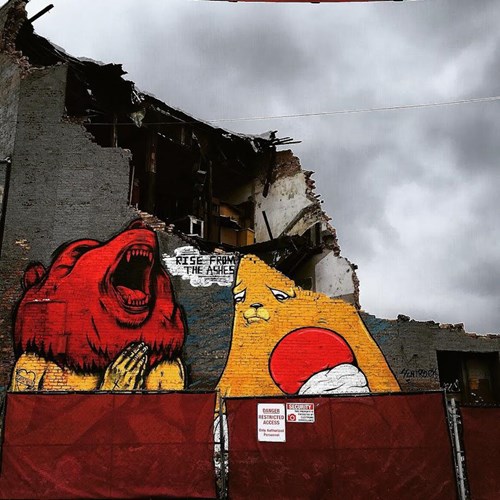 "After the taggers destroyed the mural we had to fix it and I had a feeling of who it was," Meyers said. "Every day I would walk by to see if anybody messed with it and I would also get emails about it."
Logan Square is a vibrant community and before Meyers started her mural she was getting suggestions of what to paint.
"I didn't want to get any public opinions on what to paint or do because I wanted this to be ours," Meyers said. "Rachel and I had never done any large figures before so it was really meaningful work for her."
The mural still stands in Logan Square and Meyers still gets comments from people who stop by her gallery 'Beauty & Brawn.'
"People come by my gallery and knock to say that the mural just became their Facebook profile picture," Meyers said. "I've taken a risk putting my idea out there and it is somewhat scary but I'm glad I did this."
Murals may not last forever but artwok often does.. Rivera and Sentrock both have work in a gallery in Logan Square because they believe getting their work out is important to them.
"I created the Bear Champ in 2010 and ever since then it has been my brand and it represents me as well as everybody," JC Rivera said. "We all struggle to survive and live and that is why I have a boxing bear because life is a battle."
Sentrock uses symbolism to paint stories for the viewer.
"When I draw a bird, I think about freedom. I also use wolves and grizzly bears to symbolize strength," Sentrock explained. "These animals are also seen as predators but in a way they are beautiful creatures."
Aside from street art Sentrock also hosts a Mural Club at Jahn Elementary every Wednesday for 5th and 6th graders to give back to the world.
"I became an artist in school when I joined a mural program. I was hooked right away and ever since then I have been an artist," Sentrock said. "This has sort of come full circle for me. I am giving back now because of how art came into my life."
Sentrock and JC Rivera have their work all around the city of Chicago and as well as other major cities.
"I sometimes get called out to LA and sometimes even people's backyard," Sentrock said. "I am always happy to do anything involving art whether it's a big project or a small one."
Rivera's Bear Champ has even inspired people internationally. He did a version in Barcelona, Spain, which was captured on Instagram. He recognized his hashtag and reposted it.
"I want to look back one day after I'm done painting and say I accomplished something," Rivera said. "I want people to tell me 'I remember when I saw your work here and here,' if this happens I know it will feel great."
"The Bear Champ" is now famous on Instagram with thousands of people 'hashtagging' '#TheBearChamp.' Rivera does more than murals of the bear. He designs T-shirts and toys using his trademark bear.
"I know my work won't last forever because nothing lasts forever but I do want to be remembered by the Bear Champ," JC Rivera said. "Not to sound stuck-up or cocky but I want to be in that legend status, Chicago has been great for and I just want to give back now."
There are many different ways to get involved in the community if you want to become an artist because the 25th ward has shown that with the 'Art in Public Places" project.
In February 2012 Ald. Danny Solis designed a project to transform empty spaces and vandalized sites. This project not only got the community together but it also received several designations from the Chicago Reader in 2013: Best Alderman, Best Public Artwork, Best Public Art Event, Best Neighborhood for Culture and more.
"I believe all art is great whether it is graffiti, character art, or stickers. Everybody has their own message behind them," JC Rivera said. "I know art is effort and that is what it is all about."
Art is everywhere and if you just take a moment to look around you might be able to find a story.